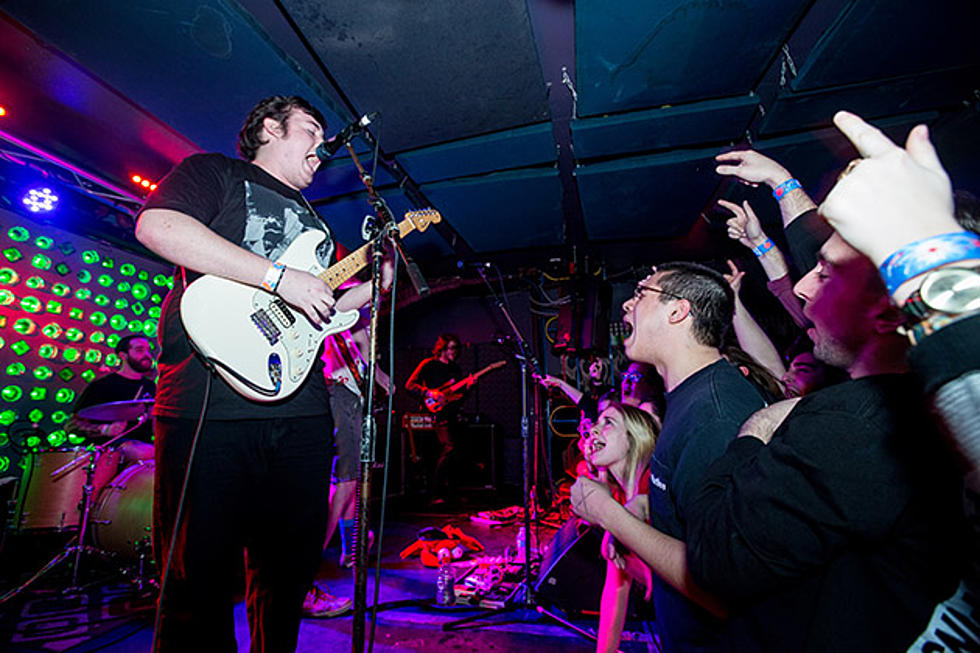 Modern Baseball shares "Wedding Singer" related band Broken Break preps LP
Modern Baseball at Baby's All Right (more by Amanda Hatfield)
Modern Baseball are releasing their much anticipated third album Holy Ghost next week on May 13 via Run For Cover. They premiered their new song "Wedding Singer" in a live session for Rolling Stone Australia, which you can check out below.
Today they shared its video, which portrays a man having panic attacks after the death of his grandmother and how a manic pixie dream girl-esque figure helps him find purpose in his life. It was directed and edited by Kyle Thrash, whose name you might recognize from the title of "Thrash Particle" from the MOBO Presents: The Perfect Cast featuring Modern Baseball. Watch it below.
Co-frontman Brendan Lukens also has another other band Broken Beak, which started out as fellow Philly artist (who created the artwork for MoBo's "Thrash Particle" single) Beau Brynes' musical solo project. Brendan plays guitar in it and Jake produced their upcoming debut album. The LP is called Some Nerve and it comes out July 1 via Near Mint Records. Listen to the first single "Saint" below.
As mentioned, MoBo are heading on a solid triple-billed tour with Joyce Manor and Thin Lips in support of their new LP, that stops by NYC for two shows at Irving Plaza on June 24 and 25 (tickets). Before that, they'll play a NYC-area record release show at Asbury Park's Wonder Bar on May 13 with Pinegrove, Sorority Noise and more (sold out). All dates are listed below.
Modern Baseball - 2016 Tour Dates
May 13 Wonder Bar w/ Pinegrove, Sorority Noise, W.C. Lindsay, Superweaks, The Obsessives, Sun Organ Asbury Park, NJ
May 25 Exit Inn w/ Joyce Manor, Thin Lips Nashville, TN
May 27 House of Blues w/ Joyce Manor, Thin Lips Houston, TX
May 28 Emo's w/ Say Anything, Joyce Manor, Thin Lips Austin, TX
May 29 Gas Monkey w/ Joyce Manor, Thin Lips Dallas, TX
May 31 The Pressroom w/ Joyce Manor, Thin Lips Phoenix, AZ
Jun 01 House of Blues w/ Joyce Manor, Thin Lips San Diego, CA
Jun 02 The Observatory w/ Joyce Manor, Thin Lips Santa Ana, CA
Jun 03 The Glass House w/ Joyce Manor, Thin Lips Pomona, CA
Jun 04 The Echoplex w/ Joyce Manor, Thin Lips Los Angeles, CA
Jun 05 The Fillmore w/ Joyce Manor, Thin Lips San Francisco, CA
Jun 07 Hawthorne Theatre w/ Joyce Manor, Thin Lips Portland, OR
Jun 08 The Showbox w/ Joyce Manor, Thin Lips Seattle, WA
Jun 09 El Korah Shrine w/ Joyce Manor, Thin Lips Boise, ID
Jun 10 The Complex w/ Joyce Manor, Thin Lips Salt Lake City, UT
Jun 11 The Summit w/ Joyce Manor, Thin Lips Denver, CO
Jun 12 Granada w/ Joyce Manor, Thin Lips Lawrence, KS
Jun 14 Mill City Nights w/ Joyce Manor, Thin Lips Minneapolis, MN
Jun 15 The Rave / Eagles Club w/ Joyce Manor, Thin Lips Milwaukee, WI
Jun 16 The Ready Room w/ Joyce Manor, Thin Lips St Louis, MO
Jun 17 Bogarts w/ Joyce Manor, Thin Lips Cincinnati, OH
Jun 18 Agora Theater w/ Joyce Manor, Thin Lips Cleveland, OH
Jun 19 The Opera House w/ Joyce Manor, Thin Lips Toronto, Canada
Jun 21 The Crofoot w/ Joyce Manor, Thin Lips Pontiac, MI
Jun 22 Altar Bar w/ Joyce Manor, Thin Lips Pittsburgh, PA
Jun 23 House Of Blues w/ Joyce Manor, Thin Lips Boston, MA
Jun 24 Irving Plaza w/ Joyce Manor, Thin Lips New York, NY
Jun 25 Irving Plaza w/ Joyce Manor, Thin Lips New York, NY
Jun 26 The Fillmore w/ Joyce Manor, Thin Lips Philadelphia, PA
Jun 28 Baltimore Soundstage w/ Joyce Manor, Thin Lips Baltimore, MD
Jun 29 The Broadberry w/ Joyce Manor, Thin Lips Richmond, VA
Jun 30 Cat's Cradle w/ Joyce Manor, Thin Lips Carrboro, NC
Jul 01 Beacham Theater w/ Joyce Manor, Thin Lips Orlando, FL
Jul 02 Revolution w/ Joyce Manor, Thin Lips Fort Lauderdale, FL
Jul 03 The Orpheum w/ Joyce Manor, Thin Lips Tampa, FL