Modern Sky Fest kicked off in Central Park w/ Blood Brothers, William Onyeabor tribute, Liars & more (pics)
photos by Amanda Hatfield
Blood Brothers / Pharaoh Sanders / pandas

The Modern Sky Festival has existed for seven years in China and it began its first-ever US edition yesterday (10/4) in NYC at Central Park's Rumsey Playfield. Day 1 included the William Onyeabor tribute Atomic Bomb! which had a very impressive lineup of hip hop vets Dead Prez, free jazz pioneer Pharoah Sanders, Peaking Lights, Sinkane, Hot Chip's Alexis Taylor, South African group The Mahotella Queens, Beastie Boys collaborator Money Mark and more (rollerskaters included). Considering Modern Sky began as a Chinese festival, a couple of the openers were Chinese acts -- Deserts Zhang Xuan and Rebuilding the Rights of Statues -- and they were followed by art rockers Liars, and reunited post-hardcore band The Blood Brothers.
The Blood Brothers played an 11-song set that was packed with fan favorites from throughout their career including "Fucking's Greatest Hits," "Love Rhymes With Hideous Car Wreck," "Set Fire To The Face On Fire" and more (full setlist below). Their reunion has been very well-received so far and yesterday's show was no exception. They do it again in NYC at the BrooklynVegan-presented show at Warsaw with Violent Bullshit tonight (10/5).
The William Onyeabor tribute was the final of four days of the Luaka Bop 25th anniversary and also the fourth appearance Peaking Lights made in NYC this past week, including opening for Real Estate at Terminal 5 on Thursday (10/2) and playing Other Music and Baby's All Right on Friday (10/3).
Modern Sky's second and final day is underway as we speak and has upcoming sets from Cat Power, Stars, The Both (Aimee Mann & Ted Leo) and more. More pictures from day 1 below...

---
Deserts Zhang Xuan
Rebuilding the Rights of Statues
The Blood Brothers
Blood Brothers Setlist (via Steve McGill)

Liars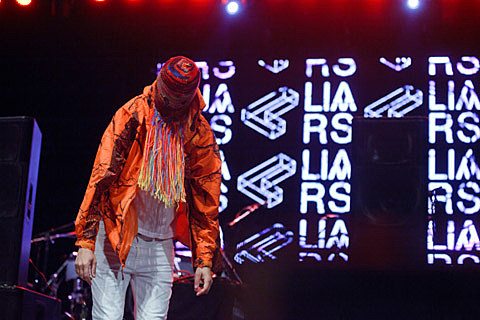 Atomic Bomb! The Music of Williams Onyeabor