Modest Mouse (all 5 songs of them), Morning Teleportation & a rain storm @ Williamsburg Waterfront (pics & setlist)
All day Friday, I kept an eye on the weather forecast, trying to determine if the show on the Waterfront would get rained out, but when I headed over, the sky was bright blue with promise.
Being an out-of-town opener is no easy task - especially when you're opening for a band with the reputation and discography of Modest Mouse. But Morning Teleportation, who are signed to Isaac Brock's label Glacial Pace, were more than equipped to handle the challenge. The Portland five-piece played punchy psychedelic music to match their colorful wardrobe, and they seemed to be having a great time doing it. Guitarist Tiger Merritt may have assumed most of the vocal responsibility, but the other members often sang along, off mic when they weren't singing back-up.
Morning Teleportation's music is engaging, but they also know how to show restraint. Instead of unnecessarily drowning the crowd in sound, they have a handle on their levels. Keyboard jingles, trumpet interludes, guitar riffs, and joyous vocals periodically crescendo and dissipate to create a dynamic sound that benefits from the distinctness of its layers.
At one point between songs, drummer Tres Coker dashed to the front of the stage, and leaned into the mic, saying, "Hey guys. We're playing at the Mercury Lounge soon [July 28th] and you should all come. All 7,000 of you." They may not have managed to build up much of a reputation yet, but the Mercury Lounge does seem like quite a small venue for a band of their talents and enthusiasm.
By the time Modest Mouse began to play, the weather had begun to take a sharp turn, but instead of focusing on the darkening sky, everyone was turned to face the stage. Modest Mouse kicked off their set with the slowly building song "Satellite Skin." After only a few seconds of playing, they suddenly stopped when part of their sound cut out. "That's not going to work, is it?" said Isaac Brock as the crowd expressed their anxious discontent. But the issue was quickly resolved. "We'll restart that song in a second. I'm really glad that didn't happen in the middle of it," countered Brock. But this fleeting technical issue wasn't the only obstacle of the evening. After just a couple of songs, Brock commented on the status of the weather, saying, "We might get a lightening storm [...] Let's hope that doesn't get shit shut down."
And with the unwelcome warning, they launched into "Fire It Up." Modest Mouse hasn't released a proper album since 2007 - just a smattering of singles and an EP last year. Their set list (the little we heard of it) pulled songs from throughout their extensive discography, but unfortunately, everything came to a screeching halt after the surprisingly apt song "Here It Comes" came to a close.
"Apparently, we have to take a 20 minute break. It's about safety - yours," said Brock wryly, when prompted by park officials. After the initial wave of grumbling had subsided, the crowd began to chant, "Fuck that shit." At which point, a woman's voice rung out over the PA, telling everyone to evacuate the park. "We must have 20 minutes since the last bolt of lightning," she said. As the stage lights went dim, I turned around and surveyed the sky. Black clouds hung menacingly over the Manhattan skyline, threatening to swallow it whole. This was the stuff from Armageddon movies. Suddenly, it became clear that all the flashing lights had not been benign camera flashes and stage lights, but regular bolts of lightening. Boos continued to ring out in the crowd as people assessed the situation. After another few minutes, an official jumped back on the PA and told everyone to proceed to the exits. For a minute, I was afraid we'd have a Drake incident on our hands, but then the rain started to fall, sending people scattering. Clearly, the show would not resume.
Sure, it was a real let down to hear only five songs (especially knowing that Brock surely would have continued if it weren't for park officials and safety regulations), but hearing him repeatedly sing the line, "Here it comes" as the sky took on a menacing shade made for quite a dramatic (if not disappointingly abrupt) conclusion.
Rain also caused Sunday's Pool Party at the Williamsburg Waterfront to have to change venues. More pictures and the setlist from Friday's short Brooklyn Modest Mouse show (we'll keep you posted if we hear anything about it being rescheduled), below...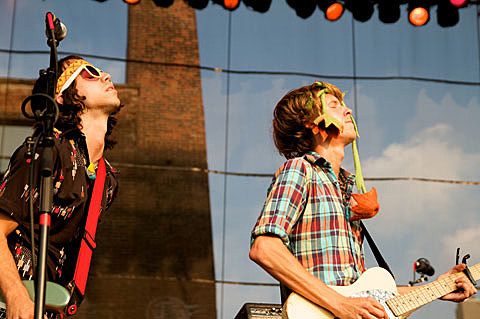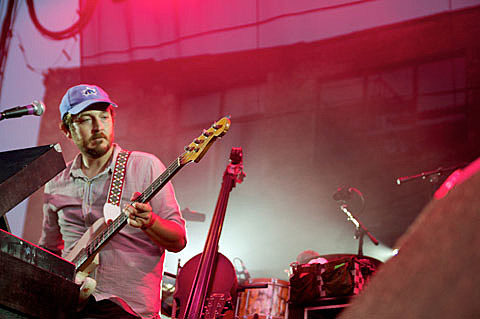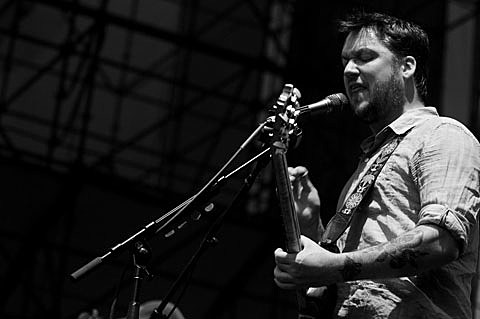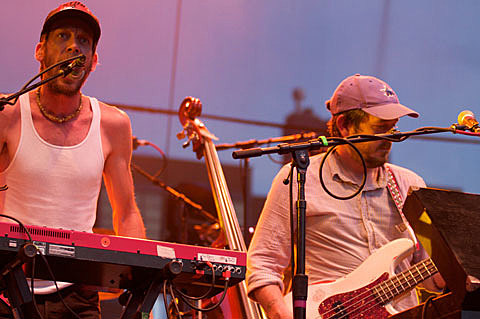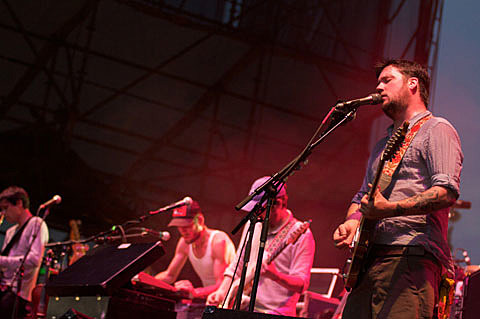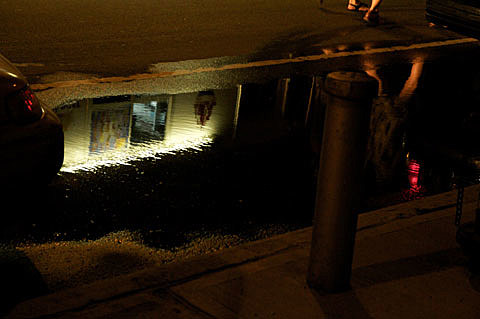 Dear Modest Mouse,
I was at your show last night, which was evacuated early after only 4 songs because of the lightening!! I held out in the pouring down rain & lightening until the very last moment hoping beyond hope that they would let us all back in and the show would go on!!! I hope you heard your loyal fans screaming in the streets for you!
Please Please PLEASE reschedule the show for a rain date!!! I have been a fan for years and this was my first time seeing you live.. that was the best 4 songs of my LIFE!!
Please reschedule the show!!! Please!!! I have to see it.. I can only sit and imagine what else you might have played, and how amazing the show would have continued to be.
Thank you for the 4 songs that you did play for us and please consider coming back and finishing!!! BROOKLYN LOVES YOU!!!!!!!!!
<3 ashley< a>3>
Modest Mouse set list
Satellite Skin
Bury Me With It
Fire It Up
The View
Here It Comes