Modest Mouse played Williamsburg Waterfront again (pics, setlist), playing Bridge School Benefit in CA (lineup)
photos by Chris Gersbeck, words by Rachel Kowal
"Modest Mouse without a cloud in the sky!" -rojacaliente
"If this were Make A Wish and you were going to die in 20 min, just long enough to play Freebird, we wouldnt play it -Modest Mouse" -georgeferris
"Modest Mouse is testing my love for them by keeping the kid awake with their heavy bass and drumming two blocks away. /fistshaking" -woolyknickers
Lightning may have shut down Modest Mouse in July, but for last night's rescheduled show, the weather was nearly perfect (if not a bit chilly).
This time, the opener was the Americana singer/songwriter Marcellus Hall and his backing band. The pairing was a bit odd. Modest Mouse prompted people to shout along to every song and to rush the stage. Marcellus Hall's performance had people turning around to admire the setting sun over the Manhattan skyline and leaving polite pockets of space throughout the crowd.
After Marcellus Hall's relatively short set, the anticipation for the headliners steadily grew, but more than thirty minutes passed before they marched on stage. As if making up for their severely truncated show last July, Modest Mouse then played a lengthy set - nearly 2 hours long when you factor in the encore.
"Welcome back!" Isaac Brock said by way of introduction. They kicked off the show with "Gravity Rides Everything." Taking no time to get into the show, the crowd enthusiastically sang along from the opening verse. (fittingly, the song contains the line, "Everything will fall right into place.") Isaac Brock hardly talked between songs. He didn't need to. The audience was wholly engaged. Each song was met by cheers and triumphantly extended fists. After all, for many of the people present, this was take two.
From "Cowboy Dan" to "Autumn Beds," the band pulled songs from throughout their career and readily switched between the more raucous and reserved. The pump organ, banjo, glockenspiel, accordion, and trumpet made regular guest appearances that nicely punctuated the set and revealed the surprisingly decent sound quality. The stage lights - which were absent during opening set - certainly helped to set the mood for Modest Mouse.
The band closed their initial set with "The View," leaving the audience with the soothing sound of electronic crickets to underlie their cries for more. After an unusually long wait (10 minutes), they returned for another five(ish) songs before finally concluding just short of 10:00, saying, "Thank you all very much. Have a good night" and delivering a PSA discouraging "driving while drinking and drinking while driving." Luckily, Brock didn't say anything about smoking and riding the subway.
--
Isaac Brock and gang have one set of shows left on their calendar, on October 23rd and 24th at Shoreline Ampitheater in Mountain View, CA as part of the annual Bridge School Benefit. The band will join a reformed Buffalo Springfield. Pearl Jam, Elvis Costello, Lucinda Williams, T-Bone Burnett's Speaking Clock Revue (with Elton John & Leon Russell, Elvis Costello, Ralph Stanley, Neko Case and Jeff Bridges, they play NYC on 10/20), and Grizzly Bear among others.
The Bridge School Benefit lineup by day, more Waterfront pics and the Modest Mouse setlist is below...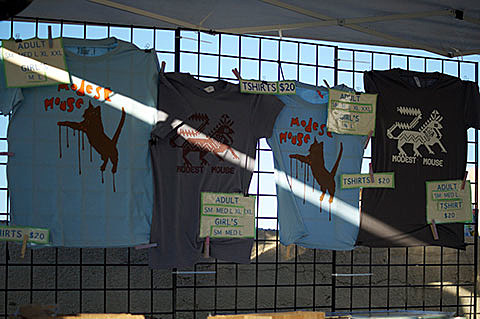 Marcellus Hall...
Modest Mouse...
MODEST MOUSE SETLIST 9/14/10
1. Gravity Rides Everything
2. Black Cadillacs
3. Satin in a Coffin
4. Here It Comes
5. Float On
6. Cowboy Dan
7. Dashboard
8. Blame It On The Tetons
9. King Rat
10. 3rd Planet
11. Tiny Cities Made of Ashes
12. Bury Me With It
13. Autumn Beds
14. Here's to Now (Ugly Casanova cover)
15. The Whale Song
16. The View
==========
17. Guilty Cocker Spaniels
18. Dramamine / Life Like Weeds
19. Baby Blue Sedan
20. Spitting Venom / I Came As A Rat
21. Alone Down There
--
BRIDGE SCHOOL BENEFIT, SHORELINE AMPITHEATER Mountain View, CA
Saturday, October 23rd
Buffalo Springfield
Pearl Jam
Elvis Costello
Merle Haggard and Kris Kristofferson
Lucinda Williams
Jackson Browne and David Lindley
Billy Idol
Modest Mouse
Grizzly Bear
Sunday, October 24th
Buffalo Springfield
Pearl Jam
T-Bone Burnett's Speaking Clock Revue featuring Elton John & Leon Russell, Elvis Costello, Ralph Stanley, Neko Case and Jeff Bridges
Merle Haggard and Kris Kristofferson
Modest Mouse
Grizzly Bear