Mogwai & the Twilight Sad @ MHOW (night 2) – pics, setlists
Timothy S. Griffin
photos by Tim Griffin
"that group up front was obnoxious. the girl tried to dance with me during 2 Rights, when I politely declined she took it upon herself to aggressively plough into me every chance she could. I loved the equally annoyed reaction the surrounding folks gave her and her male friend when they started air guitaring and swaying into everyone around them. A cute girl with curly hair gave the guy a seeeerious toss. Then their douchebag friend joined in and maxed out the annoyance...... If you want to get wasted at concerts, go for it, but recognize that not everyone is and that a three person mosh pit might ruin a bit the show for those around you. I really hope that they were so hungover that they lost their jobs the next day or were mugged on their way home.
and so what if frat guys like mogwai. I always thought it was hard to peg people for being mogwai fans....You can fit any sort of stereotype and get down to mogwai, just don't be pricks about it. I really hated those three, such buzz kills....anyway, that show was amazing, tonight was too.... can't wait for tomorrow.
Props for Mogwai giving us three shows" [Carter]
Mogwai complete their three night run at Music Hall of Williamsburg in Brooklyn tonight (4/29). We caught them on night one, and last night (4/28) too...


The Twilight Sad...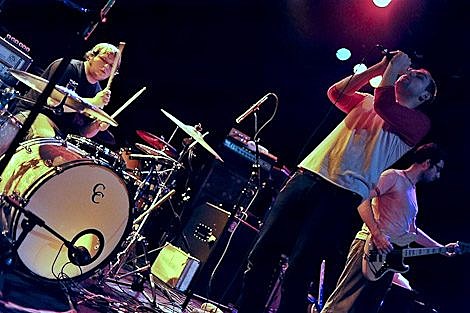 Mogwai...
Night One pics HERE.