Monotonix played San Francisco w/ Ty Segall & Nodzzz (pics), announce that this is their final tour??? (updated dates)
Monotonix & fan in San Francisco

"Shelev, after a rowdy and rambunctious set, stated that he was 46-years old, their drummer was about to become a father, and their guitarist had some seeds to sow as a single Israeli. He then instructed the crowd to tweet, text and, actually, drive to San Francisco and Austin to follow them on their last tour ever. Whether this is true or just another stunt in their stunt-filled show is yet to be seen. -[OneThirtyBPM]
That report comes from Monotonix's LA show at The Echoplex on 1/27, the day before they played Rickshaw Stop in San Francisco with Nodzzz (who just signed to Woodsist) and Ty Segall. The pictures in this post are from the San Fran show.
Monotonix's final (??) round of US dates in support of their new LP Not Yet is ongoing. The band will play Birmingham, Alabama tonight (2/1) and eventually end up at 285 Kent Ave on 2/5 for their final (??) show in NYC...
Saturday February 5th @ 285 KENT AVE
:: Monotonix ------- from Israel, on Drag City
:::: Pujol
:::::: Federation X
:::::::: the Stalkers
:: special guest comedienne: Elisa Da Prato
| 285 KENT AVE |
285 Kent Ave @ S 1st St | Williamsburg, Brooklyn
L-Bedford, JM-Marcy | 8pm | all ages | $tba
If you've never seen Monotonix live (which is pretty insane), this may be your last chance. Not Yet is out now via Drag City.
More San Francisco pictures and (final?) tour dates below...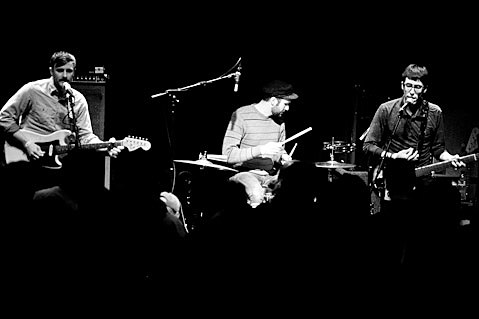 MONOTONIX - 2011 TOUR DATES
Tuesday, Feb. 1 - Birmingham, AL @ The Bottletree Cafe w/ Pujol
Wednesday, Feb. 2 - Nashville, TN @ The End w/ Pujol
Thursday, Feb. 3 - Raleigh, NC @ King's Barcade w/ Pujol, Federation X
Friday, Feb. 4 - Washington, DC @ Comet Pizza w/ Pujol, Federation X
Saturday, Feb. 5 - Brooklyn, NY @ 285 Kent Ave. w/ Pujol, Federation X
Sunday, Feb. 6 - Providence, RI @ Machines with Magnets w/ Pujol
Tuesday, Feb. 8 - Cleveland, OH @ Beachland Ballroom w/ JEFF the Brotherhood, Pujol
Wednesday, Feb. 9 - Madison, WI @ High Noon Saloon w/ JEFF the Brotherhood, Call Me Lightning
Thursday, Feb. 10 - St. Paul, MN @ Turf Club w/ JEFF the Brotherhood
Friday, Feb. 11 - Chicago, IL @ Empty Bottle w/ JEFF the Brotherhood, Call Me Lightning
Nodzzz - 2011 Tour Dates
02/24 Portland, OR - East End
02/25 Seattle, WA - Sunset Tavern ^
02/26 Olympia, WA - House show *
03/02 San Francisco, CA - Knockout
03/03 San Diego, CA - Tin Can Alehouse &
03/04 Los Angeles, CA - The Smell
03/05 Sacramento, CA - The Hub %
^ = w/ Gun Outfit, Milk Music, HPP
* = w/ Gun Outfit
& = w/ English Singles
% = w/ The Finches