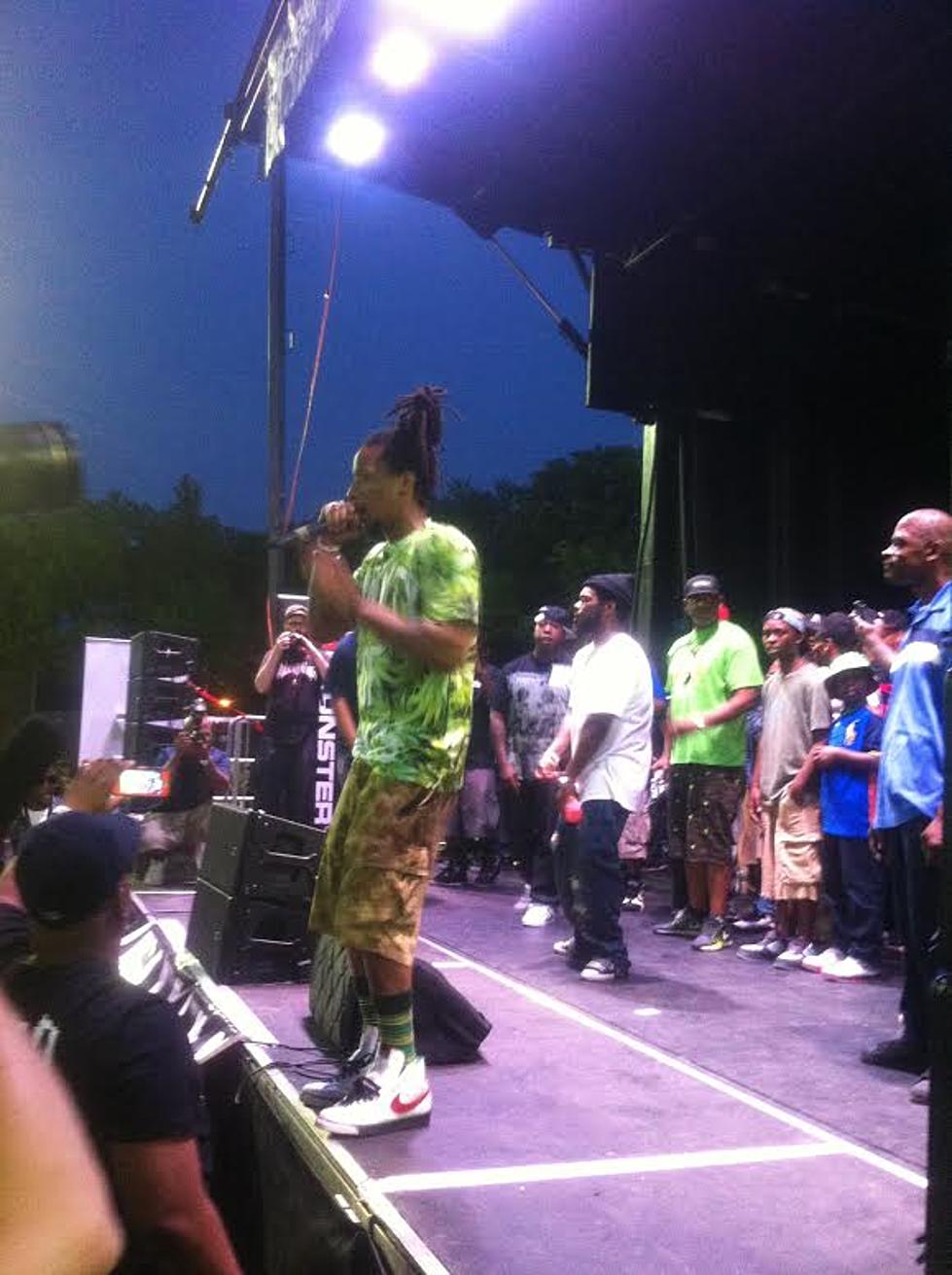 M.O.P., Joey Bada$$, CJ Fly, Chelsea Reject, T'Nah Apex & more joined Boot Camp Clik @ the Duck Down BBQ
The Duck Down BBQ may be a bit of a repetitive event in that its headliners are similar every year, but that's the point. Taking place in Betsy Head Park, deep in the heart of Brownsville, the annual event is geared at being a celebration of the neighborhood, with the Boot Camp Clik, a supergroup featuring hip-hop heavyweights Smif-n-Wessun, Buckshot, O.G.C. and Heltah Skeltah, always coming out in full effect for their neighborhood. Sean Price of Heltah Skeltah pointed out the housing project he grew up in from the stage, and every other performer talked about life in Brownsville and shouted out people in the crowd that they knew. There wasn't much of a line between the rappers and the audience, with Buckshot launching himself into the 2000+ person crowd and fans rushing the barricade as they shouted back lyrics.
The night was a mix of the old school and new school, with the hardcore legends of the Boot Camp Clik being joined by up-and-comers from the Beast Coast movement. CJ Fly of Pro Era had a tight set, that was joined by fellow Pro, the very popular Joey Bada$$, during the call and response "do it for the love" of "Loco Motives". Raz Fresco, another 19 year old from Toronto, showing the Beast Coast's stylistic northern reach, hearkened back to the boom bap slaughter of people like Big L. He pulled off an ambitious move by rapping over a medley of classic New York beats, slaying each one in a city known to be very arrogant about its own style's superiority.
Chelsea Reject and T'Nah Apex (who works with Pro Era often) put on a very noteworthy set that started with a hyper political a cappella by Chelsea, about being a young emcee in an age of Stop and Frisk. The duo touched on the detrimental effect of technology saturation in modern times, railing against obsession with YouTube views and "blue checks" (verified Twitter accounts). T'Nah Apex transitioned smoothly between her matter-of-fact rapping and ethereal singing, while maintaining a serious demeanor that added to her presence.
The prolific Statik Selektah was spinning in-between sets, scratching vinyl in a 90s fashion that many are unable to replicate anymore. It was fitting that Peter Rosenberg of Hot 97 hosted the event, given that he labels himself a "hip hop purist" and has been integral in ushering in New York rappers recently.
The highlight of the night was a surprise appearance by Brownsville's own M.O.P. for their gangsta rap anthem "Ante Up". By that time, more than forty people were onstage, nieces and nephews on the shoulders of some of the old-timers, keeping up with the celebration of the neighborhood. Buckshot closed out by calling on the audience to reach out to DuckDown saying "I want to see one of you up here next year".
BrooklynVegan was a proud sponsor of this year's Brooklyn Summerstage event, as you can see on the flyer below.

--