more 50 Kent pics: Best Coast, Alvvays & Bully (who are streaming their LP & announced a tour)
Best Coast / Alvvays / Bully

The new dates include another NYC show happening at Music Hall of Williamsburg on September 28, the day after their set at Boston Calling. Tickets for MHOW go on sale Friday (6/19) at noon with an AmEx presale starting Wednesday (6/17) at noon. Updated dates are listed below.
Bully's debut album, Feels Like, comes out next week (6/23) via Columbia, and it's now streaming in full. It's a catchy record indebted to '90s radio rock, and you can listen via NPR below.
One of Bully's shows this past weekend was the big Northside Fest show at 50 Kent with Best Coast, Built to Spill and Alvvays. We already posted one set of pictures from that show, and we've got another set of Best Coast, Alvvays and Bully pics in this post. More Built to Spill pics are on the way soon, too.
Pictures continue, with the list of tour dates and album stream, below...

---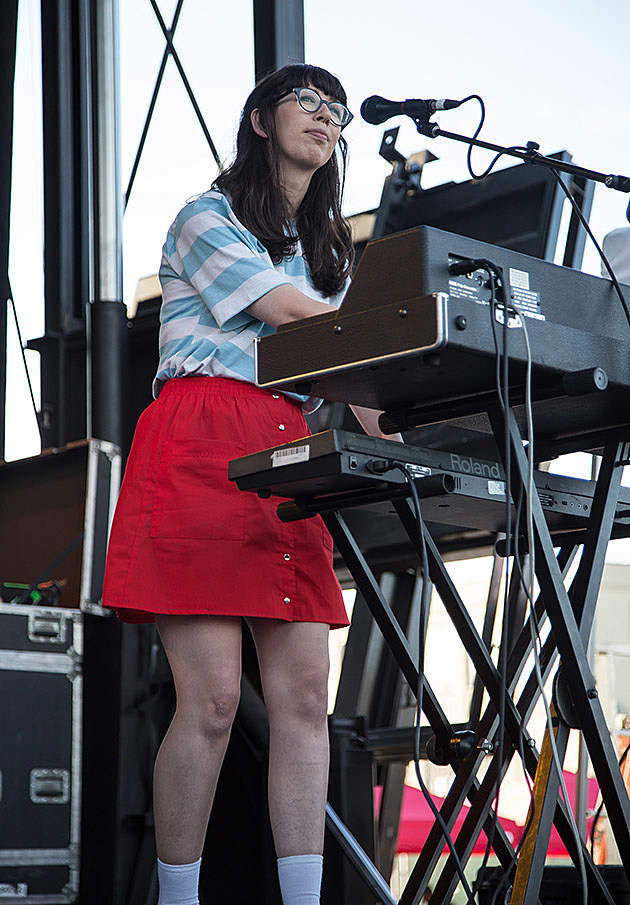 Bully -- 2015 Tour Dates
Jun 15: Rough Trade - Brooklyn, NY
Jun 16: 930 Club - Washington DC#
Jun 18: Newport Music Hall - Columbus, OH#
Jun 19: Majestic - Detroit, MI#
Jun 20: The Bishop - Bloomington, IN
Jul 17-20: Pitchfork Music Festival - Chicago, IL
Jul 31: Lollapalooza - Chicago, IL
Aug 28: Ni-Fi Festival - Sparta, KY
Sept 18: Beachland Tavern - Cleveland, OH
Sept 19: Club Helsinki - Hudson, NY
Sept 20: Pop Montreal - Montreal QC
Sept 21: The Garrison - Toronto, ON
Sept 24: Pygmalion Music Festival- Champaign, IL
Sept 25: Midpoint Music festival - Cincinnati, OH
Sept 26: Mohawk Place- Buffalo, NY
Sept 27: Boston Calling - Boston, MA
Sept 28: Music Hall of Williamsburg - Brooklyn, NY
Sept 30: Boot & Saddle - Philadelphia, PA
Oct 01: Rock & Roll Hotel - Washington DC
Oct 02: Strange Matter - Richmond, VA
Oct 03: Brillobox - Pittsburgh, PA
Oct 05: Pilot Light - Knoxville, TN
Oct 07: Off Broadway - St. Louis, MO
Oct 08: Bottleneck - Lawrence, KS
Oct 10: The Mill - Iowa City, IA
Oct 11: The Frequency - Madison, WI
Oct 12: 7th Street Entry - Minneapolis, MN
Oct 15: Badlander - Missoula, MT
Oct 16: Barboza - Seattle, WA
Oct 17: Mississippi Studios - Portland, OR
Oct 19: Rickshaw Stop - San Francisco, CA
Oct 20: Constellation Room - Santa Ana, CA
Oct 21: The Echo - Los Angeles, CA