More Artist 2014 Year-End Lists: Thurston Moore, Ex Hex, Low, Tweens, Weatherbox, Caspian, AJJ, Jason Narducy & more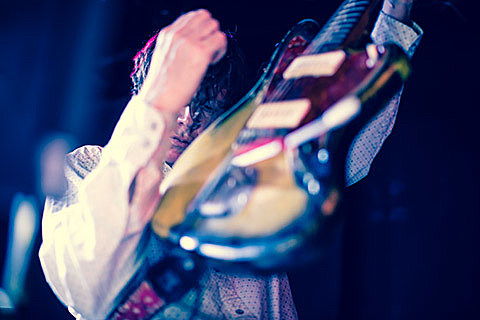 Photo: Thurston Moore @ Saint Vitus in October (more by PSquared)
Over the past month or so, we've been posting 'Best of 2014' lists from several artists, including Caribou, Converge, Yo La Tengo, A Place to Bury Strangers, Screaming Females, A Sunny Day In Glasgow, Tom Scharpling, Vetiver, Moon Duo, Tigers Jaw, Pianos Become the Teeth, Title Fight, Protomartyr, Klaus Johann Grobe, Kevin Morby, Hookworms, Cymbals Eat Guitars, Foxing, Evan Weiss, Crocodiles, and others (you can browse our "Best of 2014" tag for more).
Here's a roundup of even more artist year-end lists, including lists from The Wytches, Tweens, Weatherbox, Caspian, Plague Vendor, Andrew Jackson Jihad, S, PAWS, Cheap Girls, Frameworks, Tiny Moving Parts, Greys, Sarah Silverman, clipping., Low, Tacocat, Mikal Cronin, Ex Hex, Jason Narducy (Superchunk, Bob Mould Band, Split Single), Ceremony, Thurston Moore and Iceage. Find out what made their lists below...

---
The Wytches' Top 5 Cities We've Played This Year
New York:
Probably the coolest place in the world. It makes London feel so small. It's just so crazy and gigantic. Me and Tim (tour manager) went 25 stops on the subway to Coney Island but it was shut. We seem to have a few fans there too which is cool.
We played there with blood red shoes earlier in the year and I would move there in a heartbeat. It's grotty and cheap and has so much history. Me and Steve drunk mescal and then crowd surfed in a karaoke bar to enter sandman.
The Mexican food was fucking amazing and so cheap. It was a great place to photograph too. We played there once with cloud nothing and once as a headline act and I ate at the same taco stand each time.
I have a really really really old friend there who I hadn't seen in about 8 years and it was so crazy seeing her again. Her name is Mia and she's like a crazy nature activist and her and her friends are protesting this pipeline. I wish them the best of luck.
It was one of the last shows of the year and we got totally wasted. It's a very a beautiful place and reminds me a lot of London and New York. I really like the chilled out cafe culture they have. I love sitting and having a beer there.
Tweens' Best of 2014 List
1.Releasing our first album. Its a magical thing when you cry in front of the mailman holding a record that almost made you go completely insane.
2. Protomartyr. I love this band.
3. Flykills - Lump of Flesh
4. Public Housing - Public Housing. This was my first band. They released their first record this year.
5. Steely Dan - Dirty Work. This song came out in 1972 but i heard it for the first time a couple months ago.
6. Ariel Pink - Picture Me Gone
7.Toby Coke - Face taker
8. All the incredible tours we went on this year. Going to Europe for the first time, playing shows with Audacity. Tours with Twin Peaks, Crocodiles, Murder City Devils, etc. Made lots of new friends, lots of new memories, etc.
9. Jessica Lea Mayfield. I want her to be my best friend.
10. Gilmore Girls on Netflix.
Weatherbox's Top Albums of 2014
Animal City - The Roof EP
Run the Jewels - Run the Jewels 2
Hideout - Rookie
Owls - Two
Naomi Punk - Television Man
Stephen Malkmus - Wigout at Jagbags
Schoolboy Q - Oxymoron
Protomartyr - Under Color of Official Right
The Hotelier - Home, Like Noplace Is There
E40 - Sharp On All 4 Corners
Caspian's (Phil Jamieson) Top 10 Albums of 2014
1) Sun Kil Moon "Benji"
2) Angel Olsen "Burn Your Fire For No Witness"
3) Swans "To Be Kind"
4) Christopher Willits "Opening"
5) Pharmakon "Bestial Burden"
6) Asgeir "In The Silence"
7) A Winged Victory for the Sullen "Atomos IV"
8) Hundred Waters "The Moon Rang Like a Bell"
9) SOHN "Tremors"
10) Pontiak "INNOCENCE"
Plague Vendor's Top Albums of 2014
"All of these albums are excellent. They are listed in no particular order. "
Black Lips - Underneath the Rainbow
The Growlers - Chinese Fountain
Spoon - They Want My Soul
Liars - Mess
Cerebral Ballzy - Jaded and Faded
Warpaint - Warpaint
Mac Demarco - Salad Days
Wu Tang Clan - The Wu: Once Upon a Time in Shaolin
Spray Paint - Clean Blood, Regular Acid
Trentmøller - Lost Reworks
Andrew Jackson Jihad's (Ben Gallaty) Top Albums of 2014
Here are some 2014 releases that caught my ear. They are in no order whatsoever.
Cloud Nothings- Here And Nowhere Else
I love the thick wall of bass and guitar that's laid over the unrelenting drums. The vocal performances are equally impressive. Passionate yet nonchalant. I don't think I could listen to just one song. The entire album is a long build that eventually collapses onto itself. Then you have to listen to it again. And it's even better...
Growlers - Chinese Fountain
I only became aware of this band after seeing them at Beach Goth Party. I've since been seriously intrigued. I like how they are taking the recent obsession with beach pop bands into the darkness. I especially like "Going Get's Tough". A refreshingly upbeat song that acknowledges self-doubt but is all like, "You got this bro."
Diners - Always Room
I'm so grateful to have such amazing bands based in Phoenix and AZ. It would be a mistake to consider Diners a local band though. Their honed pop sensibilities as well as their ambitious touring schedule lead me to believe they will be recognized on the national level before we know it. Check it out. You'll be able to brag to your friends about how you knew about them back in 2014.
Hard Girls - A Thousand Surfaces
This album basically kicks the door down in the first ten seconds. It is powerful, catchy and it gets better with each listen. Pteradon, Shinobu and Classics of Love are all amazing bands but there is something transcendent about this record. These three guys have been playing together forever. It is rare to have musicians collaborating on such a fluid level.
Joyce Manor - Never Hungover Again
I feel like Joyce Manor successfully dug out of the pop punk hole they'd been buried in with this album. They did make a valiant attempt on their previous album, Of All Things I Will Soon Grow Tired. I am really excited to see what happens with this band next. Hopefully, it won't be getting murdered by their fans.
Against Me! - Transgender Dysphoria Blues
This album has all of the elements that made me obsess over this band a decade ago. It's pissed, it's raw and it's personal. At first, the production is alarming but I feel like it really suits the new phase of the band. The lyrics range from describing very explicit feelings associated with Laura's transition to dark and cryptic imagery. This one conjures up some serious thought.
Angel Olsen - Burn Your Fire For No Witness
John Congleton's production on this album perfectly serves the songs, which range from little more than voice and guitar to blown out power pop anthems. It's dark, moody and thoughtful. Olsen's haunting voice beautifully ties the whole thing together.
Smith Street Band - Throw Me In The River
I really like this band and I got particularly excited about this release when I found out that Jeff Rosenstock was going to produce it. Everything came together perfectly. Passionate, anthemic and rock solid. We're really excited to be going on tour with these guys in the spring. It's going to be a blast!
Weezer - Everything Will Be Alright In The End
Our Cellist, Mark, got really sad when I told him about this choice. Don't worry, I'm not going to try to convince you that Back to the Shack is a good song or that this will resonate with you the way that the first two albums did, because that would be mean. This album has some really great songs though. It features all the synth, vocal harmonies and shredding guitars that defined the Matt Sharp era. I love that the lyrics are both vulnerable and pissed. The vocal melodies are incredibly catchy and need to get out of my brain. If you ever liked Weezer, I think you should at least give this album a listen.
S' (Jenn Ghetto, ex-Carissa's Weird) Top 10 of 2014
The top 10 lines from the film Steel Magnolias that helped me get through 2014
10. Pink is my signature color (says Julia Roberts in southern accent that envies Nick Cage from Con Air)
9. I promise that my personal tragedy will not interfere with my ability to do good hair (Daryl Hannah is basically trying to not get fired)
8. I'm not crazy, I've just been in a very bad mood 40 years (Shirley MacLaine can say anything she wants in this movie)
7. Annelle, take your Bible and shove it where the sun doesn't shine (this is where Dolly Parton is getting tired of Daryl Hannah's religious awakening, well everyone is getting tired of it, but of course it's Dolly who says something)
6. If you don't have anything nice to say about anybody, come sit by me (yes! Olympia Dukakis is in this!)
5. You look like hammered shit.
4. Don't you talk to me like that
3. Oh,I'm sorry you look like regular shit (Tom Skerrit's exchange with Shirley MacLaine....classic)
2. Honey, time marches on and eventually you realize it is marchin' across your face (Ladies and gentleman ,Dolly Parton)
1. I don't see plays, because I can nap at home for free ( this is just my favorite line in the movie ,thank you Shirley MacLaine).
PAWS' (Phillip Taylor) Top 10 Albums of 2014
So like, Cloud Nothings outdone themselves when I thought their last record was a masterpiece. Karen O's soft love lullabies restored the romantic in me. We fell in love with Flashlights and toured with them to heaven, hell and back. Jenny Lewis came back and Beck subtly provided my favourite backing vocal of the year. Frankie Cosmos got me lost in my own little world. Tweens are kick ass. Ariel Pink got weirder. The Twilight Sad got darker. Withered Hand because, well, just Withered Hand. Fugazi kicked everyone in the throat and reminded me of all that is good and pure.
Cloud Nothings - Here and Nowhere Else
Karen O - Crush Songs
Tweens - Tweens
Flashlights - Bummer Summer
Jenny Lewis - The Voyager
Frankie Cosmos - Zentropy
Fugazi - First Demo
Ariel Pink - Pom Pom
The Twilight Sad - Nobody Wants To Be Here and Nobody Wants To Leave
Withered Hand - New Gods
Cheap Girls' (Ian Graham) Top 10 Albums of 2014
Lana Del Rey / "Ultraviolence"
I wasn't really familiar with her work, but I remember being hit over the head with advertising around NYC while CG were there over the summer. Advertising works to an embarrassing extent with me so I grabbed it from iTunes just for an understanding/curiosity. I must've played this album multiple times a day during the rest of our touring for the year. To be fair, the rest of the van was right on board. This is an absolutely fascinating and beautiful album. Easily my most played of the year. Easily.
Lees of Memory / "Sisyphus Says"
Grew up being a massive Superdrag fan (and still very much am). Albeit a bit concerned when tagged with the exhausted shoegaze term upon release, these ended up feeling very close to home for me on a songwriting level. From song to sonics, this is exactly what I personally needed it to be. Really cannot get enough of it.
Ryan Adams / "1984" & "Ryan Adams"
I'm certainly in that "can-do-no-wrong" group when it comes to Ryan Adams. "1984" was/is the best "experimental" project of his, in my eyes. The proper LP is also just great in the way it channels those earlier/darker-toned Tom Petty LPs.
The Hold Steady / "Teeth Dreams"
Cheap Girls were so fortunate to be asked to play the bulk of our 2014 shows with these guys, which was an even luckier scenario considering how much we all loved "Teeth Dreams." Lyrics as effective as ever and now strongly backed by the unbelievable interplay between Tad and Steve.
The War on Drugs / "Lost in the Dream"
Seems like an obvious candidate for a lot of people and it's pretty obvious why. Stunningly beautiful in all its ways.
Spoon / "They Want My Soul"
Been a fan for quite awhile and this one got me the most out of the last few they've done. "Rainy Taxi" is one of those songs that has the ability to sum up just about everything I've loved about the last 10 years of Spoon while still sort of blowing my mind in newer directions.
Andrew Jackson Jihad - "Christmas Island"
I was lucky enough see this album come together through a lot of different forms, mainly thanks to a solo tour Sean and I did together last year. To witness such an amazing amount of diligence, desire and passion go into a project and see the pay-off is one of the greatest benefits of being a friend of Sean's; whether it's this project or anything he works on. I'm beyond thrilled to have him a few blocks over now.
Purling Hiss / "Weirdon"
This just struck me a few weeks ago. I was out shopping and had been meaning to grab it for a while now and for the hour+ drive home I just let the tape play, flip over, start over, and so on. I still haven't pinned down the intricacies of my appreciation for it but it made its mark quickly with me.
REM / "Unplugged: The Complete Sessions"
An all-time favorite band doing two absolutely remarkable performances. Really happy that this is all in one place now.
Tweedy / "Sukierae"
- Gigantic Wilco fan so I was really looking forward to this. I just love these songs so much; their beauty, honesty, love and so on. A long and gorgeous record.
# 11 has to, absolutely must, go to those wonderful goofballs in Chumped for "Teenage Retirement" - I just haven't had enough time to listen yet to place/describe my feelings on it yet. :(
Frameworks' (Corey Fischer) Top Albums of 2014
Iceage - Plowing into the Fields of Love
Ratking - and so it goes..
Prawn - Kingfisher
Interpol - El Pinto
Jay Mascis - Tied to a Star
The Caution Children - Safe Crusades/No Judgments/And Baby
Flesh Born - Han
United Nations - The Next Four Years
Ryan Adams - Ryan Adams
Tawny Peaks - In Silver River
Tiny Moving Parts' Top 10 Albums of 2014
1. Every Time I Die - From Parts Unknown
2. Free Throw - Those Days are Gone
3. Frameworks - Loom
4. The Gaslight Anthem - Get Hurt
5. The Hotelier - Home, Like No Place is There
6. Prawn - Kingfisher
7. You Blew It! - Keep Doing What Your Doing
8. Modern Baseball - You're Gonna Miss it All
9. Pianos Become the Teeth - Keep You
10. The Smith Street Band - Throw Me in the River
Greys' Top 5 Albums and Meals of 2014
Albums
Absolutely Free - S/T
The Dirty Nil - Smite
Odonis Odonis - Hard Boiled Soft Boiled
Ought - More Than Any Other Day
Teenanger - E P L P
Meals
Jim's Steaks, Philadelphia
- We've tried Geno's, Pat's, Ishkabibble's, Govinda's and all manner of cheese steaks in Philly, but none will ever come close to Jim's. The secret ingredient is more surly dudes yelling at you to place your order.
Franco Manca, London
- Pizza with a sour dough crust? Fuhgettaboudit!
Nando's, UK
- Rotisserie chicken marinated with peri peri sauce, with that halumi cheese, some corn on the side, and those peri fries? Fuhgettaboudit!
Taquiera Cancun, San Francisco
- Mission burritos are a wonderful thing but THIS burrito is the best of the best. Wash it down with some Mexican coke? Fuhgettaboudit!
Lumberjacks, Windsor
- Best non-fancy normal guy brunch in Ontario. If you don't have grilled onions in your hash browns then get out of my face with that bullshit.
Sarah Silverman's Best of 2014 (via Sub Pop)
New Basement Tapes "Lost on the River" the whole album is perfect
First Aid Kit "Stay Gold"
Jenny Lewis album, "Voyager"
Birdman was my favorite movie this year
DONT STOP OR WE'LL DIE album "Gorgeous"
Sia's "CHANDELIER"
The brilliant video for Chandelier
WALK OFF THE EARTH'S cover of Taylor Swift's "Shake It Off" (and the video!)
Grand Budapest Hotel
Fargo
clipping.'s Best of 2014 (via Sub Pop)
William Hutson of clipping.:
20 Albums:
Marc Baron: Hidden Tapes (Potlatch)
The Body: I Shall Die Here (RVNG Intl.)
Cakes Da Killer: Hunger Pangs (Self-released)
Consumer Electronics: Estuary English (Dirter)
Diocletian: Gesundrian (Osmose Productions)
Dreamcrusher: Haine (This Ain't Heaven Recording Concern/Lazed In You)
Kangding Ray: Solens Arc (Raster-Noton)
Kthoniik Cerviiks: Heptaedrone (Iron Bonehead Productions)
Kevin Gates: By Any Means (Self-released/BWA)
Lettera 22: Subsequent Teeth (Monorail Trespassing)
Mincemeat Or Tenspeed: Waiting For Surfin' Bird (Decoherence)
Mohammad: Lamnè Gastama (Antifrost)
Michael Pisaro: Continuum Unbound (Gravity Wave)
Puce Mary: Persona (Posh Isolation)
Vanessa Rossetto: Whole Stories (Kye)
Run The Jewels: Run The Jewels 2 (Mass Appeal)
Sissy Spacek/K2: Sissy Spacek/K2 (Helicopter)
Swallowed: Lunarterial (Dark Descent)
Tobias.: A Series Of Shocks (Ostgut Ton)
Y.G.: My Krazy Life (Def Jam)
15 Tracks:
Body/Head "The Canyon"
Dej Loaf "Try Me"
EMA "Satellites"
Future Islands "Seasons (Waiting On You)"
Gath Šmânê "Capillaries of Augury"
Hail Mary Mallon "Dollywood"
Kelis "Rumble (Actress Sixinium Bootleg Mix)"
Le1f "Boom"
Migos "Fake Watch Busta"
OG Maco (feat. 2 Chainz) "U Guessed It"
Pharmakon "Bang Bang"
Pusha T "Lunch Money"
Rich Gang (feat. Young Thug & Rich Homie Quan) "Lifestyle"
Street Sects "Public School No. 4"
Youth Code "Consuming Guilt"
10 Archival Releases:
Alberich: NATO-Uniformen (Hospital Productions)
Vanessa Amara: Both Of Us & King Machine (Posh Isolation)
Suzanne Ciani: Liberator (Finders Keepers)
Demilich: 20th Adversary Of Emptyness (Svart Records)
Drexciya: Neptune's Lair (Tresor)
Richard Maxfield: Richard Maxfield (Slowscan)
Regis: DN51 (Downwards)
Jean-Claude Risset: Music From Computer (Recollection GRM)
Small Cruel Party: Unroof The House Of The Fishes (Harbinger Sound)
Various: Hardcore Traxx: Dance Mania Records (1986-1997) (Strut)
- And finally, 5 albums by artists we've toured with this year that would have absolutely been on my list had placing them there not looked so suspicious.
Busdriver: Perfect Hair (Big Dada)
Milo: A Toothpaste Suburb (Hellfyre Club)
Open Mike Eagle: Dark Comedy (Mello Music Group)
Shabazz Palaces: Lese Majesty (Sub Pop)
Signor Benedick The Moor: Opus 3 -- Man Atop The Tower (Juicy)
Jonathan Snipes of clipping.:
Top 10 film score reissues of 2014:
1. Vince DiCola - Transformers: The Movie (Intrada)
2. John Corigliano - Altered States (La-La Land)
3. Chuck Cirino - Chopping Mall (Waxwork)
4. Ennio Morricone - Danger: Diabolik!/For A Few Dollars More (Retro Recording Arts)
5. Philip Glass - Candyman (One Way Static)
6. Tangerine Dream - Wavelength (La-La Land)
7. Tim Krog - The Bogey Man (Howlin' Wolf)
8. Ennio Morricone - Una Lucertola Con La Pella Di Donna (Beat)
9. Bendetto Ghiglia - New York Chiama Superdrago (Digitmovies)
10. John Williams - Spacecamp (Intrada)
Top 10 film scores that I *wish* had been reissued (or in some cases issued for the first time) in 2014:
1. John Williams - Heartbeeps
2. Riz Ortolani - Goodbye Uncle Tom
3. Ton Scherpenzeel - Spetters
4. Michael Boddicker - The Adventures of Buckaroo Banzai Across the 8th Dimension
5. Ennio Morricone - The Thing (That bullshit re-recording from 2011 does *not* count)
6. Hans Zimmer & Trevor Horn - Toys
7. Jerry Goldsmith - Supergirl
8. Gil Mellé - The Andromeda Strain
9. Michel Polnareff - Lipstick
10. François Eudes-Chanfrault - Haute Tension
Daveed Diggs & William Hutson of clipping.:
100s: IVRY
Avatar Darko: Soviet Goonion 3
Bankroll Fresh: Money To Die 4
Cousin Fik: Sickest Nigga Healthy 2
The Devil: Violence
Dreezy: Schizo
Gangsta Boo & La Chat: Witch
Kris Henry: 7
Kool John: Shmop City
Leikeli47: Lk-47 Pt. II
Lil Boosie: Life After Deathrow
Migos: Rich Nigga Timeline
OJ Da Juiceman & Criminal Manne: Kings Of The Trap
Philthy Rich: Sem City Money Man
Rich Gang (Young Thug, Birdman & Rich Homie Quan): Tha Tour Pt. 1
Rome Fortune: Small VVorld
Scotty ATL: Spaghetti Junction
Shy Glizzy: Young Jefe
Starlito: Insomnia Addict
ZlooperZ: Help
Alan Sparhawk of Low's Ten Best Shows He Saw in 2014 (via Sub Pop)
1 mark kozelek at Karpele's museum in Duluth - beautiful space, he talked a lot, played "war on drugs suck my cock."
2 portishead at ATP Iceland - heavy, sophisticated, committed.
3 Liars at ATP Iceland - so out, so good, 'always love these guys.
4 slowdive in SF - whole tour was great, but this night they bent the space/time continuum.
5 Red Mountain at Bayfront park, Duluth - local collective brings the glitter to the end-of-summer party.
6 The Cloak Ox at Tycoons, Duluth. Andrew Broder makes everyone else look like lazy hacks.
7 Alpha Consumer in Mpls. acoustic show. Ok, I'll use the word "supergroup"... Coolest guys in the tri-state.
8 Southwire at Sacred Heart in Duluth - the more difficult the venue, the more these guys shine.
9 the Drone-not-Drones 24 hour improv at the cedar in Mpls - lots of friends and a unifying concept.
10 Dawn of Midi at Big Ears festival - inspiring, so focused and human
Tacocat's Best Of 2014!! (via Sub Pop)
1.) Cupcake vodka
2.) Tacocat playing the Paramount!
3.) Buffy the Vampire Slayer on Netflix
4.) Girl Pool
5.) Taco Bell FINALLY has breakfast (first meal)
6.) Muppets Most Wanted
7.) Releasing our record NVM on Hardly Art
8.) Stoner Girls Guide made us a Space Needle Bong/PAX made us a custom Tacocat vaporizer/JuJu Joints sponsored one of our tours
9.) Tacocat's first European tour
10.) Shoko Matsuki
Mikal Cronin -- Some Comedy Podcasts Mikal Listened To A Lot In 2014 (via Merge)
Comedy Bang Bang
WTF with Marc Maron
Never Not Funny with Jimmy Pardo
The Andy Daly Podcast Pilot Project
Hollywood Handbook
Nerdist Podcast
U Talkin U2 2 Me
You Made it Weird with Pete Holmes
The K Ohle with Kurt Braunohler
Jonah Raydio
Professor Blastoff
Superego
Ex Hex's Top Ten things from 2014 (via Punk News)
In no particular order
* Pentagram show in Minneapolis at Mill City Nights
* King Tuff Black Moon Spell LP
* The Clean Anthology LP Reissue/ Merge
* Kid Congo and the Pink Monkey Birds show in Cincinnati at Mid Point Music Fest
* Brooks Headley's veggie burgers
* Slant 6 Soda Pop Rip off LP reissue/ Dischord
* Ed Schraders Music Beat Party Jail LP
* Man Made LP reissue Teenage Fan club/ Merge
* Black Bananas Electric Brick Wall LP
* Hammered Satin/The Tip/Dirt City show at Smash in DC
Jason Narducy's (Superchunk, Bob Mould Band, Split Single) Favorite Songs of 2014 (via Merge)
"Moaning Lisa Smile" Wolf Alice
"Red White And Black" OFF!
"Place Names" Cymbals Eat Guitars
"Expensive Dog" Total Control
"Coming Down" Clap Your Hands Say Yeah
"Parade On" Doug Gillard
"Daddy's Car" Eno • Hyde
"Digital Witness" St Vincent (SNL performance)
"Inside Out" Spoon
"Psychic Trauma" Cloud Nothings
"Hummingbird" The Both
"Brill Bruisers" The New Pornographers
Anthony Anzaldo of Ceremony:
RECORDS
Lykke Li - I Never Learn
Total Control - Typical System
Prince - Art Official Age
Aphex Twin - Syro
Pharmakon - Bestial Burden
SONGS
Zola Jesus - Dangerous Days
Lykke Li - Just Like A Dream
Total Control - Flesh War
Chromeo - Jealous
Ariana Grande - Problem
SHOWS
Prince at the Fox Theatre in Oakland
NIN at Shoreline Amphitheater in Mountain View
Gorilla Biscuits at Mohawk in Austin
Failure at the El Ray in Los Angeles
The Cure at Bottle Rock in Napa
Long
Aphex Twin - SYRO
Eno & Hyde - High Life
Francis Harris - Minutes Of Sleep
Future - Honest
Good Throb - Fuck Off
Grouper - Ruins
Hank Wood And The Hammerheads - Stay Home!!
Protomartyr - Under Color Of Official Right
Total Control - Typical System
Vladislav Delay - Visa
Short
Big Zit - Electric Zit Vol. 1
Container - Adhesive
Flesh World - A Line In Wet Grass
Frau - Punk Is My Boyfriend
Golden Teacher - Party People
Pang - Young Professionals
Portable - Surrender
S.H.I. - Struggling Harsh Immortals
Sheer Mag - self titled
Watery Love - Sick People
Thurston Moore's Best of 2014 (via Matablog)
1. Chloé Griffin - EDGEWISE : A Picture Of COOKIE MUELLER (b_books)
This book is an astounding labor of love. The author, fascinated by who Cookie Mueller may have been after witnessing her in all the weirdo John Waters films, including Pink Flamingos and Female Trouble, decided to travel the USA interviewing anyone still left alive who spent time with this person. All the insane characters of early 70s Baltimore, P-Town and NYC raise their sloshing glasses to this incredible lightning girl Cookie and all their stories are told in a way which creates a historical travelogue of counter culture avant insanity which is responsible for helping to light the fuse that becomes punk rock and beyond.
2. John Lydon at Rough Trade East 17th October 2014
The Rotten one was bopping around the UK promoting his new book Anger Is An Energy (Simon & Schuster) and we caught his last stop at RT and it was as good as any Sex Pistols or PiL show. He came out with his manager / right hand man and Arsenal accomplice Rambo and a shopping basket full of lager and proceeded to have a high energy back and forth with the audience. His mates from nearby Finsbury Park were there shouting back and forth and Lydon actually did a weird physical transformation into Tony Blair (he hates 'im). Savage, infuriating - everything his book is - but with a kindness that is always burbling through. I got to meet him fleetingly, the one person I wanted to meet most in this nutso rock n roll world, and he was nice enuff ("Sonic Youth, what are you bloody doing here?") - but I think he more interested in drowning beers with his pals, which is what he should be doing but damn I think making a record with him in trio with Irmin Schmidt with Can is what Matador should be investing in big time for 2015.
Iceage's (Elias Ronnenfelt) Top Albums of 2014 (via Matablog)
Dirty Beaches - Stateless
Pharmakon - Bestial Burden
Vessel - Punish, Honey
Hank Wood and the Hammerheads - Stay home
Puce Mary - Persona
Institute - Giddy Boys EP
Lower - Seek Warmer Climes
Total Control - Typical System