more Ducktails, Woods, Blank Dogs, The Soft Moon & Frankie Rose & the Outs shows (dates)
Ducktails at Glasslands (more by Erez Avissar)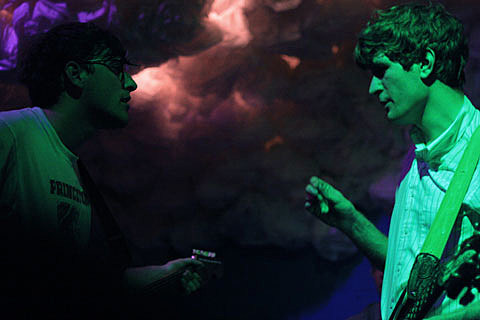 As you may have noticed at the bottom of the recent set of Ducktails tour dates we posted, there was a tour with Woods planned, but no actual dates. That is no longer true. Woods and Ducktails will hit Maine, Vermont, Philly, Baltimore and their hometown of Brooklyn together in February. The NYC show is 2/4 at Monster Island Basement, but you don't need to wait that long to see Ducktails. As previously discussed, they play with Gary War at Union Pool tonight (1/8) and at Glasslands on 1/18 with the Smith Westerns. All dates are below.
In semi-related news, Blank Dogs also have a hometown date at Monster Island Basement one week prior, on 1/28, with their Captured Tracks labelmates from San Francisco, The Soft Moon, who they'll also play Boston and Philly with that same week. All dates are below.
And speaking of Captured Tracks, as previously mentioned, MINKS have a few shows in the near future as well, including supporting Frankie Rose & The Outs at Bowery Ballroom with Dum Dum Girls on March 4th (tickets), and Jan 21st at Glasslands with Big Troubles.
Frankie Rose & The Outs also have another show a lot sooner. It happens on January 20th with King Tuff at Knitting Factory in Brooklyn. Tickets are on sale.
All tour dates and some videos below.

--
Woods - Rain On

Ducktails @ Origami Vinyl

BLANK DOGS - 2011 TOUR DATES
Thu 01.27.11 Philadelphia, PA M Room w/ The Soft Moon
Fri 01.28.11 Brooklyn, NY Monster Island Basement w/ The Soft Moon
Sun 01.30.11 Boston, MA Brighton Music Hall w/ The Soft Moon
--
FRANKIE ROSE & THE OUTS - 2011 TOUR DATES
Wed 01.12.11 Toronto, ON w/ Parts & Labour
Thu 01.13.11 Chicago, IL @ Tomorrow Never Knows Festival - Lincoln Hall w/ The Besnard Lakes
Fri 01.14.11 Cleveland, OH Happy Dog
Thu 01.20.11 Brooklyn, NY Knitting Factory w/ King Tuff
Fri 03.04.11 New York, NY Bowery Ballroom w/ Dum Dum Girls, Minks
--
DUCKTAILS - OTHER 2011 TOUR DATES
01/08 Brooklyn, NY Union Pool
01/15 Philadelphia, PA Pi Lam
01/18 Brooklyn, NY Glasslands *
* = w/ Smith Westerns
--
WOODS & DUCKTAILS - 2011 TOUR DATES
Wed-Feb-02 Burlington, VT Monkey House
Thu-Feb-03 Portland, ME Apohadion
Fri-Feb-04 New York, NY Monster Island Basement
Mon-Feb-07 Philadelphia, PA Chapel at First Unitarian Church
Tue-Feb-08 Baltimore, MD Golden West
--
WOODS - 2011 EUORPEAN TOUR DATES
14/03/11 : Hare & Hounds - Birmingham
15/03/11 : The Deaf Institute - Manchester
16/03/11 : Bush Hall - London
17/03/11 : La Maison des Musiques - Brussel
18/03/11 : Cafe de la Danse - Paris
19/03/11 : Klub Radar @ Tivoli - Utrecht
20/03/11 : Vera - Groningen
21/03/11 : Comet Club - Berlin
22/03/11 : Molotow - Hamburg
23/03/11 : Loppen - Copenhagen
24/03/11 : Pusterviksbaren - Gothenburg
25/03/11 : Revolver - Oslo
26/03/11 : Club What We Do Is Secret @ Strand - Stockholm
27/03/11 : Kuudes Linja - Helsinki
24/09/11 : End of the Road festival - Dorset