More photos and what not from Bonnaroo 2007
Demetri Martin & Pete Yorn (CRED)

Crowd Surfer?(CRED)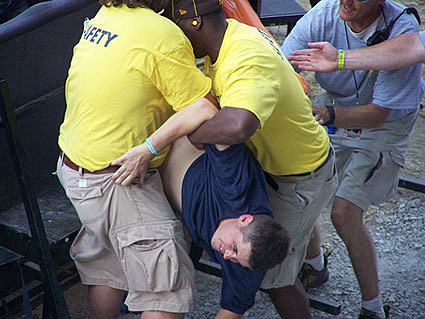 More photos and sad Ornette Coleman news below....

Ornette Coleman (CRED)

Jazz legend Ornette Coleman collapsed from heat stroke during his performance Sunday at the Bonnaroo festival in Manchester, Tenn. Sunday night he remained in a local hospital under doctor's supervision.
After collapsing on stage, the 77-year-old saxophonist was rushed to a nearby medical tent and given intravenous fluids, according to a Bonnaroo spokesperson. Coleman was said to be lucid and insistent that he had no symptoms before the incident.
Late Sunday, the artist was resting at the local Coffey County Hospital.
His next scheduled concert is July 6 in Kongsberg, Norway. [Reuters]
Tortoise (CRED)

David Cross, Aziz Ansari & Nick Kroll (CRED)

The Decemberists (CRED)

The Hold Steady (CRED)

Flaming Lips (CRED)

Body Paint (CRED)

Girl Talk (CRED)

--
More photos HERE.