more pics from Lemuria, OFF! & Superchunk in the Vans warehouse (review & setlists too)
by BBG
OFF!, Lemuria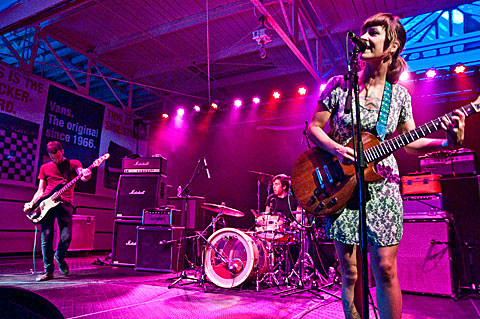 There was a time in the not-too-distant past when the idea of Superchunkplaying a song with Keith Morris or covering the Misfits would have been sneered at and scoffed upon as blasphemy. Though the North Carolina band has always been lumped in with an indie scene, Superchunk's power-pop has a definite bite to it, a fact that becomes much clearer on the live stage. Superchunk is a punk band and they ruled the FYF-presented show at House of Vans last night, tearing through fun covers of "Where Eagles Dare" and "Gimme Gimme Gimme" and bouncing like their shoes were spring-loaded.
Support for Superchunk was similarly strong. Lemuria opened the show, playing poppy punk-inflected ballads that owed debts to the headliner as well as other 90s greats like Velocity Girl and Breeders. OFF! know their way around a live show, and the band played a reliably raucous set that dipped into their split with Trash Talk and recent 4x7". Pitting was limited and though blood was shed on the floor of the mosh pit, it was reportedly nowhere near insanity that erupted during Ceremony. Cro-Mags/Fucked Up/Pissed Jeans? Wear a helmet.
Aside from the aforementioned covers that occupied 2/3 of their encore (the last 1/3 was "Hyper Enough" from Here's Where The Strings Come In), Superchunk's set touched on moments from their entire discography including their latest Majesty Shredding. It has been over a decade since I last saw this band and I am happy to say that besides some grey hair (a few lost ones), this indie mainstay is intact and as good as ever live.
We alrady posted one set of pictures. A second, along with the Lemuria & Superchunk setlists, is below....

--

Lemuria
OFF!
Superchunk