more pics from FYF Fest 2011 (Descendents, Broken Social Scene, No Age, Girls, Japandroids & more)
Nathanael Turner
photos by Nathanael Turner
Descendents

Punk rock long ago transcended class, age, gender and ethnicity to become a signifier not necessarily of outward rebellion but of the symbolic, crazy-on-the-inside variety. That sense of internal defiance continues to permeate the entire underground and has become a secret handshake that united not only the artists who made traditional-ish punk rock over the course of 10 hours of the FYF -- the Descendents, No Age, Off! among them -- but from a wildly divergent cast of in-yer-face artists including beat makers Nosaj Thing and Dan Deacon, the deeply sensual, self-referential house music of New York's Chromatics and Glass Candy, and the catchy, arena-aspirant bands like Broken Social Scene.
"It's a punk rock festival. That means we're going to play ... in the wrong key," declared Guided by Voices singer Robert Pollard during his band's sturdy, hook-infused rock set featuring acrobatic kicks, monster choruses and a sexy girl delivering between-song lighted cigarettes to guitarist Mitch Mitchell.
But Pollard missed the point. As anyone who roamed downtown's Los Angeles State Historic Park on Saturday could see, punk no longer means inept, either on a musical or festival level. It means being inspired and maybe a little irrational, like festival founders Sean Carlson, Phil Hoelting and Keith Morris. It means realizing strengths and weaknesses. It means pushing at the edges like L.A.-based instrumental Nosaj Thing, who fused the deep, penetrating bass of dubstep with touches of skewed Aphex Twin breakbeat rhythms to create architecturally sophisticated sound structures as solid as they were abrasive. Or it means setting up gear in the crowd like electronic/serialist/rhythmatist Deacon to make sounds so driving and strobing that the level of crowd surfing reached Nirvana-like proportions. [LA Times]
You saw the Future Islands shots. Here are some more of a bunch of the acts that played FYF Fest in LA on Saturday (9/3). No Dead Milkmen, Kid Dynamite or Guided By Voices, but a bunch of other stuff below...

--
Japandroids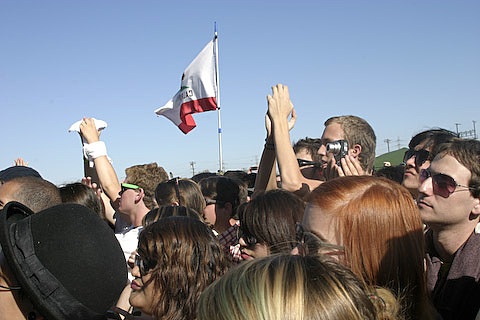 Cults
Strange Boys
Chromatics
No Age
Broken Social Scene
Girls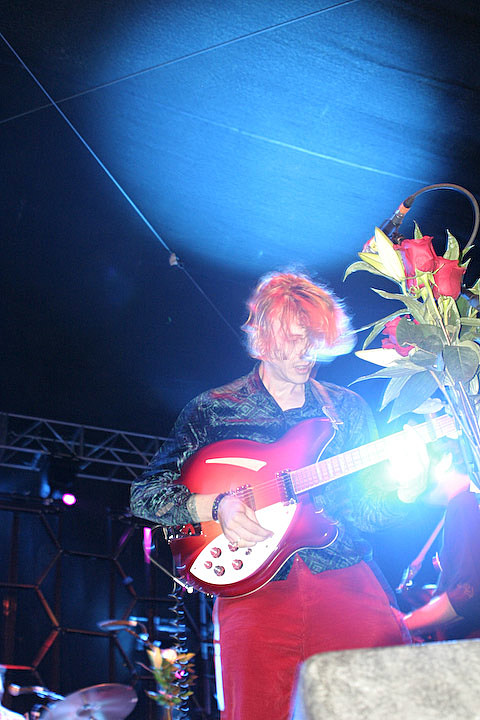 Descendents
Dan Deacon...