Morrissey played BAM (pics, setlist); Johnny Marr on cover of new 'MOJO' (stream a track from his new LP)
Morrissey at BAM, 1/11/2013

Morrissey made his first trip to Brooklyn on Friday night (1/11) for a show at BAM, the second of four shows the former Smiths frontman is doing in the NY area this month. Opening the show with new-ish song "Action is My Middle Name" (which he performed recently on Letterman) and a handful of different oldies ("How Soon is Now," "Please, Please, PLease," "November Spawned a Monster") swapped in, the setlist was different enough for Moz fans to justify going to see him again after he was just here in October. (Setlist is below.) Of course for some, the only justification needed is he's playing. And those are the people who try and get on stage and hug him.
Like the shows in October, Kristeen Young opened. Morrissey plays House of Blues in Alantic City tonight (1/12) and The Capitol Theatre in Port Chester on January 19.
In other Smiths-related news, Morrissey former co-writer Johnny Marr is on the cover of the new issue of MOJO. The issue comes with a CD featuring many of Marr's colaborations over the last 25 years, including Sandy Shaw's somewhat rare version of"Hand in Glove" which she recorded with Marr and the rest of the instrument-playing Smiths in 1984. It's also got "The Right Thing Right," the opening track from Marr's upcoming solo album, The Messenger (out Feb. 26), and you can stream that below.
More pics and setlist from BAM and that Johnny Marr song stream are below.

---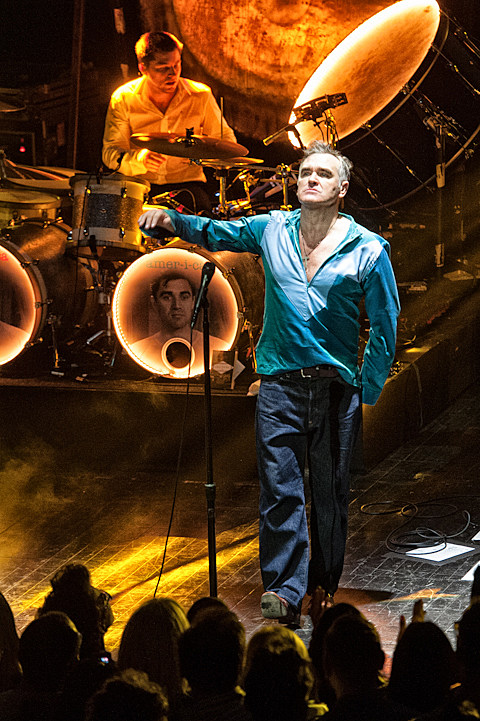 SETLIST: Morrissey @ BAM 1/12/2013
Action Is My Middle Name
Everyday Is Like Sunday
How Soon Is Now?
First of the Gang
Shoplifters Of The World
Black Cloud
People Are The Same Everywhere
Alma Matters
Maladjusted
Let Me Kiss You
You Have Killed Me
Ouija Board, Ouija Board
Please, Please, Please Let Me Get What I Want
You're The One For Me, Fatty
November Spawned A Monster
One Day Goodbye Will Be Farewell
I'm Throwing My Arms Around Paris
Speedway
Meat Is Murder
Johnny Marr - "The Right Thing Right"