Morrissey & the Courteeners @ Bowery Ballroom in NYC – pics & setlist
unknown
TOP 10 THINGS MORRISSEY SAID [SATURDAY] NIGHT

* 10. Does anybody have on their person a dead cat? I'd like to see if I can swing it.
* 9. If ever a venue was made for a gong, it's the Bowery Ballroom.
* 8. I'm the type who just can't find love.
* 7. Who am I? This is a question that many have died trying to answer... I can only be identified on a slab, by the scars of pain.
* 6. So what the hell happens now?
* 5. We're like a jealously guarded can of sardines.
* 4. Tonight's manifesto is...
* 3. Is he making fun of me? He will some day.
* 2. Written in pain!
* 1. In a few days, we will be in a posher part of town, so obviously none of you will be there. Nice meeting you.
[Newsday]
Those quotes all come from Morrissey's Saturday, March 21st gig at the intimate Bowery Ballroom - a venue whose exterior was more heavily guarded than usual on that night. Newsday also wrote that,
[Morrissey's] 80-minute show Saturday night at Bowery Ballroom - the smallest New York venue he has played in more than a decade - matches the album it supports well...harder, tougher and far more indie-rock than he has been in years.

Of course, Morrissey still knows how to deliver heartache more elegantly than almost anyone...And he also knows better than to mess with the signature sound of "How Soon Is Now?" which had the trademark guitar reverb turned up extra loud, though he has modified some lyrics to reflect the times. ("So you go and you stand on your own and you leave on your own and you cry" is followed by "Oh what a big surprise!" instead of "And you want to die!") Less drama, more jaded snarkiness! Who says Morrissey is not of these times?"
The Courteeners, who shared a bill with Moz for the first time at the Bowery show, will provide support for the rest of his US tour, which winds down in New Mexico on April 15th - just in time for The Courtneeners make an April 17th Coachella stop.
More Bowery Ballroom pictures and the setlist, below...

The Courteeners...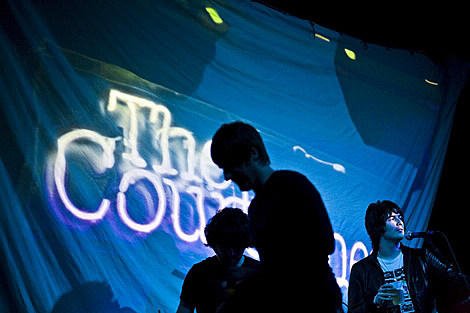 Wellmont Theater pics HERE.
Mar. 21, 2009 New York, NY - Bowery Ballroom - setlist (via Newsday):
This Charming Man
Billy Budd
Black Cloud
How Soon Is Now?
Irish Blood, English Heart
Let Me Kiss You
I'm Throwing My Arms Around Paris
How Can Anybody Possibly Know How I Feel?
Seasick, Yet Still Docked
The Loop
I Keep Mine Hidden
The World Is Full of Crashing Bores
Why Don't You Find Out for Yourself?
Ask
Best Friend on the Payroll
Sorry Doesn't Help
Something Is Squeezing My Skull
I'm OK By Myself
-------------------
First of the Gang to Die