mostly free outdoor movies in NYC – 2009 schedules
the Rooftop Films opening on May 15th (more by Ryan Muir)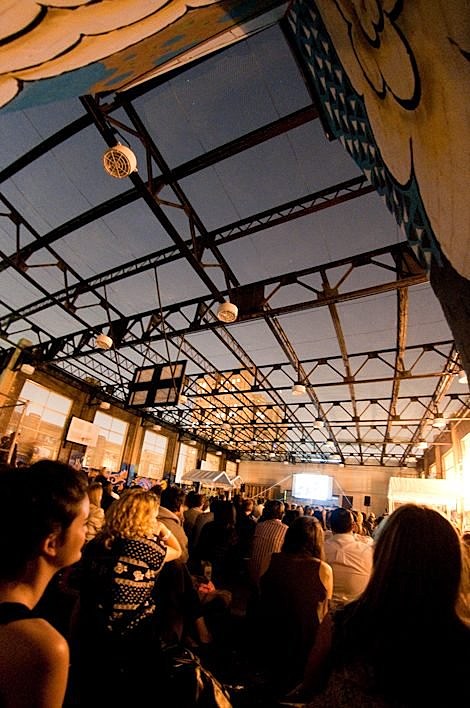 Hudson River Park's Take Me to the River '09 will present RiverFlicks, which shows movies for "adults" on Wednesdays starting on July 8th and films for kids on Fridays starting July 10th. That film series accompanies the park's RiverRocks shows. Bands appearing at RiverRocks include Yeasayer, Ted Leo, Matt & Kim, Radio 4 and Extra Golden.
Bryant Park Summer Film Festival screens films on Mondays starting June 15th. Brooklyn Bridge Park's Movies With A View series kicks off July 9th and runs every Thursday through August.
All the above-mentioned events (barring Rooftop Films) are free and open to the public. All lineups and locations below...

----
Brooklyn Bridge Park's Movies With A View returns for its 10th Anniversary Season on Thursday, July 9, 2009. This summer, sidle up, nab a patch of grass and walk off with a night of fabulous entertainment without paying one red cent. Come down to the park to enjoy one of the city's premiere outdoor film series with an eclectic line-up of films and breathtaking views of the NYC waterfront. The films are chosen by an all-volunteer Film Committee and each feature is preceded by a short film. DJs from Brooklyn Radio kick off the evening, spinning tunes as the sun sets, while RICE sells delicious dinners onsite. Complimentary bike valet provided by the fine folks at Transportation Alternatives. Welcome to Stolen Summer, the season of capers, thrillers and heists!
2009 SCHEDULE:

July 9
Raising Arizona

July 16
The Maltese Falcon

July 23
Paper Moon

July 30
To Catch A Thief

August 6
The Return Of The Pink Panther

August 13
Butch Cassidy And The Sundance Kid

August 20
Catch Me If You Can

August 27
Edward Scissorhands
Brooklyn Bridge Park directions

Hudson River Park's Take Me to the River 2009 Summer Events
RiverFlicks for Grown Ups

Pier 54 at 14th St.

Wednesdays
Movies begin at dusk (generally around 8:30 pm.) Seating is available. Free popcorn. Beverages and Snacks are for sale.

July 8 - Iron Man (PG13)
July 15 - Vicky Cristina Barcelona (PG13)
July 22 - The Dark Knight (PG13)
July 29 - Hancock (PG13)
August 5 - Tropic Thunder (R)
August 12 - Sex and the City: The Movie (R)
August 19 - Pineapple Express (R)

Subway: A,C,E,L at W.14th St..
Bus: M14, M11

Nearest restrooms: Portalets provided during events.

--

RiverFlicks for Kids

Pier 46 at Charles St.

Fridays
Movies begin at dusk (generally around 8:30pm.) Free popcorn. Beverages and Snacks are for sale.

Join us at Hudson River Park's Pier 46 as we screen new and classic films for the whole family!

July 10 - Wizard of Oz (G)
July 17 - Kung Fu Panda (PG)
July 24 - Ghostbusters (PG)
July 31 - Star Wars: The Clone Wars (PG)
August 7 - Muppet Movie (G)
August 14 - Madagascar: Escape 2 Africa (PG)
August 21 - Curious George (G)

Subway: 1 at Christopher St.
Bus: M8

Nearest restrooms:
Pier 45 Comfort Station
2009 HBO Bryant Park Summer Film Festival
The lawn opens at 5:00pm for blankets (no plastic tarps please) and picnicking.
The films begin at dusk (typically between 8pm and 9pm).

June Mon 15 - The Sting
June Mon 22 - Breaking Away
June Mon 29 - Gold Diggers of 1933
July Mon 6 - Dog Day Afternoon
July Mon 13 - How Green Was My Valley
July Mon 20 - Harold and Maude
July Mon 27 - The Defiant Ones
August Mon 3 - Kramer vs. Kramer
August Mon 10 - The Magnificent Seven
August Mon 17 - Close Encounters of the Third Kind
Bryant Park is situated behind the New York Public Library in midtown Manhattan, between 40th and 42nd Streets & Fifth and Sixth Avenues.

Take the F, V, B or D train to 42nd Street/Bryant Park

Take the 7 to 5th Avenue
This year, SummerScreen will take place at the ball fields at McCarren Park on the corner of Bedford and North 12th.

Opening night is Wednesday July 8, 2009, continuing through August for six consecutive Wednesdays.

The series is a perfect way to spend a sultry summer evening. Last year, more than 30,000 people attended SummerScreen.
Films begin at dusk. Come early to get a seat. Food and beverages will be available to buy at the site. No outside food or drink.

Sorry, no dogs allowed at the event space.

The series will feature:

July 08 - Reality Bites
July 15 - Evil Dead 2
July 22 - 24 Hour Party People
July 29 - Wild at Heart
August 05 - Fame
August 12 - Eternal Sunshine of the Spotless Mind

Directions: The McCarren Park ball field is located in Williamsburg at the corner of Bedford and North 12th.
Take the G train to Nassau or the L train to Bedford.