Motorhead cut tonight's Austin show short due to illness (pics & video)
Tim Griffin
photos by Tim Griffin
Motorhead in Austin earlier tonight

Last week, Motorhead had to cut their Salt Lake City show short due to Lemmy's breathing problems, and then they cancelled their Riot Fest set completely day-of. Their tour picked up again at Emo's in Austin's tonight (9/1) (moved from Cedar Park Center), but sadly they cut this one short after three songs too. Ultimate Classic Rock was there and they wrote:
Unfortunately, Lemmy seemed shaky from the start, as he ambled onto the stage looking noticeably gaunt and tried to sing the first number, "Damage Case," clearly out of breath and at half speed. Meanwhile, guitarist Phil Campbell was doing everything he could to compensate by running about and engaging the audience much more than is his habit. Drummer Mikkey Dee also seemed to be trying to will Lemmy onward with his more measured but typically powerful attack.

Alas, the situation did not improve as Motorhead struggled to complete another Overkill standard, "Stay Clean." After greeting his fans and admitting he was still under the weather, Lemmy lasted barely one minute into their next song, "Metropolis," before dropping his arms, backing away from his microphone, and conceding defeat in obvious disgust, as his bandmates simultaneously ground to a feedback-screeching halt.

As for the crowd, many of whom were no doubt aware of the frontman's recent health issues, they had nothing but supportive chants of "Lemmy! Lemmy! Lemmy!" -- especially once Kilmister briefly returned to the microphone, leaning on his now familiar cane, and apologized yet again for his inability to carry on, leaving those assembled no choice but to turn away and start filing out.
People are also saying Lemmy left the show in an ambulance. Bummer to hear, and we hope Lemmy gets better soon.
You can watch a video of Motorhead's last song and Lemmy leaving the stage, below. Pictures of Motorhead during their first few songs are in this post. If all goes well, their tour hits the NYC-area on 9/16 at Jones Beach with Anthrax.
Motorhead's new album Black Magic is out now. Listen (via Spotify) with their updated list of tour dates and more pictures, below...

---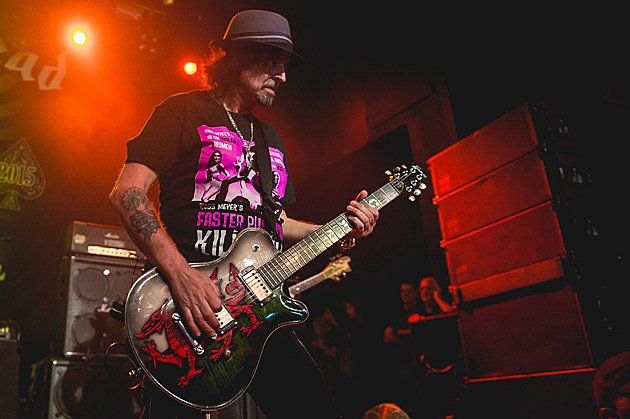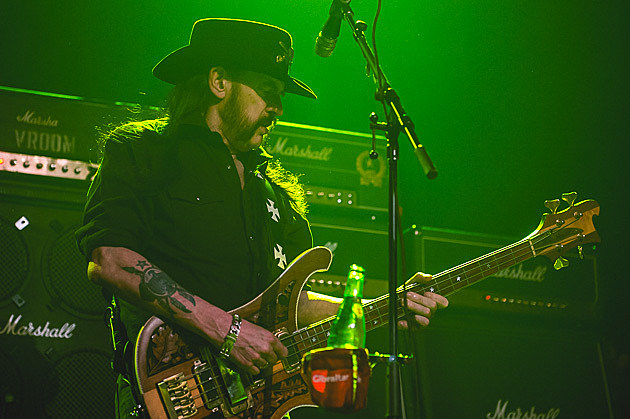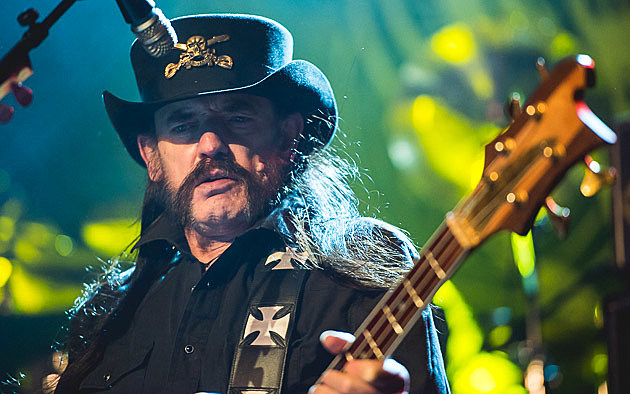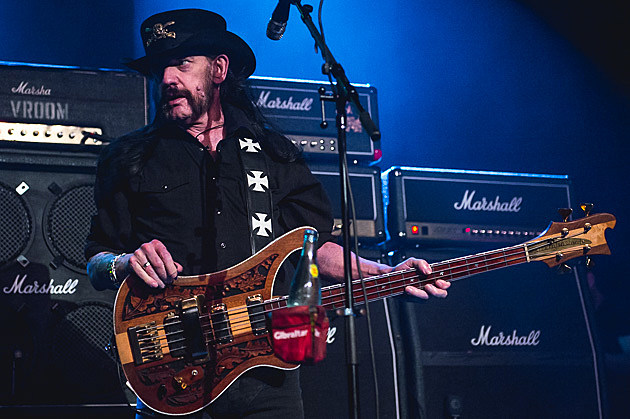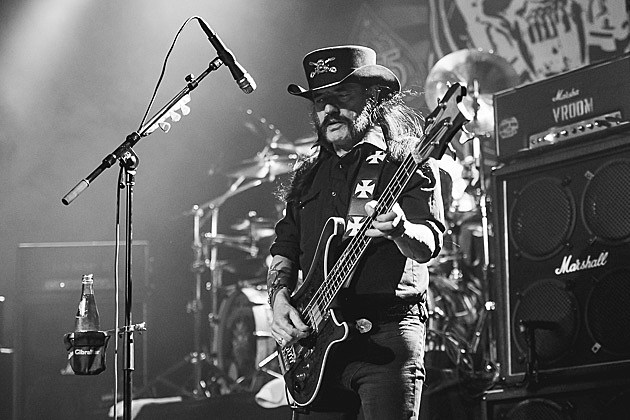 Motorhead -- 2015 Tour Dates
Sep 02 - San Antonio, TX - Aztec
Sep 04 - Dallas, TX - Bomb Factory
Sep 05 - Houston, TX - House Of Blues
Sep 08 - St Louis, MO - Pageant
Sep 09 - Indianapolis, IN - Murat
Sep 11 - Chicago, IL - Riotfest
Sep 12 - Detroit, MI - Fillmore
Sep 15 - Wallingford, CT - Oakdale
Sep 16 - Wantagh, NY - Jones Beach
Sep 19 - Toronto, ONT - Riotfest
Sep 22 - Philadelphia, PA - Tower Theatre
Sep 23 - Charlotte, NC - Fillmore
Sep 25 - Orlando, FL - House Of Blues
Sep 28 Motorhead's Motorboat 2015 Miami, FL
Nov 15 Zenith Paris Paris, France
Nov 17 Mitsubishi Electric Halle Düsseldorf, Germany
Nov 18 Saarlandhalle Saarbrücken, Germany
Nov 20 Zenith, die Kulturhalle Munich, Germany
Nov 21 Zenith, die Kulturhalle Munich, Germany
Nov 24 Jahrhunderthalle Frankfurt Frankfurt Am Main, Germany
Nov 25 Arena Ludwigsburg Ludwigsburg, Germany
Nov 27 Max-Schmeling-Halle Berlin, Germany
Nov 28 Sporthalle Hamburg, Germany
Nov 30 Scandinavian Congress Center Århus C, Denmark
Dec 01 Scandinavium Goteborg, Sweden w/ Saxon, Girlschool
Dec 03 Oslo Spektrum Oslo, Norway
Dec 04 Hovet Stockholm, Sweden w/ Saxon, Girlschool
Dec 06 Hartwall Arena Helsinki, Finland