Mount Kimbie turnt up Bowery Ballroom w/ Holy Other (pics)
Mount Kimbie

Holy Other

The show kicked off with a set from dreamy shoegazers Vinyl Williams, who also played Glasslands the night before. VInyl Williams are a full band live, and bigger sounding than I thought they'd be, but still with a few kinks to work out.
Up next was electronic producer Holy Other, whose debut LP, Held, and the preceding With U EP are two of the finest electronic releases of the past few years, but as I've said before, there's not really anything to his live show that you can't get from playing the records at home. That said, was it still a really nice precursor to Mount Kimbie's set hearing Holy Other's gorgeous beats through Bowery Ballroom's soundsystem with projection-screen visualizers behind him? Yup.
Finally, headliners Mount Kimbie took the stage, and if you were expecting them to be the same kind of "guy at his computer/mixing board" setup as Holy Other, you'd be far from right. In fact, at this point they're probably more of a live band than "knob turners," or at least in the way that their pal James Blake is. Now that Mount Kimbie are doing most of their own singing, they come off more as a bass-heavy pop duo than the beatmakers they once were known as. The two main members switch off between vocals, samplers, keyboards, guitars, bass, and are backed by a live drummer (who also sometimes plays bass). But if this sounds like Mount Kimbie have went all rockist on us, that's not the case either. The music is still every bit dance music, and from one look at the crowd you'd know it. Standouts included the big pop moments like "Blood and Form" and "Made to Stray," but probably the biggest highlight for me personally was the King of Limbs-style future-garage-as-live-band jam on "So Many Times, So Many Ways."
More pictures from the Bowery Ballroom show and the MK album stream below...

--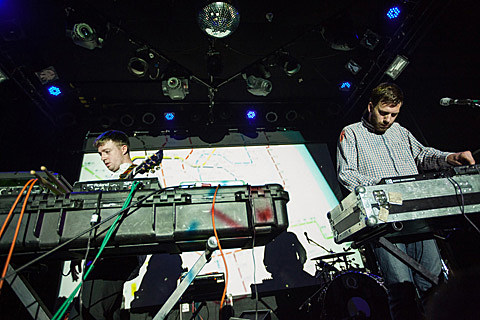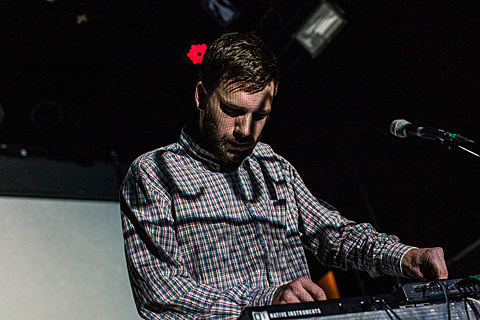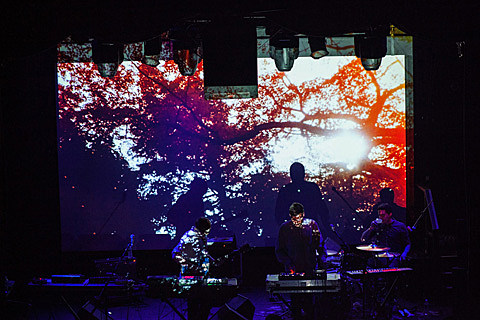 Mount Kimbie - Cold Spring Fault Less Youth