Mountain Goats reissuing ' All Hail West Texas' on Merge; stream tourmates Baptist Generals' new LP ++ dates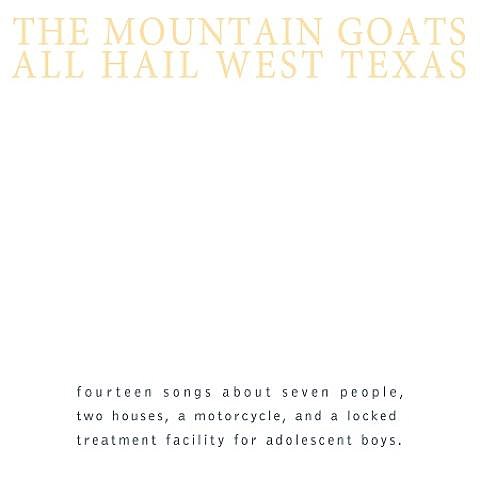 The last of the "all-home-recordings albums" by the Mountain Goats and the only one about which that claim is true, All Hail West Texas was originally released as a free-standing compact disc on the late, lamented Emperor Jones. That was about a decade ago. The songs were originally transferred from the cassettes onto which they were recorded to 1/4" reels at Tiny Telephone by Alex Newport, who also played in Fudge Tunnel. John got really excited when he realized his tapes were being EQ'd by the guy from Fudge Tunnel.

Remastered from those reels, along with 7 unearthed songs from the two surviving contemporaneous cassettes, All Hail West Texas stands as the peak of the Mountain Goats' home recording era, a time people like to refer to as "when John Darnielle had his four-track," except John did not actually use a four-track. He used the condenser mic of a Panasonic boombox and there was no overdubbing. All songs recorded on the day they were written, usually within minutes of the actual composition. Highlights include "Jenny," "Fall of the Star High School Running Back," and "The Best Ever Death Metal Band in Denton," a song which has compelled audiences around the globe to yell "Hail Satan," and to mean it.
The Mountain Goats' All Hail West Texas reissue will be out July 23 on Merge and contains a newly penned 1,800-word essay by John detailing his songwriting and recording process for the album.
As mentioned, The Mountain Goats will soon be on the road in duo form (with Peter Hughes joining John Darnielle), including an NYC-area stop at Maxwell's on June 5 which is, unsurprisingly, sold out. All Mountain Goats dates are listed below.
The Baptist Generals

The tour is with Texas vets The Baptist Generals whose new album (and first in 10 years), Jackleg Devotional to the Heart, is out next week (5/21) via Sub Pop. You can stream the entire album below. They have their own headlining NYC show on June 6 at Mercury Lounge and tickets are still available for that one.
All Mountain Goats and Baptist Generals tour dates are listed, along with the Baptist Generals LP stream, below.

---
The Mountain Goats - 2013 Tour Dates
June 3 Washington, DC 9:30 Club*
June 4 York, PA Strand- Capitol Performing Arts*
June 5 Hoboken, NJ Maxwell's*
June 7 New Haven, CT Center Church on the Green*
June 8 Portland, ME Port City Music Hall*
June 9 South Burlington, VT Higher Ground Ballroom*
June 11 Munhall, PA Carnegie Music Hall of Homestead*
June 12 Detroit, MI Majestic Theatre*
June 14 Cincinnati, OH Taft Ballroom*
June 15 Bloomington, IN Buskirk-Chumley Theatre*
June 16 Evanston, IL Space*
June 17 Chicago, IL Lincoln Hall*
June 19 Kansas City, MO The Record Bar*
June 20 St. Louis, MO Old Rock House*
June 22 Birmingham, AL The Bottletree*
June 23 Gainesville, FL High Dive*
June 24 Ft. Lauderdale, FL Culture Room*
June 26 Charleston, SC The Charleston Pourhouse *
June 27 West Columbia, SC New Brookland Tavern*
June 28 Wilmington, NC The Soapbox *
July 26-28 Newport, RI Newport Folk Festival
September 13-16 Miami, FL Atlantic Ocean Comedy and Music Festival
* = w/ The Baptist Generals
Baptist Generals - 2013 Tour Dates
*Sat June 1st Denton, TX @ Dan's Silver Leaf (Album Release Show) (Daniel Markham opens)
Mon June 3 Washington, DC @ 9:30 Club
Tue June 4 York, PA @ Strand-Capitol
Wed June 5 Hoboken, NJ @ Maxwell's [SOLD OUT]
* Thu June 6 New York, NY @ Mercury Lounge (AroarA opens)
Fri June 7 New Haven, CT @ Center Church on the Green
Sat June 8 Portland, ME @ Port City Music Hall
Sun June 9 S. Burlington, VT @ Higher Ground
Tue June 11 Munhall, PA @ Carnegie Music Hall
Wed June 12 Detroit, MI @ Majestic Theater
Fri June 14 Cincinnati, OH @ Taft Theatre
Sat June 15 Bloomington, IN @ Buskirk-Chumley Theater
Sun June 16 Evanston, IL @ Space
Mon June 17 Chicago, IL @ Lincoln Hall
Wed June 19 Kansas City, MO @ Record Bar
Thu June 20 St. Louis, MO @ Old Rock House
* Fri June 21 Atlanta, GA @ Star Bar
Sat June 22 Birmingham, AL @ Bottle Tree
Sun June 23 Gainesville, FL @ High Dive
Mon June 24 Ft. Lauderdale, FL @ Culture Room
Wed June 26 Charleston, SC @ Charleston Pourhouse
Thu June 27 West Columbia, SC @ New Brookland Tavern
Fri June 28 Wilmington, NC @ Soapbox Laundrolounge
All dates w/ Mountain Goats except * (BG Headlining shows)