Mountain Man Fest may happen July 24th in Saratoga Springs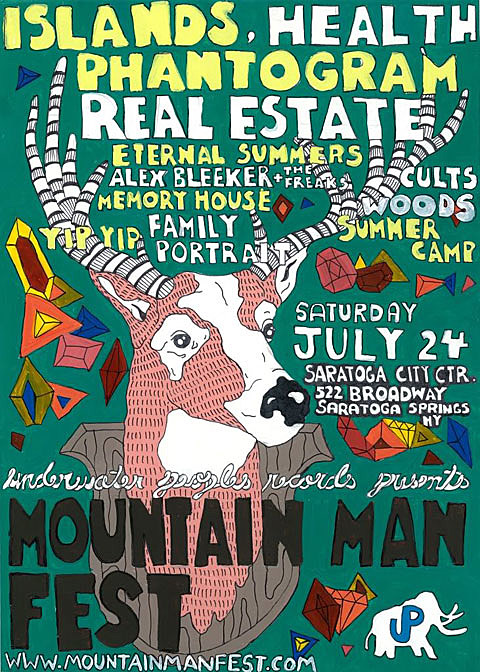 The first-ever Mountain Man Fest (not affiliated with the band Mountain Man) is tentatively set for July 24th in Saratoga Springs, NY. I say tentative because for the fest to happen it first has to be funded in full through a Kickstarter page with the goal of $65,000. What all that money is being used for isn't 100% clear, but the fest has until May 12th to make that goal. For a ticket, you need to "donate" at least $35. As of this writing it looks like they've sold 12 with "1488 of 1500 remaining".
Though that's a daunting goal (1,500 regularly priced tickets plus other donations), the "confirmed" lineup so far isn't that bad if you consider how much it would cost you to see each band separately (or as the fest puts it, "You (yes you!) get to see 12 hrs+ of amazing bands"): Islands (their only show currently), HEALTH (who are coming to NYC in June), Real Estate, Phantogram, Woods, Summer Camp, Memoryhouse, Pill Wonder, Family Portrait, Cults, Eternal Summers and Yip Yip ("You'll also be blessed with the sweet satisfaction of knowing that YOU helped make possible this history making musical event"). Underwater Peoples Records are involved in sponsoring the fest (four bands from the label are playing the show).
Another version of the cool poster art (which you can buy as part of giving them money) and the lineup again are below...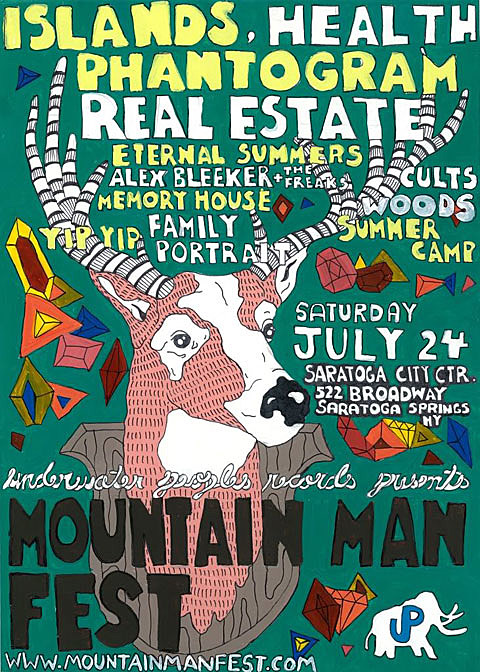 Mountain Man 2010 "Confirmed" Bands
Islands
HEALTH
Real Estate
Phantogram
Woods
Pill Wonder
Family Portrait
Julian Lynch
Summer Camp
Cults
Eternal Summers
Memoryhouse
Yip Yip