Mumford & Sons played 2 shows @ T5 w/ Cadillac Sky & King Charles, and 1 smaller one later (pics, video, setlist & some related Laura Marling news too)
Mumford & Sons have lots of fans (@ Terminal 5)

"It reminded me very much of what it was like being in a band starting out. They are on a great roll at the moment as you hear on the track. That's what it was like with The Kinks when we started out doing single after single. You get this weird light around you that makes you work in a certain way." - [Ray Davies on Mumford & Sons]
After the show, all three bands headed to an invite-only afterparty at Rockwood Music Hall where they all ended up playing again (but all together as one band) to the lucky, considering how big Mumford is now, few who were in attendance. Video from the intimate aftershow is below.
In related news, there's a Mumford & Sons, Laura Marling and Dharohar Project collaborative four-song EP on the way, though not as quickly in all formats as previously planned:
"So there's been a bit of juggling on the physical release front - there's good news and not as good news (we're a cup half full kinda web dweller). The good news is - the physical version of the EP will in fact be in the form of a vinyl. The not such good news is that the vinyl will be coming in the new year as opposed to 7th December (when the digital version will be available from). We will keep you updated on the release date and retail info as soon as we hear word..."
"20-year old English folk star Laura Marling contributes to our Blue Series of releases.

For her recording Laura Marling chose two incredible songs and does them heavenly justice: Jackson C Frank's "Blues Run The Game" and Neil Young's "The Needle And The Damage Done". The exclusive 7" includes her version of "Blues Run The Game" as the A side, backed with "The Needle And The Dam"
More pictures of all three bands from the 2nd show at Terminal 5, with some videos from that show and from the one at Rockwood Music Hall, and Mumford's T5 setlist, below...

--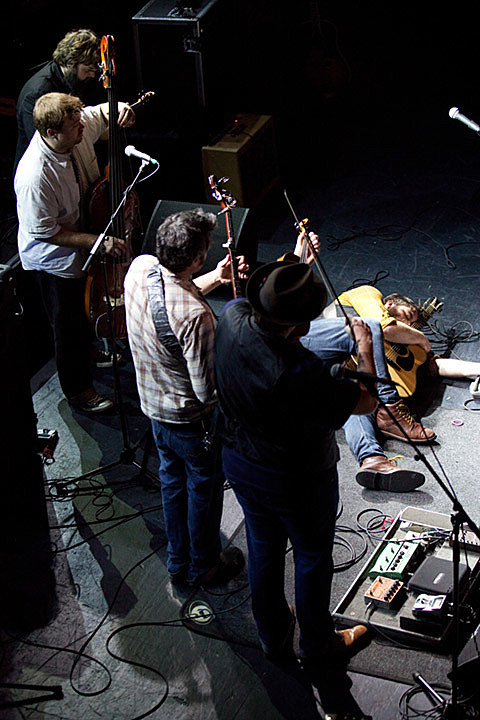 Mumford & Sons - Broken Crown (Live) at Terminal 5

Mumford & Sons - Lover of the Light (Live) at Terminal 5

Mumford & Sons- The Cave (Terminal 5 NYC 11/16/10)

Mumford & Sons with Cadillac Sky "I'll Fly Away" At Rockwood Music Hall

Mumford & Sons with Cadillac Sky "Wagon Wheel" At Rockwood Music Hall