My Brightest Diamond & yMusic played their new album @ Castle Clinton (pics, new MP3 & a Sufjan video too)
Classical, pop-tinged orchestral group yMusic kicked off the second to last concert of the summer season at Castle Clinton in Battery Park as part of the River to River Festival last night (7/7). The six-players rotated on a variety of instruments including trumpet, viola, clarinet, and violin, possibly improvising as they took cues off of each other.
yMusic stuck around to back My Brightest Diamond (aka Shara Worden) as she took the stage around 7:30PM. Initially seeming shy and reserved, those notions of her were immediately shattered as she opened her mouth to sing. With a large vocal range in her arsenal, Shara's voice is as much of an instrument as the ones the orchestra behind her were using.
Breaking out a harpsichord, Shara and yMusic, backed by drummer Brian Wolfe, played a sonically expansive new track titled, "Escape Routes" off MBD's new chamber pop album LP All Things Will Unwind. The LP will arrive on October 18th via her longtime label Asthmatic Kitty, and they played in its entirety at the NYC show according to a note on Shara's website (though not in the album order). This will mark Shara's third LP under the moniker, and from the taste of what we received at Castle Clinton, it draws strong comparisons to Edith Piaf, Joanna Newsom and label-mate/collaborator Sufjan Stevens. Grab a taste via the MP3 from the album above. Check out the whole tracklist and cover art below.
Between performing cuts off of her new album, Shara donned a creepy mask while yMusic performed instrumental pieces that Shara composed for them and dancer Jessica Dessner who was there dancing to them. Late in her hour-long set Shara performed the track "High Low Middle" which had a New Orleans-feel to it, and had the entire audience engaged in endless hand claps. The group closed out their amazing performance at Castle Clinton by playing new song "Everything Is In Line".
Sufjan also has a new video for "Get Real Get Right." Check that out, along with more pictures from the My Brightest Diamond show, and her album artwork below...


Sufjan Stevens - Get Real Get Right

All Things Will Unwind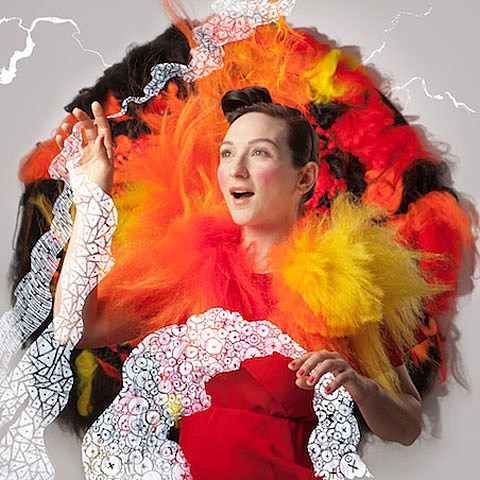 Tracklist:
1 We Added It Up
2 Reaching Through to the Other Side
3 In the Beginning
4 Escape Routes
5 Be Brave
6 She Does Not Brave the War
7 Ding Dang
8 There's a Rat
9 High Low Middle
10 Everything Is in Line
11 I Have Never Loved Someone