My Morning Jacket, Grizzly Bear, Divine Fits, James Murphy & more played Times Square for CBGB Fest (pics)
photos by Amanda Hatfield
Grizzly Bear / My Morning Jacket in Times Square - 10/12/13

In between the day's coffeehouse-ready beginning and stadium-worthy end, Divine Fits and Grizzly Bear delivered the two most CBGB-worthy sets of the day: It was easy to picture Divine Fits' (and Spoon's) Britt Daniel and Grizzly Bear's Ed Droste in the recesses of a rock club, though the North Stage of the festival, sidled up alongside the Ed Sullivan Theater, felt as natural an arena as any for their straightforward rock stylings and fuzzed-out, exploratory soundscapes, respectively. As the 2013 festival season nears its end, both Grizzly Bear and Divine Fits have hopscotched between the stages of the country's biggest productions, and the two bands made for standout moments at CBGB just as they did at Bonnaroo and Outside Lands before them.
My Morning Jacket's grand finale at CBGB was fortified by friends, as special guests hopped on and off the stage for the final moments of the festival. Merrill Garbus of tUnE-yArDs, Alabama Shakes' Brittany Howard and Antibalas collaborated with Jim James for the recently released tribute Fela Kuti compilation RED HOT + FELA, and their performance of "Trouble Sleep Yanga Wake Am" was as meditative and serene as it was explosive and untethered. Jakob Dylan then joined in for a take on "Don't Do It" from The Last Waltz before My Morning Jacket wrapped up the festival with "One Big Holiday," which relished in its might as a literal and figurative showstopper. [Rolling Stone]
We're now in the midst of CMJ, but this past weekend another music marathon took over NYC, CBGB Festival. The fest didn't have much in the way of CBGB-related music (or much at all), but like last year, the main attraction was a big free Times Square show. This year's show started with Lisa Loeb, followed by The Wallflowers, then Spoon/Wolf Parade-related supergroup Divine Fits. People then began really piling in for James Murphy's DJ set, which was followed by Grizzly Bear, and finally My Morning Jacket, who brought out The Wallflowers' Jakob Dylan, Alabama Shakes' Brittany Howard, Merrill Garbus (tUnE-yArDs), and Antibalas (who played two of their own NYC shows that weekend). Despite seeming like a potential disaster, the whole thing actually went over pretty smoothly. Pictures of the whole day are in this post.
More below...

---
Lisa Loeb
w/ host Matt Pinfield
The Wallflowers
Divine Fits
James Murphy
Grizzly Bear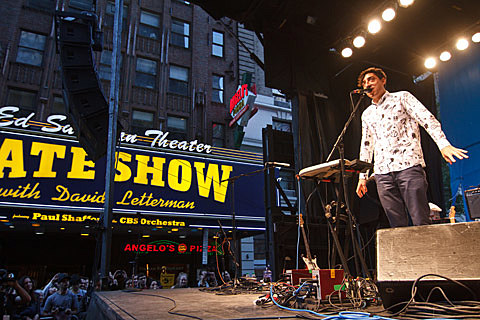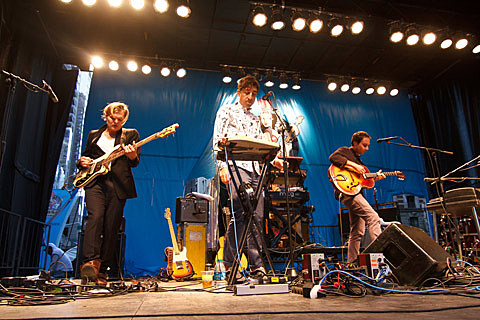 Band Name