Mykki Blanco on tour, Pictureplane playing with him before Crystal Castles tour (dates)
Mykki Blanco at Official BV SXSW 2013 Showcase (more by Amanda Hatfield)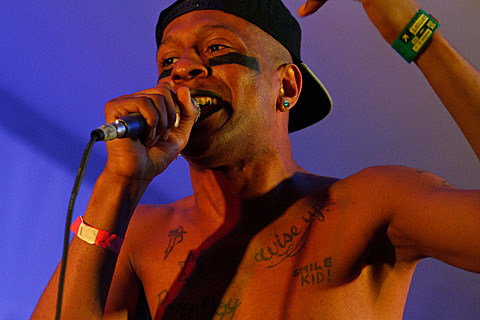 NYC rapper Mykki Blanco is on a tour now, which includes a previously mentioned hometown show on April 2 at Bowery Ballroom. Since we first posted that show, openers were announced -- DJ MikeQ, Rizzla, and Ian Isiah -- and tickets are still available. The tour also hits the Ivy League circuit with stops in Princeton, NJ for a Princeton University show at Terrace Club and New Haven, CT for a Yale University show at Toad's Place. All tour dates are listed below.
Mykki's Yale show is with Pictureplane, who he also shared a bill with at the BrooklynVegan Official SXSW showcase (pics of that are HERE and HERE), along with Beat Culture and Physical Therapy. Pictureplane is also heading out as a support act on the second leg of Crystal Castles' upcoming tour.
All Mykki Blanco, Pictureplane, Crystal Castles, and Doldrums dates are listed, along with a stream of Mykki's free mixtape and that Sean Nicholas Savage track, below...

---
Sean Nicholas Savage - "She Looks Like You"

Mykki Blanco - Cosmic Angel: The Illuminati Prince/ss Mixtape


--
Crystal Castles -- 2013 Tour Dates
Thu 04/11/13 Jardin El Fresno Cholula Puebla
Sat 04/13/13 Teatro Estudio Cavaret Guadalajara
Tue 04/16/13 The Beacham Theatre Orlando FL Doldrums
Wed 04/17/13 The Tabernacle Atlanta GA Doldrums
Fri 04/19/13 House of Blues New Orleans New Orleans LA Doldrums
Sat 04/20/13 House of Blues Houston Houston TX Doldrums
Sun 04/21/13 Austin Music Hall Austin TX Doldrums
Mon 04/22/13 House Of Blues Dallas Dallas TX Doldrums
Wed 04/24/13 Marquee Theatre Tempe AZ Doldrums
Thu 04/25/13 The Fox Theatre Pomona CA Doldrums
Fri 04/26/13 Hollywood Palladium Los Angeles CA Doldrums, Invisibles
Sat 04/27/13 Fox Theater Oakland CA Doldrums, Buried Child
Mon 04/29/13 Roseland Theater Portland OR Pictureplane
Tue 04/30/13 Moore Theatre Seattle WA Pictureplane
Thu 05/02/13 Gothic Theatre Englewood CO Pictureplane
Fri 05/03/13 Liberty Hall Lawrence KS Pictureplane
Sun 05/05/13 First Avenue Minneapolis MN Pictureplane
Mon 05/06/13 Turner Hall Ballroom Milwaukee WI Pictureplane
Tue 05/07/13 House of Blues Cleveland Cleveland OH Pictureplane
Thu 05/09/13 Mr. Smalls Theatre Millvale PA Pictureplane
Fri 05/10/13 NorVa Norfolk VA Pictureplane
Sat 05/11/13 Rams Head Live! Baltimore MD Pictureplane
Mon 05/13/13 House of Blues Boston Boston MA Pictureplane
Tue 05/14/13 Capitole Quebec QC
Sat 06/08/13 Sound Academy Toronto ON
Doldrums -- 2013 Tour Dates
Wed 04/03/13 7th Street Entry Minneapolis MN Sean Nicholas Savage
Thu 04/04/13 Schubas Tavern Chicago IL Sean Nicholas Savage, Gold Cult
Sat 04/13/13 285 Kent Ave Brooklyn NY Sean Nicholas Savage
Tue 04/16/13 The Beacham Theatre Orlando FL Crystal Castles
Wed 04/17/13 The Tabernacle Atlanta GA Crystal Castles
Fri 04/19/13 House of Blues New Orleans New Orleans LA Crystal Castles
Sat 04/20/13 House of Blues Houston Houston TX Crystal Castles
Sun 04/21/13 Austin Music Hall Austin TX Crystal Castles
Mon 04/22/13 House Of Blues Dallas Dallas TX Crystal Castles
Wed 04/24/13 Marquee Theatre Tempe AZ Crystal Castles
Thu 04/25/13 The Fox Theatre Pomona CA Crystal Castles
Sat 04/27/13 Fox Theater Oakland CA Crystal Castles, Buried Child
Wed 05/01/13 Larimer Lounge Denver CO
Fri 05/03/13 Firebird St. Louis MO
Sat 05/04/13 MOTR Pub Cincinnati OH
Tue 05/07/13 Great Scott Allston MA
Wed 05/08/13 Mercury Lounge New York NY
Fri 06/28/13 Electric Forest Festival Rothbury MI
--
Pictureplane -- 2013 Tour Dates
Fri 04/12/13 Toads Place New Haven CT Mykki Blanco, Beat Culture, Physical Therapy
Mon 04/29/13 Roseland Theater Portland OR *
Tue 04/30/13 Moore Theatre Seattle WA *
Thu 05/02/13 Gothic Theatre Englewood CO *
Fri 05/03/13 Liberty Hall Lawrence KS *
Sun 05/05/13 First Avenue Minneapolis MN *
Mon 05/06/13 Turner Hall Ballroom Milwaukee WI *
Tue 05/07/13 House of Blues Cleveland Cleveland OH *
Thu 05/09/13 Mr. Smalls Theatre Millvale PA *
Fri 05/10/13 NorVa Norfolk VA *
Sat 05/11/13 Rams Head Live! Baltimore MD *
Mon 05/13/13 House of Blues Boston Boston MA *
* w/ Crystal Castles