Naked Raygun played MHOW (pics) & Maxwell's (video)
TIMOTHY S. GRIFFIN
"By the time Naked Raygun took the [Music Hall of Williamsburg] stage on Saturday night,] the crowd was packed in, amped up and ready to go once more. I'm sorry to say that I only own two Naked Raygun albums, "Jettison" and "Basement Screams". After reading "American Hardcore" they were one of the bands I sought out and thanks to a couple reader reviews on Amazon I went with "Jettison". I've since ordered "All Rise" on vinyl but am still waiting for it to come in the mail. Truthfully I probably should've started there first as it was the obvious crowd favorite of the night. Naked Raygun were awesome. They proved that you can have the snottiness of early hardcore while still taking your music in unexpected directions. As mentioned previously these Chicago natives had their whoah oh ohs in fucking order. I'm pretty sure I saw the dude from the cover of the Circle Jerks albums in the pit too. Although he had gone gray and put on a couple pounds. But seriously they played a hell of a set. They were funny guys too, mocking Brooklyn before even starting their first track. Like I said I only own a couple of their albums but from what I remember the highlights of their set included Home of the Brave, Knock Me Down, I Lie (2nd encore), Peacemaker, Backlash Jack, Soldier's Requiem, Walk In Cold, Surf Combat, and my favorite of the night Treason."
[Frankenstein Sound System]
Shot Baker and Paint it Black opened the Saturday night show (9/12) at Music Hall of Williamsburg which was part of a 5-date tour. They also played Maxwell's on Sunday (9/13), and The Ottobar in Baltimore on Friday (9/11)...
"Paint it Black nearly stole the show... and Naked Raygun's John Pezzazi even stepped out with them for their closing number, a moment which Paint it Black's Dan Yemin noted before leaving the stage as being "the greatest moment of my adult life."" [vBoogieman]
Paint it Black also played Highline Ballroom with Propagandhi in March. Video from the NJ Naked Raygun show and more pictures from Brooklyn, below...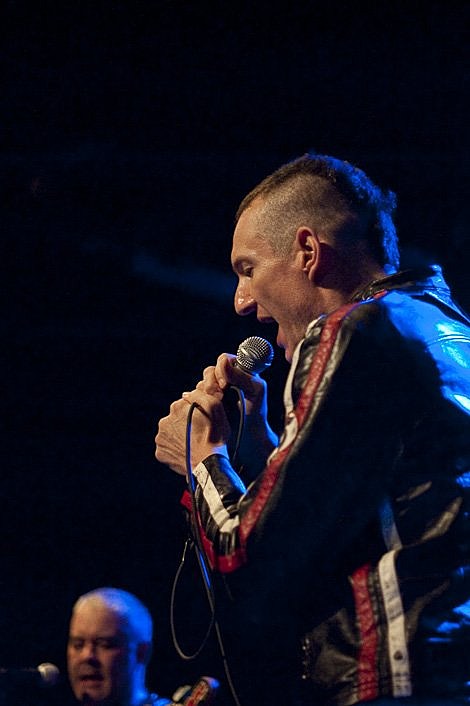 Naked Raygun | Hoboken, NJ @ Maxwell's | 13 Sep 2009