Napalm Death releasing 'Utilitarian' — listen to a new song (premiere)
by BBG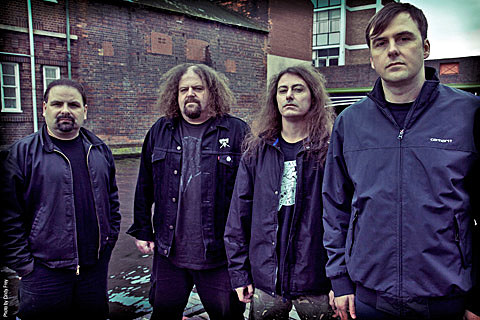 Extreme metal legends Napalm Death are 15 LPs (including their Leaders not Followers covers record) and 30 years deep with Utilitarian, the band's latest offering with Century Media (with whom they recently re-signed).
The grindcore pioneers' latest features 50 minutes of their trademarked blast-y grind venom, but with odd twists and turns and even some saxophone. Its another in a series of great efforts from the great Napalm Death, and BrooklynVegan is proud to present the premiere of one track, "Leper Colony". Stream it below and check out the album art down there too. Look for the LP on Feb 27th in the EU and Feb 28th in the US.
In the meantime, Napalm Death will release another track, "Analysis Paralysis", via 7" with an exclusive B-Side. Pick up a copy of that via Century Media distro. Napalm Death recently released another non-LP track "Legacy was Yesterday" for Decibel's Flexi Series (stream it here).
Reminder: Shane Embury will be on tour with Lock Up this February, hitting Europa on February 16th. Tickets are still available. Napalm Death and another Shane project, Brujeria, will play Maryland Deathfest 2012.
Song stream, art, and some video, below...

--
BrooklynVegan presents: Napalm Death - "Leper Colony" by brooklynvegan
Napalm Death-Time Waits For No Slave

Napalm Death-Silence Is Deafening

Napalm Death - Scum

The Simpsons vs Napalm Death - You Suffer