Nas, Cee-Lo, Pete Rock, Diplo, J Cole & others played the Heineken Inspire event on Pier 36 (pics & video)
Headlined by Nas and featuring appearances from Cee-Lo (who did perform "Fuck You!"), Pete Rock with surprise guest Dres of Black Sheep, Diplo and "surprise guest" J. Cole, the Heineken Inspire show went down on Saturday (11/13) at Pier 36 under the Manhattan Bridge in Manhattan. With doors at 3pm, it was a long show, and Nas had some technical difficulties but it was free and there was free beer. DJ Kool Herc didn't perform but he came out on stage to say hello.
DJ Premier was not on hand to link up with Pete Rock, even though the duo are working on a new LP together! The album is expected to be completed by year-end, and though hardly any details regarding release have been revealed, it is known that GZA will make an appearance on the album. Preemo and KRS-One also have a collaborative LP in the works, and Nas recently told Premier that he still wants a collaborative album, and he recently announced a label comp entitled Get Used to Us due on December 7th. Premier recently spoke with the Village Voice on the current state of hip hop.
More pictures and some video from the Heineken Inspire event are below.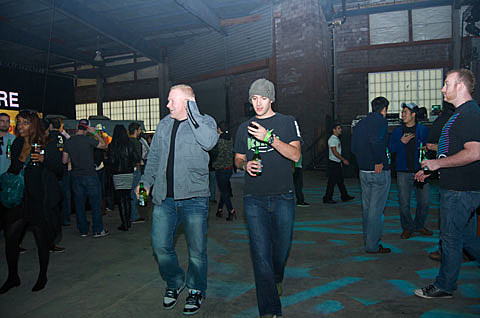 Pete Rock with Dres of Black Sheep
Heineken Inspire Encore NYC - J.Cole, Nas, Pete Rock, Cee Lo Green, Diplo

Cee Lo Green - Fuck You! (Live at the Heineken Inspire Encore event NYC)

Nas - NY State of Mind (live)

Nas - If I Ruled The World (Live at the Heineken Inspire Encore event NYC)

Heineken Inspire 2010 NYC: Nas- Hate Me Now