Neil Halstead, Jason Isbell & the rest APW Sunday – pics
Kyle Dean Reinford
Neil Halstead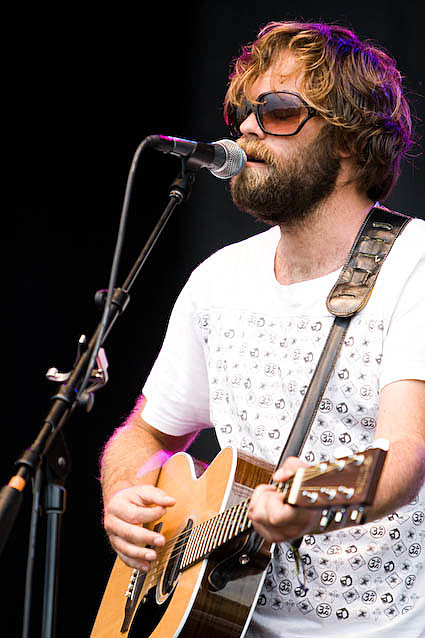 As previously mentioned, the third and final day of APW started late - especially the smaller stage where Neil Halstead (ex-Slowdive) was opening. That meant I actually got to see him for a second as I ran to the back of the park to catch Amadou & Mariam. I wanted to see more of Neil, but A&M came a much longer way to be there. That was around 2pm. The schedule change also meant that I got to see about half a song of Jason Isbell (ex-Drive By Truckers) around the time when Cat Power played and I think I also accidentaly saw a few seconds of Matt Costa, who like Neil H, is a friend of Sunday headliner Jack Johnson...

Neil Halstead...
BV Mike: You've played a lot of festivals in your twenty year career. How does it feel to open a festival?

Neil: It's a dubious honor, isn't it? [laughs]. I would trade in the honor for a few more people. But the people were really nice. Very sweet. We enjoyed it.
'There's a certain prejudice comes with that "Southern rock" term,' laughs [Drives by Truckers] singer and guitarist Patterson Hood. 'People hear that and picture having to sit through 'Sweet Home Alabama' for the millionth time or something. We're nothing like that. I think this new record has helped, it's definitely pushed us even further in other directions.'

The record in question is Brighter Than Creation's Dark, the band's seventh studio effort in ten years, and their finest to boot. A huge, sprawling album, it takes in everything from plaintive country ('Two Daughters and a Beautiful Wife') to post-grunge meltdown ('That Man I Shot') and all things rock in between.

The album was made after a transitional period. Long-time guitarist Jason Isbell quit two years ago, while the ex-wife he recently divorced, Shonna Tucker, remains on bass.

'Obviously we'd gone through a pretty traumatic change, but it was time for that to happen,' says Hood. 'We all knew it was the right thing, for the good of everyone involved. Leading up to that there was a lot of dread, but once it actually happened it was a relief, and we felt revitalised.' [The List]
I never saw Ben Harper before. I never plan to again. Perfect match for Jack Johnson though...
All Points West managed to have two Bens on the bill without even booking Ben Lee, Ben Folds or Ben Kweller. That's all I really know about Ben Jelen. I totally missed his set, but I can see he played the violin, wore a white hat and matching pants and a shirt that says "End War"....
A lot of people went though a Phish phase (some are still in it). I've gone through a lot of phases, but Phish was never one of them. I've seen Trey Anastasio perform a song or two or three at benefit shows and that's about it. I'm not familiar with any of his music. Unlike my feelings about Sunday's headliner though, I was really curious to hear Trey. I had faith that the musicianship was going to be good. It definitely was. During his hour+ set I went back and forth between thinking "this is kind of lame" to "I haven't seen this many white people dancing since Girl Talk" to "Why am I still at this festival?" to "this jam really rocks!". Occasionaly I would think "Is this still the same song?". My verdict is that I don't need Trey in my life, but I would go watch him again in another festival setting (schedule permitting). I like all the variety a festival has to offer.
By the way, Trey had a decent-sized crowd for being on one of the smaller stages, but it wasn't what I thought it would be. My guess is that there weren't enough jam bands on the bill for most real Trey fans to justify buying tickets. They let Trey play later than his alloted hour and he even played an encore. That meant his set cut into the headlining Jack Johnson performance happening on the bigger stage right next door.
JJ

I decided early in the day that I had to stay for Jack for a few reasons. The first was to give him the benefit of the doubt. He's getting equal billing as Radiohead at this festival. He's billed above pretty much every artist I like at every other festival in the country this summer. I wanted to see if there was something there I'm missing. I also sercretly wanted to be able to witness there being nobody in attendance. I also wanted to be able to write about it.
Sunday was a rainy day and the lineup didn't justify the price for most people. In turn, attendance was noticeably lower than Friday or Saturday. It wasn't a disaster though and amazingly there was a decent amount of people left in the park to watch Jack Johnson. People even really like him - men and women. There weren't as many people there as there were for Radiohead on either of the first two nights, but there were way more people watching Jack than there were people watching Trey on the smaller stage. I couldn't revel in the disaster, but I could think Jack Johnson was boring. It started to rain again. I walked around a little more, hung out in the Do Lab for a bit....
....wished I had hung out in the Do Lab a little more over the weekend (the best unadvertised part of the festival?), and then finally got out of there and back to the Path train as quickly as possible.
The rest of the APW coverage is HERE.