Neil Young & Crazy Horse, Patti Smith, and Everest played Madison Square Garden (pics, review, setlists)
Gretchen Robinette
When Neil Young walked out in a saggy red flannel last night (11/27) at the Madison Square Garden stop on his first tour with Crazy Horse in almost a decade, the "Godfather of Grunge" alarms were going off like crazy. And while you can't necessarily pin a man's style of music to his choice of attire for the evening, once Neil and Crazy Horse began jamming, their lasting impact on grunge and noise rock became the most apparent thing in the room. Like they've been doing on the rest of the tour, they opted for a night of the dirt, sludge, and raw noise that has been littered throughout Neil Young and Crazy Horse's career, and still comes across terrifically on their new album, Psychedelic Pill. They checked the pretty songs at the door, save for a solo acoustic performance of "The Needle and the Damage Done" from Harvest, but played nothing else from that album, After the Gold Rush, Deja Vu, On the Beach, or many of his other classics. And if that's what you were expecting to hear (which I imagine a large amount of people were expecting at a MSG show), the show may have come as a disappointment. But if you embraced what he did play, it was pretty damn amazing.
It's not very unusual for artists who have been at it as long as Neil Young to keep their new material to a minimum at shows and focus on the old hits, but with four of his thirteen songs being off Psychedelic Pill and two of those passing the fifteen-minute mark, Neil did nothing of the sort. And those Psychedelic Pill cuts not only hold up, but were highlights of the show. The most inspiring moment for me came from the massive "Walk Like a Giant," which pieces together short verses with extended fuzz-drenched guitar solos and ended with about five straight minutes of psychedelic noise. Of course the show wasn't without the old Crazy Horse favorites too though. They ended the set with three of the best and most characteristic moments of their career, "Cinnamon Girl, a stretched-out "Fuckin' Up," and "Hey Hey, My My (Into the Black)." During that stretch of classic Crazy Horse, they also took things further back, squeezing in a cut from Neil's time with Buffalo Springfield, "Mr. Soul." They had a bit going on production wise too, with colossal mock Fender amps and a microphone, set up like a giant would be using them, a 50's-style TV screen that projected footage of the band on stage, and a road crew dressed as mad scientists and construction men. But overall, the show just felt like four guys rocking out together, and getting that from Neil Young in 2012 is a great experience to be part of.
Before Neil Young and Crazy Horse took the stage, we were graced with a short but sweet set from Patti Smith and her band. Like Neil, Patti also has a very worthy album out this year, Banga, and the two songs she played off that ("April Fool" and "Fuji-san") fit right in with her classics like "Pissing in a River" and "Gloria." Patti also showed no signs of slowing down, and took over Madison Square Garden with her howls and screams piercing through her midst of punk poetry in a way where you knew she belonged in a small club, but could handle MSG with ease. In between songs, Patti gave short speeches about saving our world, rebuilding our cities after Hurricane Sandy, the honor of playing with Neil Young, and dedicated a song to Jimi Hendrix, who would've turned 70 yesterday. And Patti's voice wasn't the only thing as sharp as her early days. Like they've done in the past, Patti's band turned the acoustic "Beneath the Southern Cross" into a Velvet Undergroundy noise buildup that would've sounded at home on one of Patti's first two records.
The tour continues and returns to NYC on Monday (12/3) at Barclays Center in Brooklyn. Tickets for that show are still available. More pictures from last night's show, including the other opening band, Everest, and Neil Young and Patti Smith's setlists, are below.

---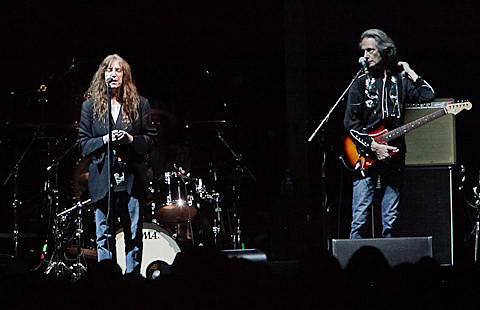 Neil Young at Madison Square Garden -- 11/27/12 Setlist:
Love and Only Love
Powderfinger
Born in Ontario
Walk Like a Giant
The Needle and the Damage Done
Twisted Road
Singer Without a Song
Ramada Inn
Cinnamon Girl
Fuckin' Up
Mr. Soul
Hey Hey, My My (Into the Black)
Encore:
Roll Another Number
Patti Smith at Madison Square Garden -- 11/27/12 Setlist:
Dancing Barefoot
April Fool
Fuji-san
Beneath the Southern Cross
People Have the Power
Pissing in a River
Gloria