Neil Young tribute show coming, Bettye Lavette playing shows at Cafe Carlyle & elsewhere, Ben Ottewell will be at Merc
Jacob Blickenstaff
Bettye Lavette at Highline Ballroom (more by Jacob Blickenstaff )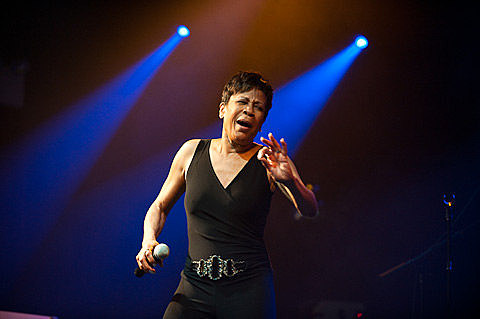 A quick reminder that one of the greatest songwriters of all-time, Neil Young, will be celebrated at Carnegie Hall in two days (2/10) as part of a benefit for music & arts programs of underpriviledged youth. The bill is beyond diverse, featuring The Roots, Nada Surf, Glen Hansard, DeVotchka, J Mascis and Bettye Lavette just to name a few of the twenty+ that are on board. "100% of the net proceeds from this event" will benefit charities like Fixing Instruments for Kids in Schools, Church Street School for Music & Art, The Pinwheel Project, Music Unites, The American Symphony Orchestra and Young Audiences New York, so pick up your tickets with a clear conscious!
Meanwhile, quite a few of the Neil Young-tribute artists have recently been or will be very active. Glen Hansard recently played City Winery and the Doveman show at LPR. Patti Smith & Jesse Smith are scheduled to play the Tibet benefit at Carnegie Hall in March. When Questlove of The Roots isnt going to see Prince or spinning at Brooklyn Bowl, he can be found on Jimmy Fallon. Nada Surf recently played Mercury Lounge and Rock Shop. DeVotchKa will play Highline in March with El Mariachi Bronx. Juliana Hatfield & Evan Dando were just at Maxwell's and the Bell House. J Mascis has his upcoming tour with shows at Mercury Lounge and MHoW.
Ben Ottewell of Gomez plays the Neil Young event and an early solo show at Mercury Lounge the next day.
And last, but certainly not least, Bettye Lavette, besides paying tribute to the great rock'n roll patriarch from the North, also has quite a NYC residency in the spring when she'll set up shop at Cafe Carlyle from 5/24 - 6/3 (no shows on 5/29, 5/30). Ticketing info is forthcoming, but all tour dates, the full Neil Young Tribute lineup and some videos are below...

----
Michael Dorf Presents: The Music of Neil Young at Carnegie Hall
Thursday, February 10th, 2010

A tribute concert featuring 20 artists benefiting music & arts programs for underprivileged youth
Patti Smith & Jesse Smith • The Roots • Nada Surf
Cowboy Junkies • Juliana Hatfield & Evan Dando
Bettye LaVette • Shawn Colvin • Bebel Gilberto
Aaron Neville • The Wood Brothers • Keller Williams
Joan Osborne • Jakob Dylan • J Mascis (Dinosaur Jr.) • Glen Hansard • Mason Jennings • DeVotchKa
Ben Ottewell (of Gomez) • Pete Yorn • Joe Purdy
Larry Cambell in the house band.

This is just some of the 20+ artists to be announced! (subject to change)
Bettye Lavette - Let Me Down Easy

Bettye Lavette - He Made a Woman Out Of Me

Neil Young - Heart Of Gold

Neil Young Old Man live in '71

BETTYE LAVETTE - 2011 TOUR DATES
2/10/2011 New York NY Music of Neil Young at Carnegie Hall
2/18/2011 Charlottesville VA The Paramount Theater Booker T.
2/19/2011 Newport News VA Ella Fitzgerald Theater
3/10/2011 Cambridge MA (Private Event)
3/20/2011 Alicante SPAIN Palacio de Congresos
3/22/2011 Madrid SPAIN Joy Eslava
3/24/2011 Barcelona SPAIN L'Auditori B.
3/25/2011 Maastricht THE NETHERLANDS Jazz Maastricht Masters
3/26/2011 Gent BELGIUM Handelsbeurs
3/27/2011 Chevreuse FRANCE Jazz A Toute Heure Festival
3/28/2011 Cleon FRANCE La Traverse
3/30/2011 Basel SWITZERLAND Grand Casino
3/31/2011 Zurich SWITZERLAND ewz Unterwerk Selnau "intimate duo performance" support: Caroline Chevin
4/10/2011 Green Bay WI Oneida Casino
4/11/2011 Green Bay WI Oneida Casino
4/12/2011 Green Bay WI Oneida Casino
4/14/2011 Fort Worth TX Main Street Fort Worth Arts Festival
4/15/2011 St. Albert ALB CANADA Arden Theatre
4/16/2011 Calgary AB CANADA Bowness Theater
5/7/2011 Chicago IL Old Town School of Folk Music
5/8/2011 Ann Arbor MI The Ark
5/24/2011 New York NY Cafe Carlyle
5/25/2011 New York NY Cafe Carlyle
5/26/2011 New York NY Cafe Carlyle
5/27/2011 New York NY Cafe Carlyle
5/28/2011 New York NY Cafe Carlyle
5/31/2011 New York NY Cafe Carlyle
6/1/2011 New York NY Cafe Carlyle
6/2/2011 New York NY Cafe Carlyle
6/3/2011 New York NY Cafe Carlyle
6/4/2011 Centreville VA Vintage Virginia Wine Fest
6/24/2011 Bay City MI World Friendship Shell Matt Besey, Soul Express, Scott Baker
6/17/2011 Chicago IL Chicago Symphony Center
7/22/2011 Mendocino CA Mendocino Music Festival
8/7/2011 Kitchener ON Kitchener Blues Festival
10/16/2011 New Orleans LA Crescent City Blues and BBQ Fest
10/17/2011 Baton Rouge LA Manship Theatre
10/30/2011 Salzburg AUSTRIA Salzburger Jazz Herbst
1/21/2012 Rochester MN Mayo Civic Center Presentation Hall