Neko Case giving away her Mercury Cougar, played the Bell House w/ Lost in the Trees (and Marc Ribot) (pics & setlist)
"Managed to catch most of the Super Bowl and got to see the incredible Neko Case at the Bell House. Successful Sunday." - Joe Saturday
"Just spent 20 minutes discussing Vermont tax laws with Neko Case, Eugene Mirman and Marc Ribot." - RustySutton
Neko Case at the Bell House

After playing the Westhampton Beach Performing Arts Center on Long Island on Saturday, Neko Case and Lost In The Trees competed with the Super Bowl (or maybe you were able to do both) and played to a sold-out Bell House in Brooklyn last night (2/6) as part of a larger tour for the pair. Neko was joined by guitar great Marc Ribot during her encore *both Neko and Marc contributed to Jakob Dylans's last album). Pictures from that show are in this post. The full setlist is also below.
The New Porno chanteuse will now take a breather, but will return to NYC to play Barnes & Noble for FREE with Michael Showalter on 2/24. Starting tomorrow (2/8), you'll be able to buy raffle tickets that might win you Neko's classic 1967 Mercury Cougar (as seen on the cover of "Middle Cyclone")...
Neko Case & 826 National present The Cougar-Rama Muscle Car-'Splosion

We are almost ready to re-launch after a truckload of technical difficulties! We are going to begin selling raffle tickets on Tuesday, February 8. Don't worry -- the drawing has been moved up to March so there's still plenty of time to get involved. Please let us know if you have any questions and stay tuned for details!

The Cougar-Rama Muscle Car-'Splosion is upon us! Grammy-nominated singer/songwriter/rock star extraordinaire Neko Case is generously giving away her classic 1967 Mercury Cougar to benefit 826 National. Ticket sales will begin shortly, and beginning on Monday, February 14, we will draw for prizes each day leading up to the car drawing on February 18. Stay tuned for a full schedule of drawings!

The car comes packed with Rand McNally guides, piles of road trip tunes, gift certificates to Chipotle, a year's supply of Tazo Tea, and other goodies.

And because any good Cougar-Rama Muscle Car-'Splosion demands extravagance, there are heaps of other fantastic prizes to be won, including:
* A drum head signed by The New Pornographers
* Neko Case's limited-edition 1966 Gretsch Silver Duke guitar
* A Gibson guitar signed by members of the Speaking Clock Revue including Elton John and Elvis Costello
* A Carr Amplifier
* Dinner for 10 from Chipotle
* A collection of vinyl from SubPop including LPS from Fleet Foxes, Thee Oh Sees, The Vaselines
* An Adidas prize pack
* ... and more!

Tickets are $45 each, and they get cheaper the more you buy: 2 tickets for $75, 3 for $100, etc. For more details and to buy tickets, head over to www.nekocase.com/auction. Neko also designed t-shirts for 826 that are being sold in conjunction with the Muscle Car-'Splosion in 826 chapter storefronts across the country and online at www.826national.org/store.
A video with more details is below.
More pictures from the Bell House, including a shot of Neko Case's setlist, a video from the show, and a video about the car, below..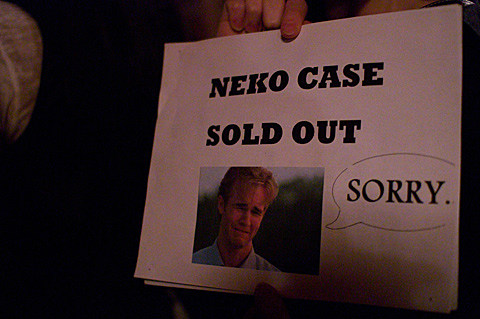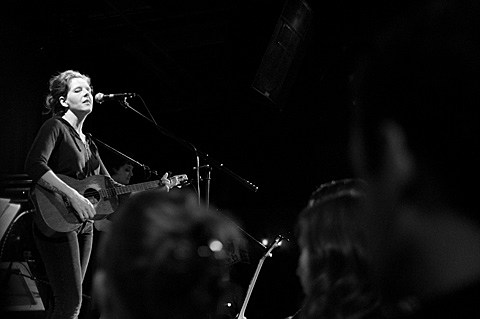 LOST IN THE TREES - 2011 TOUR DATES
Monday, February 7, 2011 New York, NY US Mercury Lounge
Tuesday, February 8, 2011 Newark, DE US Mojo Main
Wednesday, February 9, 2011 Washington, DC US Black Cat