Neko case played 'Upstairs at the Square' w/ Michael Showalter (pics), 'leaked' a new Dodos song (MP3)
"In 45 minutes the show with Showalter starts! It's gonna be amazing, I can tell by his purple sweater. Color of royalty. He's feelin' it!" - Neko Case
Neko Case helped Michael Showalter promote his new book at an event at Barnes & Noble in Union Square last night (2/24), or to be more specific, Upstairs at the Square. Katherine Lanpher hosted. Neko sang four songs (setlist below). Showalter read a couple passages including a beat poetry inspired poem and a chapter about what to put in a Hollywood script. He also discussed the orgin of The Baxter, and they both talked about their writing process. Pictures from the bookstore are in this post.
Uptairs at the Square returns to Barnes & Noble in Union Square twice in March. Wednesday, March 9 will feature Rebecca Skloot (The Immortal Life of Henrietta Lacks) and Cubic Zirconia (Follow Your Heart), and Thursday, March 24 has my favorite Keren Ann (101) with Barbara Browning (The Correspondence Artist).
Earlier in the day Neko "leaked" a new Dodos song via her Twitter. She wrote, "Fave song off new Dodos. Bummed I didn't didn't get to sing on it (I shouldn't be so greedy cuz I did sing on lots)." Download that above. The Dodos are heading out on tour in March and they'll be playing lots of SXSW shows in the process. Their updated dates, a BrooklynVegan day party included, are below.
More B&N pictures, Dodos & Barry dates, and Neko's setlist, below...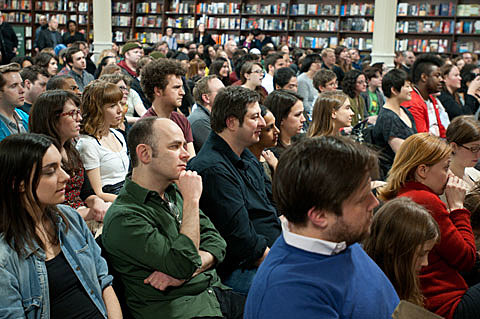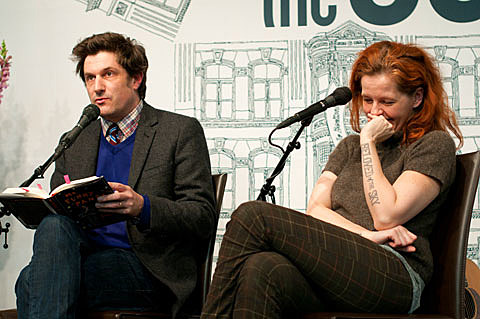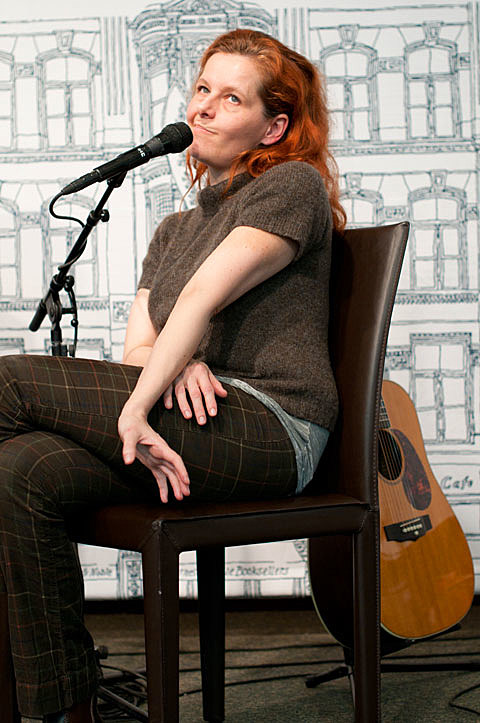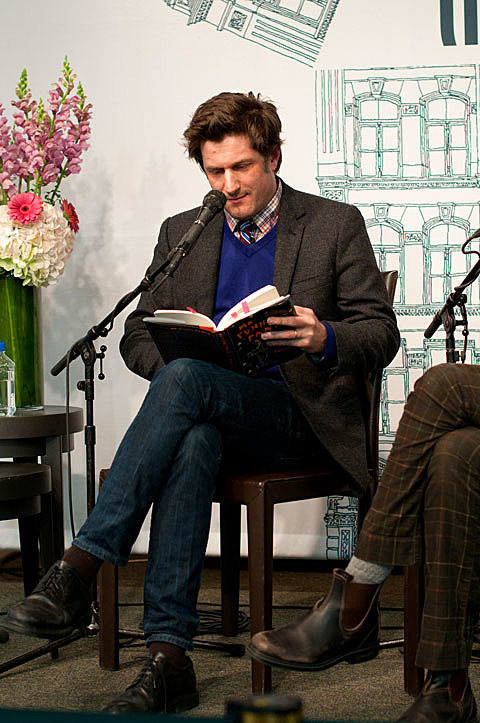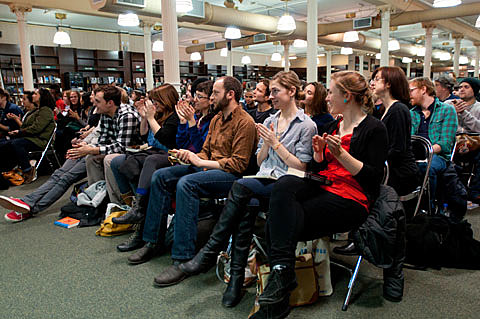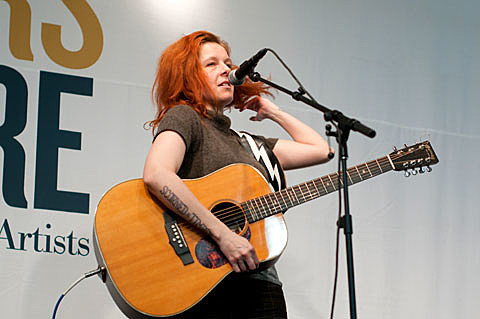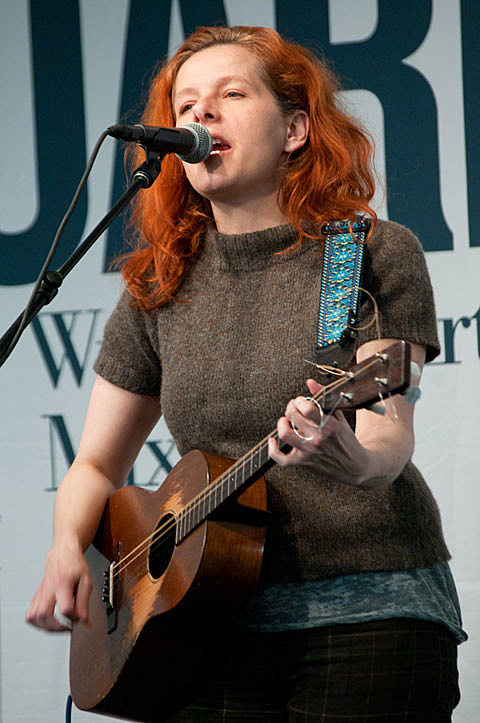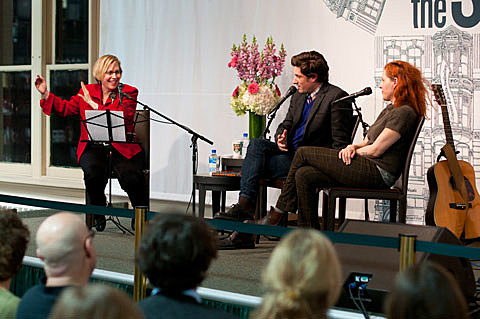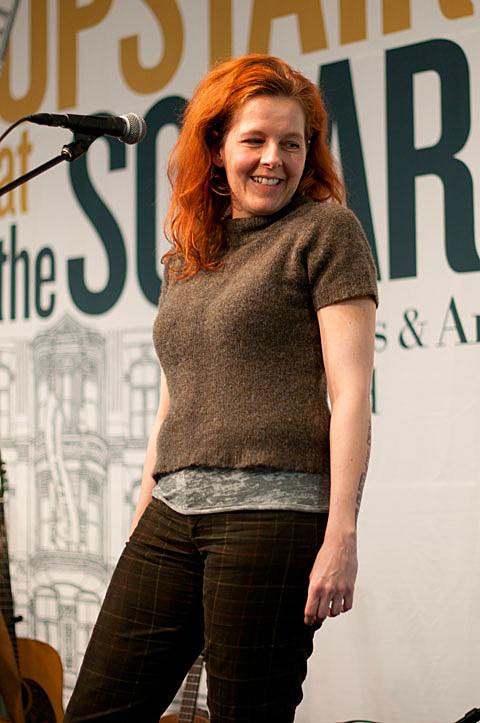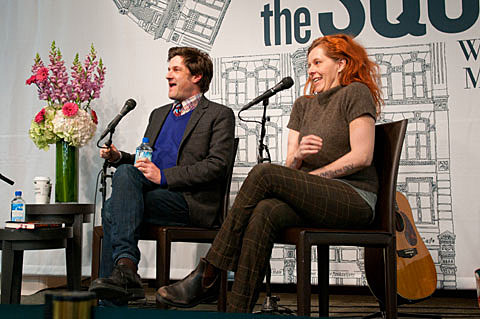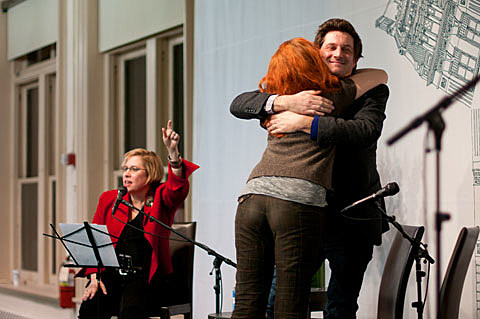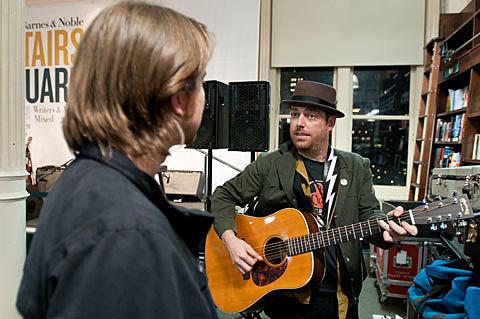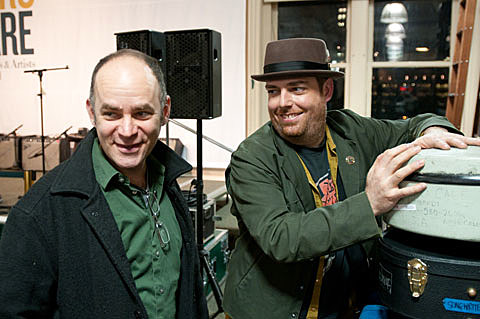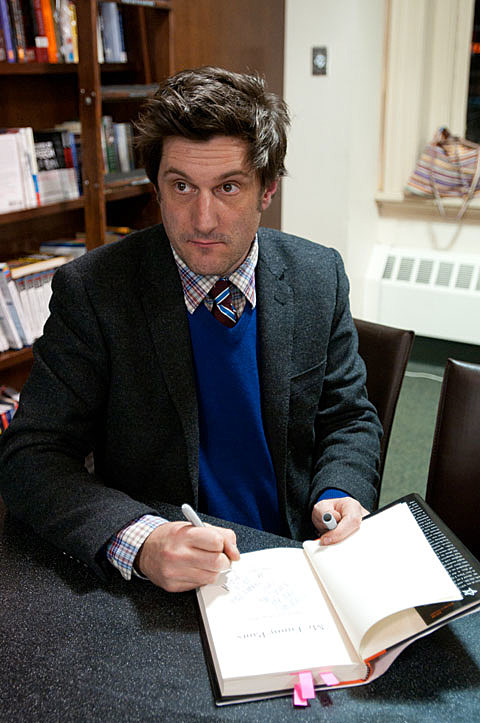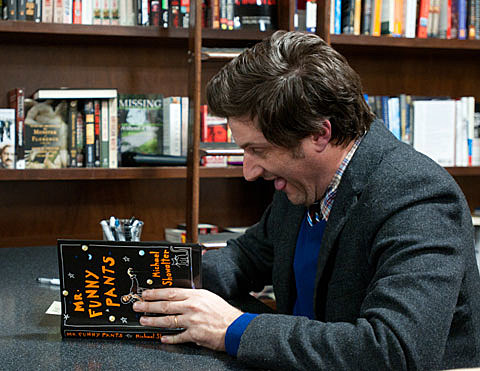 Neko Case setlist
Margaret vs Pauline
Fox Confessor Brings The Flood
Magpie to the Morning
That Teenage Feeling
--
Neil Hamburger & Todd Barry - 2011 Tour Dates
4/8/11 Cleveland, OH / The Grog Shop
4/9/11Pittsburgh, PA Smiling Moose
4/10/11 Morgantown, WV / 123 Pleasant Street
4/12/11 Columbus, OH / Outland Live
4/13/11 Bloomington, IN / The Comedy Attic
4/14/11 Louisville, KY / Headliners
4/15/11 Newport, KY / Southgate House
The Dodos - 2011 Tour Dates
03-10 Reno, NV - Lincoln Lounge
03-11 Las Vegas, NV - Beauty Bar
03-12 Tucson, AZ - Club Congress
03-13 Phoenix, AZ - The Duce
03-14 Santa Fe, NM - Warehouse 21
03-16 Tiger Mountain and Noise Pop Present - Brooklyn vs. the Bay Day Party at Red Eye- 5:10pm-6pm
03-16 French Kiss Night Showcase at Parish- 1am-1:45am
03-17 Under the Radar Day Party at Flamingo Cantina - 12:45pm-1:30pm
03-17 Pitchfork Party at East Side Drive Inn- 3:30pm-4pm
03-18 Food Panel at Convention Center 11am-12:30pm-
03-18 Brooklyn Vegan Day Party at Swan Dive & Barbarella- 5pm-5:45pm
03-18 Orchard Night Showcase-at Cedar Street Courtyard- - 10pm-10:45pm
03-19 AOL Pop Up Show- at secret tba location- 1pm- location tbc until 24 hours beforehand
03-19 Mess With Texas Outside Festival at East Side Drive Inn - 4:15pm-4:45pm
03-21 Kansas City, MO - Record Bar
03-22 Omaha, NE - Waiting Room
03-23 Minneapolis, MN - Cedar Cultural Center
03-24 Fargo, ND - Aquarium
03-25 Winnipeg, MB - West End
03-26 Saskatoon, SK - Amigo's
03-28 Calgary, AB - Republik
03-29 Edmonton, AB - Starlite
03-31 Vancouver, BC - Rickshaw
04-01 Victoria, BC - Sugar
04-02 Bellingham, WA - Wild Buffalo
04-04 Seattle, WA - Neumo's
04-05 Portland, OR - Doug Fir
04-07 San Francisco, CA - Filmore
04-08 Los Angeles, CA - El Rey Theater
04-09 San Diego, CA - Casbah
04-27 Spain, Donostia - Gazteszena
04-28 Spain, Vigo - University
04-29 Spain, Madrid - El Sol
04-30 Spain, Barcelona - Plaça de la Odissea (Free Outdoor show)
05-02 Grenoble, France - Le Ciel
05-03 Milan, Italy - Salumeria Della Musica
05-04 Rome, Italy - Circolo Degli Artisti
05-05 Ravenna, Italy - Bronson
05-06 Aarau, Switzerland - Kiff
05-07 Munich, Germany - 59-1
05-09 Berlin, Germany - Magnet
05-10 Hamburg, Germany - Prinzenbar
05-11 Cologne, Germany - Blue Shell
05-12 Nijmegen, Holland - Doornroosje
05-13 Amsterdam, Holland - Melkweg
05-14 Brussels, Belgium - Botanique Festival
05-16 Vendome, France - La Chapelle Vendome
05-17 Strasbourg, France - La Laiterie
05-18 Paris, France - Divan du Monde
05-19 London, UK - Scala
05-20 Manchester, UK - Deaf Institute
05-21 Glasgow, UK - Arches