Neon Indian, The Almighty Defenders & Cale Park @ Roots Studios during CMJ – review, pics & video
photos by Andrew Frisciano, words by Benjamin Lozovsky
On Saturday October 24, a night full of swirling electronica, booze-soaked theatrics, and plenty of limey-infused glamour came together at the Topman CMJ Party at Roots Studios. The British urban fashion superstore hosted an RSVP only show at the massive studio space in Williamsburg, Brooklyn, which included performances by The Almighty Defenders, Neon Indian, and Cale Parks, along with DJ sets by X-Wife, Finger on the Pulse, NROTB, and Designer Drugs.
To the dismay of some concert-going hopefuls waiting in the rain outside the venue, CMJ badges weren't accepted at the event. That didn't stop the cavernous white rooms of Roots Studios from filling up to capacity with an eager, talkative, and ultra-fashionable crowd. Their anticipation was rewarded with a uniquely curated event that had free drinks spilling forward everywhere from the Svedka-sponsored open bar to the front of the stage.
The first performance was by Cale Parks, an indie scene veteran better known for his role as a multi-instrumentalist in Aloha and as a the drummer for Brooklyn-based electronic musician White Williams. His own music expands on the styles of his other gigs, melding a tightly controlled, polyrhythmic, shadowy electro experience with an undeniable layer of heart-felt sincerity. Performed songs like We Can Feel It and One At A Time demonstrated his prowess for accentuating the emotional quality of his music over a layer of hard-hitting percussion and rising and falling synth stabs. Parks' direct and plaintive vocal lines seem to balance perfectly between cozy and unsettled, as they found their place amongst the subtly subversive electronic textures he and his band construed.
continued below....

Neon Indian

Propelled by equal parts warm, Sunday morning radio fuzz and spazzy, hard-driving oscillations, buzz band Neon Indian were next on the bill. With this show being their only real performance (they played a children-only show the next day at the Living Room) at CMJ after their Pitchfork-approved album was released, hopes in the room were high for a knockout set. The band, led by singer/instrumentalist Alan Palomo, did just that, as they brought a youthful yet savvy-beyond-their-years exuberance to the stage.
Although Neon Indian's recorded music might not lend itself completely to dance persuasions, performed live, the music had a virile ferocity to match the overall cozy, bedroom disposition of Psychic Chasms, Palomo's latest release. Lost was much of the lo-fi crackle, instead replaced with a booming, body-shaking clarity to the heavy beats being dropped by Palomo.
With a full band backing him, some of the quieter electronic textures of Palomo's compositions were either absent or indecipherable, but were powerfully replaced by dramatic instrumentation and a compelling energy vividly present throughout the whole performance. Songs like Terminally Chill and Mind Drips transformed from gentle cruising pieces to epically danceable, mid-tempo stompers with crunching guitars and propulsive live percussion.
The title track of the album had a mean, droney Italo-Disco beat with equally perfect clichéd spacey synths; the song played as an ideally thought-out throwback to an underappreciated, short-lived genre.
The band reserved its heaviest beat for the last song, Ephemeral Artery. The piece was driven by the grimiest synth sounds of the night, but even if the live instruments take a back seat to Palomo's sensationalist programmed creations, it's only on the surface. The added instrumentation bolstered as much as redefined the whole sound, adding subtle yet broad strokes to the wild gurgling sonic palette already in play.
The Almighty Defenders

While the previous two bands might have strived to achieve an organic quality to their electronic landscapes, The Almighty Defenders had enough of it to start a West Village co-op. Perhaps a little too much; at times their choir-robe sporting performance came off as mildly contrived attempts at irreverently performed traditional gospel-tinged rock sprouting out of the soil. Their dynamism as performers couldn't be discounted however, as they stirred the crowd into a frenzy with a nearly hour long drunken sermon of soulful garage bliss.
This indie "supergroup" has stumbled on a unique dynamic; coupling the best elements of the ultimate divisiveness that is the Black Lips' style - an undying energy and a solid rhythm section - with the grandiose stage presence and musical abilities of King Khan and his long time partner Marc Sultan (BBQ Show). To all that add the Kentucky-fried-church sing-a-long, ebulliently spilling from the stage. Songs full of cheering, Bible-quoting, and plucky reverb-heavy guitar lines with lots of claps and tambourine sparkle defined their whole performance for the most part. Not that the crowd at Roots Studios seemed to mind; if anything, they might have seen the light.
The baptismal experience was nearly complete with the addition of a "communion ceremony," where guzzles from a Jameson whiskey bottle were administered to parishioners, that is audience members in the front row, poured with a steadfast hand by Black Lips member Cole Alexander.
It provided a fitting image for a show that might have sparked the first born-again revival in Williamsburg's ever-growing cultural history. Praise the lord and pass the ammunition.
More pictures and some videos below....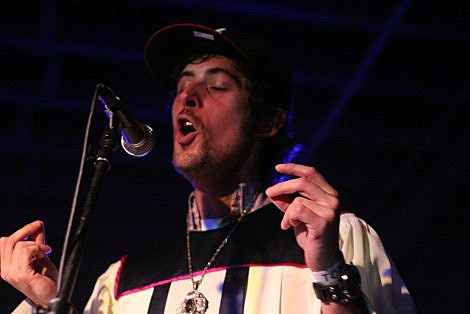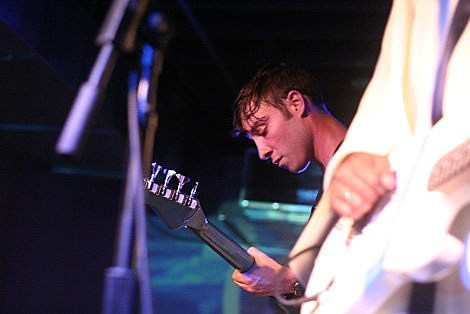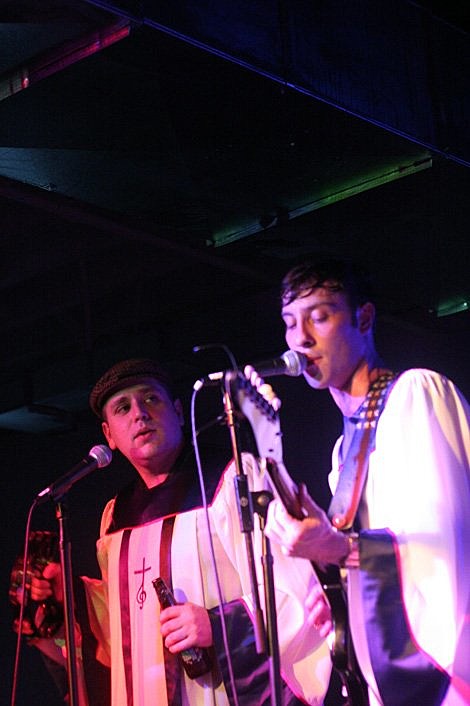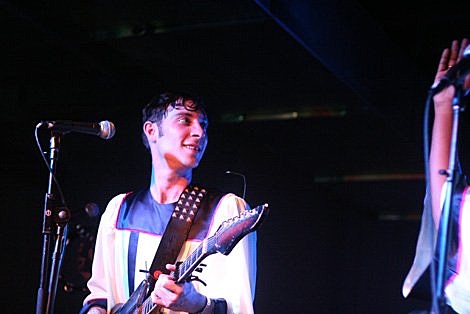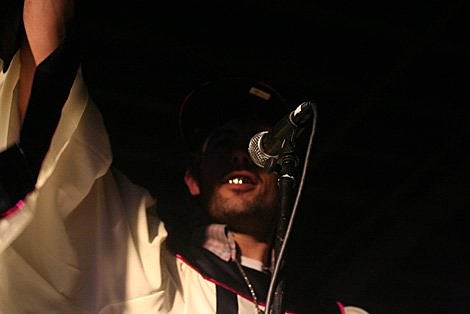 The Almighty Defenders played Maxwell's in Hoboken one night later.
Neon Indian - "Ephemeral Artery" Live at the Topman CMJ 2009 Party

Neon Indian - "Deadbeat Summer" Live at the Topman CMJ 2009 Party

Neon Indian - "Local Joke" Live at the Topman CMJ 2009 Party

The Almighty Defenders - I'm Coming Home @ Maxwell's

The Almighty Defenders - Bow Down And Die @ Maxwell's