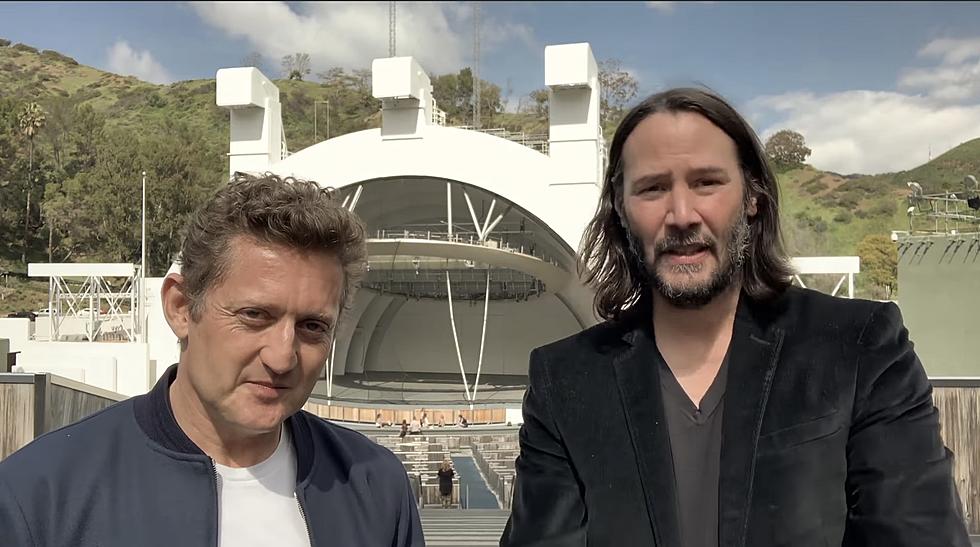 new 'Bill & Ted' movie officially announced, coming summer 2020
Excellent!
Alex Winter and Keanu Reeves have been talking about making a third Bill & Ted movie for a very long time and it looks like it's finally really going to happen. The pair just shared a video they shot at the Hollywood Bowl where they announced that "we might actually hopefully shoot a movie this summer -- Bill & Ted 3: Face the Music." The movie has a planned release date of August 21, 2020. Watch that video below.
The script for Face the Music was penned by original screenwriters Chris Matheson and Ed Solomon, will be directed by Galaxy Quest's Dean Parisot and is executive produced by Steven Spielberg. Here's the synopsis via Deadline:
Following 1989's Bill & Ted's Excellent Adventure and 1991's Bill & Ted's Bogus Journey, the stakes are higher than ever for William "Bill" S. Preston Esq. (Winter) and Theodore "Ted" Logan (Reeves). Yet to fulfill their rock and roll destiny, the now middle-aged best friends set out on a new adventure, when a visitor from the future warns them that only their song can save life as we know it and bring harmony to the universe. Along the way, they will be helped by their families, old friends and a few music legends.
The original Bill & Ted's Excellent Adventure came out in 1989 and its underrated sequel, Bill & Ted's Bogus Journey, was released in 1991. There was also a short-lived animated series.