New Bomb Turks played the Bell House w/ Live Fast Die (pics), Eric Davidson wrote a book & is touring (dates)
Eric Davidson of New Bomb Turks, mid-flight

Two great rock bands, the New Bomb Turks and Live Fast Die, reunited Saturday night (6/26) at the Bellhouse to help promote New Bomb Turks singer Eric Davidson's new book, We Never Learn: the Gunk Punk Undergut, 1988-2001. It's an amazing chronicle of the unheralded rock scene that launched the careers of bands like The Hives and The White Stripes. There are stories of legendary underground bands, crazy tours, and general debauchery.
The evening started with Eric reading some passages from his book, and then showing some awesome videos of bands like the Dwarves, the Didjits, the Gories, and thee Headcoats. Colombus, Ohio (the Turks hometown) based The Ex-Whites got the music started with a solid set of sneering mid-western rock'n'roll. Next up was Brooklyn's own Live Fast Die playing their first show in almost a year. The two constant members Camaro Werewolf (Ethan) and Viking Thrust (Aaron) were joined by guitar player Eric Cecil and drummer Jeff Ottenbacher. Jeff is one of the hardest working drummers in NYC at this point, besides the occasional Live Fast Die gig, he also plays in Adult Themes, Golden Error, and Doug Gillard Electric. Live Fast Die (named after a GG Allin tattoo) dusted off some classic songs, like Got Nitedo and Forged in Flames, as well as some ones they had never played live, including "Dawn of the VHS" and "Pizza and Vomit". The set ended with Camaro playing while lying on his back, and the audience showered him with beer.
The rest of the review, tons of pics, and some video are below...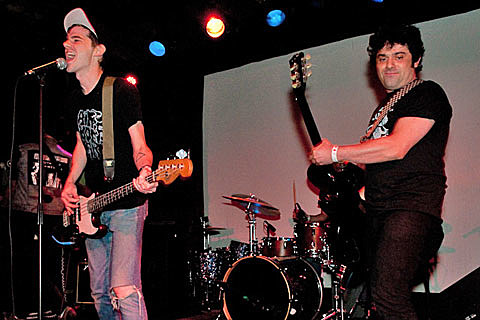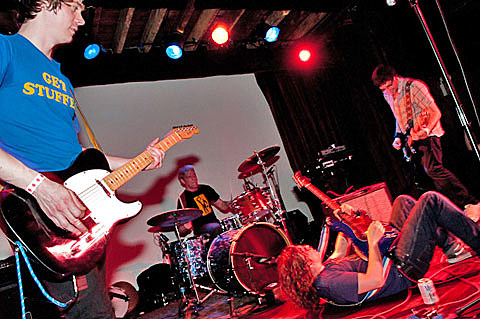 The New Bomb Turks came charging right out of the box, and Eric Davidson was his usual glasses stealing, mic in the armpit wiping, audience heckling, camera grabbing self. The rest of the band lives within 3 blocks of each other in Colombus, Ohio, and you can tell by how tight they play together. Jim Weber's trademark buzzsaw guitars, Matt Reber's driving bass lines, and Sam Brown's precise drumming delivered a seamless noise onslaught while Eric paced and jumped around stage, and dove into the crowd. At one point he grabbed a hat and hung it on my lens, I spent the time between songs cleaning his handprints off my lens. A band with twelve albums has a lot to choose from, and the Turks played a wide selection of songs, including "Id Slips In", "Point A to Point Blank", and "Let's Dress up the Naked Truth," providing their fans with a good mix of older to newer songs.
They ended the set with "Defiled", and Eric had the entire audience crouch down and then burst up on his count. The boys came back for a crushing encore, closing with the classic "Last Lost Fight", ending with Davidson pulling Golden Error singer Erick Hughes onstage to finish the song pushing him down on the beer drenched stage while shoving the mic in his mouth. Then everybody had to leave immediately so the Bellhouse could throw a gay dance party afterwards. Seriously.
After the show, I talked with Aaron Lefkove, guitar and bass player for Live Fast Die, about opening the show and working on the book with Eric (Aaron works for Hal Leonard, the company that published Eric's book). "Jim insisted we play the show, I guess he didn't know we broke up. And when he found out it didn't matter, so we played. It was totally cool. I wish every show was like this. Our next show will probably be a shitty basement, or a shittier kitchen,," he laughed. "Working on We Never Learn was an honor. I poured a lot of myself into it. Eric is the perfect guy to tell this story, he has a real insiders perspective. He lived and played in this scene. He's not some periphery writer. This is the next chapter to all the punk stories we grew up on. It's a new story, not the flogging of the same old shit...."
The Turks only have one other upcoming show, and that's playing at the Las Vegas Shakedown on August 13th. Matt Reber told me about playing the 2000 Shakedown. "That was one of the best times of my life. I couldn't take five steps without seeing someone I knew and loved. It was like a high school freak reunion. I hope this is as much fun. It'll be great to see the Rip-Offs." A few other great rock bands on the three-day bill are the Humpers, the Stitches, Andre Williams and Jail Weddings.
Eric Davidson will be on a short book and DJ tour in the next couple weeks, dates are below...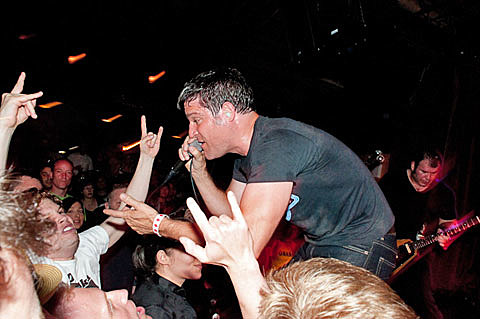 New Bomb Turks - Point A at The Bell House, 6/26/10

New Bomb Turks - Defiled at The Bell House 6/26/10

New Bomb Turks - Naked Truth at The Bell House, 6/26/10

ERIC DAVIDSON - 2010 TOUR DATES
July 1 - San Francisco, CA - Reading/DVD at Hemlock Tavern
July 2 - SF - DJ party @ Pop's Bar
July 5 - Another SF - DJ gig here
July 7 - L.A., CA - Stories - Reading/DVD action
July 9 - Columbus, OH - Wexner Center - Reading/DVD action; after-party at Café Bourbon St. w/bands
July 10 - Columbus, OH - Surly Girl Parking Lot Blow-Out - New Bomb Turks with the Gibson Bros. and Scrawl
July 13 - Chicago - Museum of Contemporary Art