new Cults video & pics from the No Age, HEALTH, Cults & Ceremony show @ House of Vans (which opens again Thursday)
Ceremony @ House of Vans

Cults @ House of Vans

To be clear, the below video is NOT the latest from Integrity. Actually, it is the latest video from the much more serene Cults, who uses "Go Outside" from their debut LP to soundtrack clips of the Jim Jones cult and the surrounding compound. Sick shit guys... thats a compliment.
"To tell the story of Cults' hauntingly beautiful track, "Go Outside", I was inspired to bring the band inside the world of Jim Jones' famous religious cult, Peoples Temple, and the eventual tragedy in Jonestown. Fortunately, when exploring the feasibility of this video I became acquainted with Fielding M. McGehee III, an expert on Peoples Temple history and the primary researcher for the Jonestown Archive. It is thanks to him and his encouragement that I was able to take on this project and through his support gained access to over two and half hours of home videos showing Peoples Temple in Jonestown." - [director Isaiah Seret]
Cults played House of Vans on June 30th as part of a killer (not in a Jim Jones-way) lineup that included new-Matador-signees Ceremony, HEALTH, and No Age. The show was packed and bonkers from the beginning with a full-on mosh pit breaking out for opener Ceremony who were followed by Cults who in turn filled in the large warehouse with less-violently acting people. HEALTH and No Age followed. Pictures are in this post and many more of them are below.
House of Vans is basically this super large sweet warehouse that is sometimes used for skateboarding with a big stage for the bands. It sounded good and there was plenty of room for people to see, dance, mingle, and hang out in the courtyard outside which included a bar with FREE BEER, and portapotties. Food too (not sure if that was free).
Off! also just released a new live video. The whole 37 seconds of it is also below...

---
Off! - Full Of Shit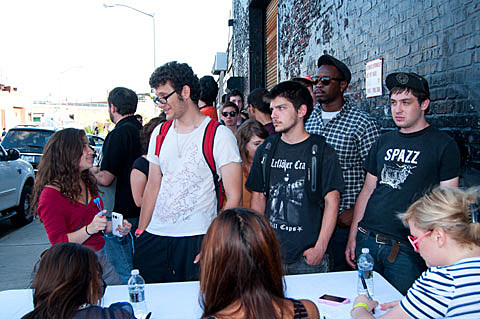 CULTS - 2011 TOUR DATES
Thu 07/21/11 The Waldorf Hotel Vancouver BC *
Fri 07/22/11 Capitol Hill Block Party - Neumos Stage Seattle WA
Sat 07/23/11 Mississippi Studios Portland OR *
Sun 07/24/11 The Clift San Francisco San Francisco CA
Mon 07/25/11 Bottom of the Hill San Francisco CA *
Wed 07/27/11 Echo Los Angeles CA *
Thu 07/28/11 Eagle Rock Center for the Arts Los Angeles CA *
Fri 07/29/11 Soda Bar San Diego CA *
Sat 07/30/11 Club Congress Tucson AZ *
Mon 08/01/11 Larimer Lounge Denver CO *
Tue 08/02/11 The Riot Room Kansas City MO *
Wed 08/03/11 Firebird Saint Louis MO *
Thu 08/04/11 Empty Bottle Chicago IL *
Fri 08/05/11 Lollapalooza 2011 Chicago IL
Sun 08/07/11 Central Park Summerstage New York, NY w/ Friendly Fires, The Naked and Famous
Sat 09/03/11 FYF Festival Los Angeles CA
Tue 09/13/11 The Venue Scottsdale AZ w/ Foster the People
Thu 09/15/11 House Of Blues Dallas TX +
Sat 09/17/11 House of Blues Houston Houston TX +
Mon 09/19/11 House of Blues New Orleans New Orleans LA +
Tue 09/20/11 The Beacham Theatre Orlando FL +
Wed 09/21/11 Masquerade (Heaven Stage) Atlanta GA +
Fri 09/23/11 The National Richmond VA +
Sat 09/24/11 Popped! Festival Philadelphia PA
Mon 09/26/11 9:30 Club Washington DC Foster the People
Thu 09/29/11 House of Blues Boston Boston MA +
Sun 10/02/11 Newport Music Hall Columbus OH +
Tue 10/04/11 The Vogue Indianapolis IN +
Thu 10/06/11 First Avenue Minneapolis MN +
* w/ Guards, Writer
+ w/ Foster the People, Reptar