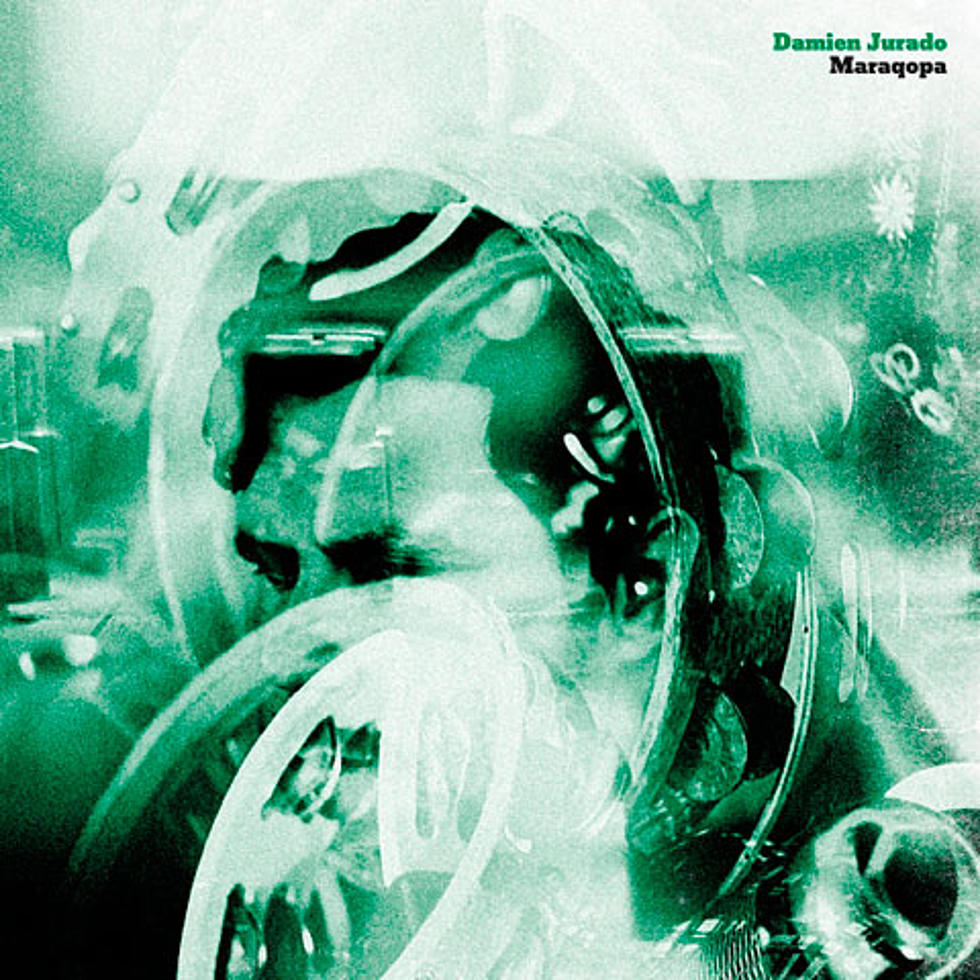 new Damien Jurado album, tour dates, MP3 & video
Damien Jurado will release Maraqopa, the followup to 2010's Saint Bartlett, on February 21 via Secretly Canadian. The album was produced by Richard Swift, who also produced Saint Bartlett and is now a member of The Shins. That's the album artwork above. The album opener and first single, "Nothing Is The News," is a jammy cut that opens with Damien and his acoustic guitar, but as soon as dual lead guitars come in about half a minute through, they don't let up for the entirety of the song. Grab an MP3 of that track above and stream it below. The video for this track, which premiered today on Alt Press, and the album tracklist is also below.
Damien has a number European tour dates scheduled for the next few months (except for one show in his hometown Seattle in February) and he'll follow that with a North American tour that includes dates with Peter Wolf Crier and others with JBM. The tour includes a Chicago show and a NYC show which will happen on May 19 at Mercury Lounge with JBM. Tickets for the NYC show are on AmEx presale and go on sale to the general public on Friday (1/13) at noon.
All currently known dates, video, stream, and album info below...

--
Damien Jurado - "Nothing Is The News" Official Video

Maraqopa Tracklist:
1. Nothing Is The News
2. Life Away From The Garden
3. Maraqopa
4. This Time Next Year
5. Reel To Reel
6. Working Titles
7. Everyone A Star
8. So On, Nevada
9. Museum Of Flight
10. Mountains Still Asleep
Damien Jurado -- 2012 Tour Dates
01/23/12 London, UK: Enterprise
01/24/12 Haarlem, NL: Patronaat
01/26/12 Middleburg, NL: Avonduren
01/28/12 Cologne, DE: King Georg
02/17/12 Seattle, WA: The Neptune
02/29/12 Groningen, NL: Oosterpoort
03/01/12 Hamburg, DE: Astra Stub
03/02/12 Lund, SE: Mejeriet
03/03/12 Stockholm, SE: Sodra
03/04/12 Goteborg, SE: Nefertiti
03/06/12 Copenhagen, DK: Loppen
03/07/12 Berlin, DE: Comet Club
03/08/12 Leipzig, DE: UT Connewitz
03/09/12 Schorndorf, DE: Manufaktur
03/11/12 Den Bosch, NL: fabrlQ Festival
03/12/12 London, UK: Cargo
03/13/12 Rouen, FR: Le 106 Club
03/15/12 Bordeaux, FR: Le Saint X
03/16/12 San Sebastian, ES: Teatro Victoria Eugenia
03/17/12 Santander, ES: Black Bird
03/18/12 Orense, ES: Theater
03/18/12 Madrid, ES: Teatro Lara
03/20/12 Cadiz, ES: Edificio Constitución 1812 de Cádiz
03/21/12 Granada, ES: Planta Baja
03/22/12 Murcia, ES: Microsonidos
03/23/12 Badalona, ES: Blues & Ritme
03/25/12 Fribourg, CH: Fri-Son
03/26/12 Zurich, CH: El Lokal
03/27/12 Freiburg, DE: White Rabbit
03/28/12 Antwerp, BE: Trix
03/29/12 Amsterdam, NL: Paradiso
04/13/12 San Francisco, CA: Bottom of the Hill*
04/14/12 Los Angeles, CA: Bootleg Theater*
04/15/12 San Diego, CA: Soda Bar*
04/17/12 Denver, CO: Hi-Dive*
04/18/12 Salt Lake City, UT: Velour*
04/19/12 Boise, ID: Neurolux*
04/21/12 Vancouver, BC: Biltmore Cabaret*
04/22/12 Portland, OR: Holocene*
05/16/12 Chicago, IL: Schubas^
05/17/12 Pittsburgh, PA: Warhol Museum^
05/18/12 Boston, MA: RADIO^
05/19/12 New York, NY: Mercury Lounge^
05/20/12 Philadelphia, PA: Johnny Brenda's^
05/21/12 Washington DC: Black Cat^
05/22/12 Raleigh, NC: Baracade^
05/23/12 Atlanta, GA: The Earl^
05/25/12 Nashville, TN: The Basement^
05/26/12 Bloomington, IN: Russian Recordings^
* - w/ Peter Wolf Crier
^ - w/ JBM