new Dwarves LP & dates, Steve Ignorant is here, Dez Cadena too ++ CJ Ramone, updated Off! dates, Off With Their Heads
Timothy S. Griffin
The Dwarves at Fun Fun Fun Fest (more by Tim Griffin)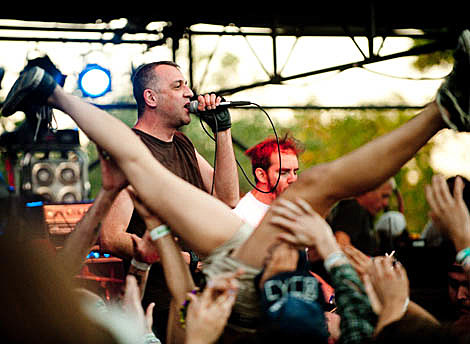 "THE DWARVES were kicked off tour with Motorhead for sleeping with the girls the aging metalheads had hired to hang out backstage. They were banned from venerable punk dive CBGBs for breaking a table and bleeding on the floor, making the venue cleaner and improving its décor." [25 THINGS YOU DON'T KNOW ABOUT THE DWARVES]
The Dwarves are celebrating 25 years of mischief with a new collection with songs titles like "The Dwarves Are Still The Best Band Ever", "We Only Came To Get High", and "Happy Birthday Suicide"...
That's right folks, the Dwarves magnum opus is done and set to drop May 10, 2011 on vinyl and cd, both including a free dvd! 25 years in the making the Dwarves Are Born Again features heroes from throughout the Dwarves saga. Blag the Ripper, HeWhoCanNotBeNamed, Rex Everything, the Fresh Prince of Darkness and a cast of thousands including Vadge Moore and Sgt. Saltpeter from the notorious Blood, Guts and Pussy record return to crush the ears of a desperate public.
Stream it below, or with a large amount of their output at their bandcamp. As you may/may not know Dwarves member Rex Everything currently goes by his government name Nick Oliveri (ex-Queens of The Stone Age, Mondo Generator).
--
Steve Ignorant rehearsing earlier this month

In other news, after a stutter a few weeks ago, TONIGHT (4/20) marks the return of Steve Ignorant to the U.S. to play Crass songs at Europa. Dog That Bites Everyone Thulsa Doom,A.P.P.L.E., and Goldblade open the Brooklyn show... though there is a rumor that Goldblade, who are supporting on the whole tour, may not get here in time for tonight's show due to visa issues (update: rumour confirmed as true) (maybe you caught them at Southpaw in 2003). if not, they will hopefully make it soon though, and definitely in time for the sold-out Santos Party House 'Crass songs' show on 5/8. Tickets for tonight's Europa show are still available, and a full list of Steve Ignorant tour openers is below (Santos has Goldblade, Cult Of Youth and Primitive Weapons).
Also tonight (4/20), strangely, ex-Black Flag/current-Misfits-er Dez Cadena will hit Park Slope venue Union Hall with his band Dez Cadena & The Broken Down Bitches, as well as The Slants and Lunic. Tickets are still available.
Speaking Black Flag, two Black Flag vocalists (Henry Rollins & Keith Morris with his band Off!) will share one stage (Terminal 5) as part of a show/tour with Dinosaur Jr. Since that show was announced, Off! also announced even more tour dates which are listed below.
And while we're on the subject, former Misfits vocalist Glenn Danzig heads out on a tour that hits Starland Ballroom in his birth state next month. The current version of the Misfits play Festival For Humanity in Vernon, NJ on May 27th.
And last and probably least, CJ Ramone will play The Studio at Webster Hall on July 9th, performing "an all Ramones set with Ramones producer Daniel Rey on guitar". Tickets are on sale. Joey Ramone died a little more than 10 years ago, and his birthday will again be celebrated at Irving Plaza in May.
All tour dates and that Dwarves stream is below.

--
--
--

THE DWARVES - 2011 TOUR DATES
Friday, May 27, 2011 San Francisco, CA Bottom of the Hill
Sunday, May 29, 2011 Los Angeles, CA Dragonfly
Monday, May 30, 2011 Las Vegas, NV Punk Rock Bowling
Thursday, June 9, 2011 Tilburg, The Netherlands 013
Friday, June 10, 2011 Groningen, The Netherlands Gideon Music Festival
Thursday, June 16, 2011 Gothenburg, Sweden Göteborg Galopp
Sunday, June 26, 2011 Imola Bo, Italy Autodromo Internazionale Enzo e Dino Ferrari
Friday, July 15, 2011 Knitting Factory Brooklyn, NY
Saturday, July 16, 2011 The Studio at Webster Hall, New York, NY
Steve ignorant SUPPORT BANDS
>>> Goldblade are supporting us on all dates... plus the following bands will play!
Brooklyn - A.P.P.L.E, Thulsa Doom, Dog That Bites Everyone
Montreal - Skull and Bones (featuring members of Inepsy and Hold A Grudge)
Toronto - Class Assassins and The Terminals
Chicago - currently no support
Seattle - The Estranged
San Francisco - Goldblade
Pomona - Fox - Aztlan Underground, Terezodu
Pomona - Glasshouse - All Of Nothing HC, Informal Society, Holokaust
Arizona- Vegetable, Nightgain
Austin - Wild/Tribe
Atlanta - In Ruins
Baltimore - Final Conflict
New York - Santos - Cult Of Youth and Primitive Weapons
---
STEVE IGNORANT - RESCHEDULED 2011 TOUR DATES
April 20 Brooklyn, NY @ Europa
April 21 Montreal, QC @ Club Soda -
April 22 Toronto, ON @ Opera House
April 23 Chicago, IL @ TBA
April 26 Seattle, WA @ Neumo's
April 27 San Francisco, CA @ Slim's
April 29 Pomona, CA @ Fox Theater
April 30 Pomona, CA @ Glasshouse
May 3 Austin, TX @ Emo's
May 6 Atlanta, GA @ Masquerade
May 7 Baltimore, MD @ Sonar
May 8 New York, NY @ Santos - SOLD OUT
--
Off! -- 20111 Tour Dates
April 21 - SF Eagle - San Francisco, CA
April 22 - 924 Gilman - Berkeley, CA ˆ
April 23 - East End - Portland, OR
April 24 - Neumo's - Seattle, WA
April 25 - Fortune Sound Club - Vancouver, BC
June 16 & 17 - NXNE Festival - Toronto, ON
June 19 - Les Foufounes Electriques - Montreal, QC
June 22 - The Paradise - Boston, MA *
June 23 - Terminal 5 - New York, NY º*
June 24 - Electric Factory - Philadelphia, PA *
June 25 - 9:30 Club - Washington, DC *
June 26 - Variety Playhouse - Atlanta, GA *
July 16 - Pitchfork Music Fest - Chicago, IL
ˆ (April 22 w/ Thee Oh Sees)
* (June 22 - 26 w/ Dinosaur Jr & Henry Rollins)
º (June 23 w/ Fucked Up)
--
OFF WITH THEIR HEADS, DEAD TO ME - 2011 TOUR DATES
July 06 San Diego, CA Casbah
July 07 West Hollywood, CA Troubadour*
July 08 San Francisco, CA Thee Parkside*
July 09 San Luis Obispo, CA Downtown Brew*
July 10 Sacramento, CA Fire Escape Bar, Grill*
July 12 Portland, OR Branx*
July 13 Seattle, WA El Corazon*
July 14 Boise, ID The Read Room*
July 15 Salt Lake City, UT Kilby*
July 16 Denver, CO Marquis Theatre*
July 17 Colorado Springs, CO The Black Sheep*
July 19 Kansas City, MO Record Bar*
July 20 Minneapolis, MN Triple Rock Social Club*
July 21 Chicago, IL Subterranean*
July 22 Madison, WI The Frequency*
July 23 Chicago, IL Wicker Park Festival*
July 24 Saint Louis, MO Firebird*
July 26 Newport, KY The Southgate House*
July 27 Fort Wayne, IN The Brass Rail*
July 28 Detroit, MI Magic Stick*
July 29 Pittsburgh, PA Rex Theater*
July 30 Cleveland, OH Now That's Class*
July 31 Rochester, NY Bug Jar
August 01 Albany, NY Valentines^
August 02 Dover, NH Dover Brick House^
August 03 Allston, MA Great Scott^
August 04 Brooklyn, NY Knitting Factory^
August 05 Asbury Park, NJ Asbury Lanes^
August 06 Philadelphia, PA The Barbary^
August 07 Baltimore, MD Otto Bar^
August 08 Durham, NC Motorco Music Hall^
August 11 Tampa, FL Orpheum#
August 12 Miami, FL Churchill's#
August 13 Orlando, FL Back Booth#
August 14 Gainesville, FL The Atlantic Night Spot#
August 19 Richmond, VA Best Friends Day
August 25 New Orleans, LA Siberia
August 26 Houston, TX Walter's*
August 27 Austin, TX Red Seven*
August 28 Denton, TX Rubber Gloves*
August 29 Oklahoma City, OK The Conservatory*
August 31 Albuquerque, NM Launchpad*
* w/Riverboat Gamblers
^ w/The Holy Mess
# w/The Riot Before