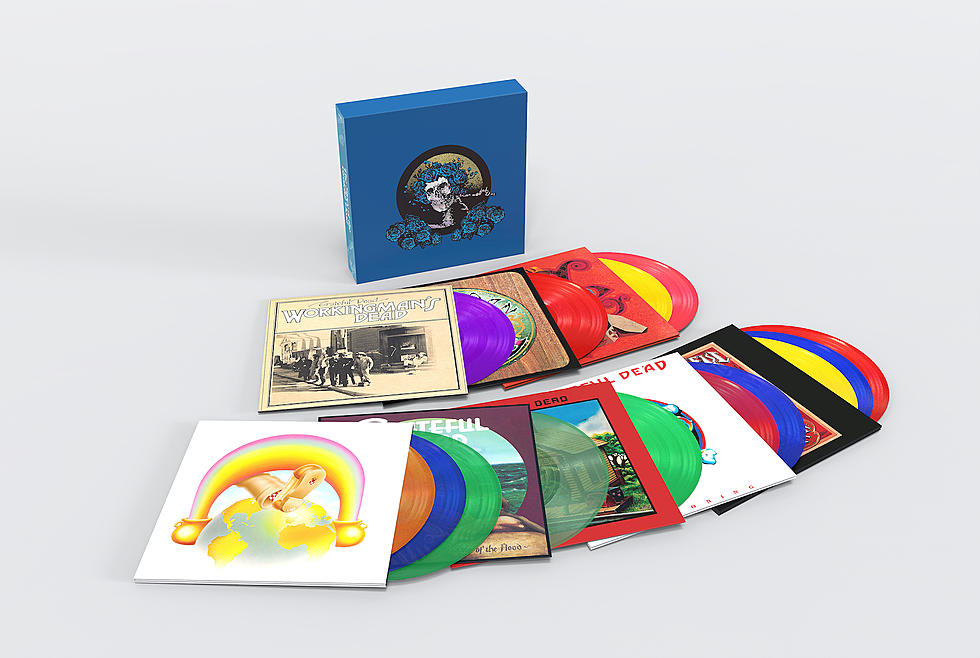 new Grateful Dead vinyl box set ft. essays by Mountain Goats, The National, MMJ, AnCo mems & more
Vinyl Me, Please has announced the release of their next Anthology (their sixth), VMP Anthology: The Story of the Grateful Dead. This limited edition 8-album, 14-disc boxset includes four classic studio albums and four classic live albums each on colored, 180-gram vinyl, cut direct-to-analog from the original tapes. It also comes with liner notes that include essays by an awesome array of modern-day musicians "honoring each of the eight albums and the impact the Dead have had on their lives," and also included are "archival and rare photos and ephemera courtesy of iconic photographers from the eras." As with all VMP anthologies, the release will be "paired with an exclusive fan community and a podcast series to invite listeners on an in-depth musical journey." The box set is limited to 7,500 copies. Order yours here.
The albums included are Workingman's Dead (1970), American Beauty (1970), Live / Dead (Fillmore West 1969), Europe '72 Vol. 1 (1972), Wake of the Flood (1973), Terrapin Station (1977), Reckonining (1981), and Without a Nest (1989-90).
The modern musicians who wrote essays for the box include Jim James of My Morning Jacket, Avery Tare of Animal Collective, Dave Longstreth of Dirty Projectors, Margo Price, MC Taylor of Hiss Golden Messenger, Scott Devendorf of The National, John Darnielle of The Mountain Goats, Jenny Conlee of The Decemberists, and Hunter Brown of STS9.
This box set follows the news of the upcoming Workingman's Dead 50th Anniversary reissue, which comes with a previously unreleased live concert recording (of their February 21, 1971 concert at Port Chester, NY's Capitol Theater).
Apart from physical releases, the Dead are also continuing their weekly 'Shakedown Stream' series on YouTube where they're releasing a different concert video each week. The latest one to be released was their 6/17/91 show at Giants Stadium, which came out alongside a pre-show Q&A with Branford Marsalis (who played with the Dead in the '90s). The description reads:
Who's ready for a little 90s' Dead? We're coming in hot with the complete live performance from 6/17/91. Widely considered to be one of the greatest shows the Grateful Dead played in its final decade of performing, this show was one of the few to be recorded to 48-track analog audiotape.
If you missed it or just want to rewatch it, you can check out the Giants Stadium show and the Q&A below.
Bob Weir continues his own 'Weir Wednesday' streams, and Dead & Company continue their 'One More Saturday Night' streams too. You can watch the latest releases in those series below as well.