New Orleans Jazz Fest 2016 lineup: Neil Young, Paul Simon, Stevie Wonder, Van Morrison, RHCP, Pearl Jam, Snoop Dogg, more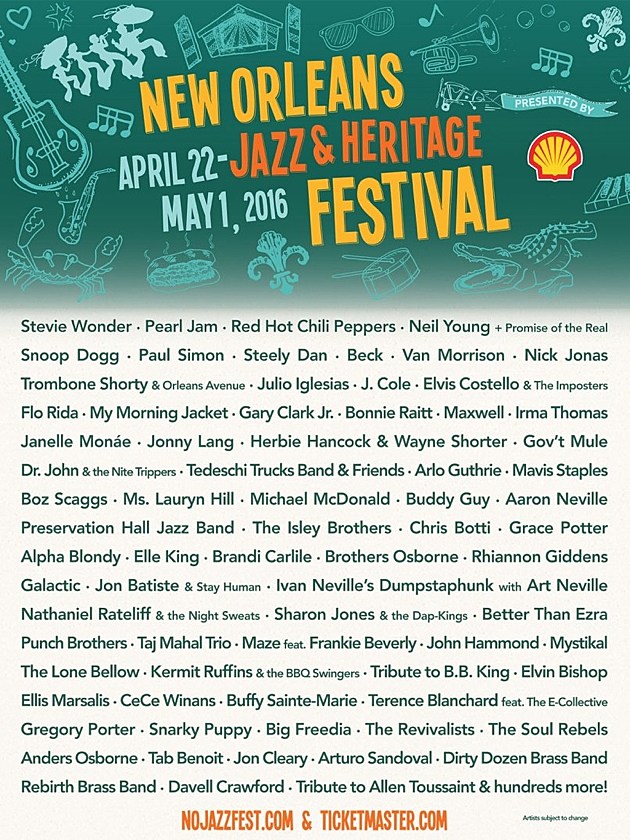 New Orleans Jazz & Heritage Festival returns this year from April 24-May 3 with a pretty amazing lineup that includes Stevie Wonder, Pearl Jam, Red Hot Chili Peppers, Neil Young, Snoop Dogg, Paul Simon, Steely Dan, Beck, Van Morrison, J. Cole, Elvis Costello, My Morning Jacket, Maxwell, Janelle Monae, Herbie Hancock & Wayne Shorter, Dr. John, Arlo Guthrie, Mavis Staples, Lauryn Hill, Buddy Guy, The Isley Brothers, Sharon Jones, Hurray for the Riff Raff, Buffy Sainte-Marie, Big Freedia and much more. Check out the full lineup here.
Tickets are on sale now.