new Screaming Females (1st MP3!) & Noun albums (STREAM it here in full!) ++ 2010 tour dates (Siren Fest, Maxwell's, more)
Screaming Females @ Cake Shop on New Years Eve (more by Lori Baily)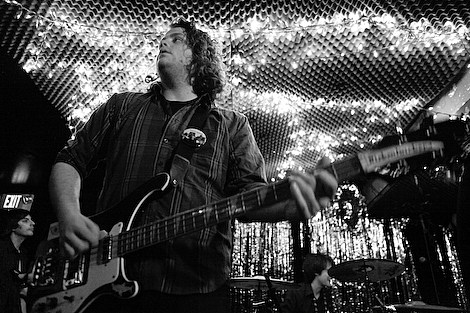 One of the bands I'm most excited to see at Siren on Saturday is Screaming Females who go on at 2pm on the Main Stage, a full four hours before their friend, ex-tourmate, and fellow NJ resident Ted Leo takes the stage (Ted is then followed by Main Stage closer Matt & Kim). Screaming Females don't play super long sets, so maybe there's even ample time to run from their show to see Wye Oak on the Stillwell Stage at 2:30. The whole schedule is re-posted below.
For Screaming Females the show is a one-off gig that comes almost a full month before they kick off a proper tour at Maxwell's in Hoboken. That NJ show date is August 13th and it is on sale now. All dates below.
On September 14th the band will be celebrating the release of a new record with a show at the Black Cat in DC. The name of that new album is Castle Talk, and it's coming out via Don Giovanni, and you can listen to one of the rockin' tracks from it right now. Download "I Don't Mind It" above! Check out the full tracklist below.
And speaking of rockin', as previously mentioned, Screaming Females front-woman and powerhouse Marissa Paternoster has a solo album (out NOW), also via Don Giovanni. She goes by the name "Noun", and the album is called "Holy Hell". Download two tracks off that above. Stream the entire thing below.
All tour dates are down there too...


Noun - Holy Hell (FULL ALBUM STREAM)

Noun
Holy Hell
(Don Giovanni)
Street date: July 6, 2010
1. Black Lamb
2. Outer Space
3. Old Friends
4. Holy Hell
5. Wrong Things
6. Call Earth
7. Pearly Gates
8. So Rough
9. Brother
10. Talk
---
Screaming Females - 2010 Tour Dates
7/17 - Siren Fest - Brooklyn, NY
8/13 - Maxwell's - Hoboken, NJ
8/15 - Golden West Cafe - Baltimore, MD
8/16 - Gallery Five - Richmond, VA
8/17 - JJ's Bohemia - Chattanooga, TN
8/18 - Exit/ In - Nashville, TN
8/19 - The Bishop - Bloomington, IN
8/20 - Fucking Awesome Fest (Magic Stick) - Detroit, MI
8/29 - Red Room - Boise, ID
9/2 - Rainshadow Space - Reno, NV
9/3 - Thee Parkside - San Francisco, CA
9/5 - Awesome Fest 4 - San Diego, CA
9/6 - Trunk Space - Phoenix, AZ
9/8 - Mohawk - Austin, TX
9/9 - Zeitgeist Multi-Disciplinary Theater - New Orleans, LA
9/10 - The Farside - Tallahassee, FL
9/12 - Secret Squirrel - Athens, GA
9/13 - Static Age Records - Asheville, NC
9/14 - Black Cat - Washington, DC
9/16 - The Ox - Philadelphia, PA
9/19 - Brew Not Bombs (Portage Theater) - Chicago, IL
10/27 - The Luminaire - London (United Kingdom)
10/28 - Captain's Rest - Glasgow (United Kingdom)
10/29 - Stereo - York (United Kingdom)
10/30 - Islington Mill - Manchester (United Kingdom)
10/31 - Freebutt - Brighton (United Kingdom)
11/4 - Le Sonic - Lyon (France)
11/5 - GRIM - Marseille (France)
11/7 - Channel Zero - Ljubljana (Slovenia)
11/9 - Rhiz - Vienna (Austria)
11/10 - PMK - Innsbruck (Austria)
11/11 - Bad Bonn - Duedingen (Switzerland)
11/12 - Hirscheneck - Basel (Switzerland)
11/13 - The Great Räng Teng Teng - Freiburg (Germany)
11/15 - Final Club - Prague (Czech Republic)
11/16 - Kafe Kult - Muenchen (Germany)
11/17 - Sonic Ballroom - Koeln (Germany)
11/18 - Astrastube - Hamburg (Germany)
11/20 - Fritz's Corner @ Debaser - Stockholm (Sweden)
11/22 - Charlies - Kristiansand (Norway)
11/23 - Landmark - Bergen (Norway)
11/24 - Revolver - Oslo (Norway)
--
Screaming Females
Castle Talk
(Don Giovanni)
Street Date: Sept. 14
Laura + Marty
I Don't Mind It
Boss Normal
A New Kid
Fall Asleep
Wild
Nothing at All
Sheep
Deluxe
Ghost Solo