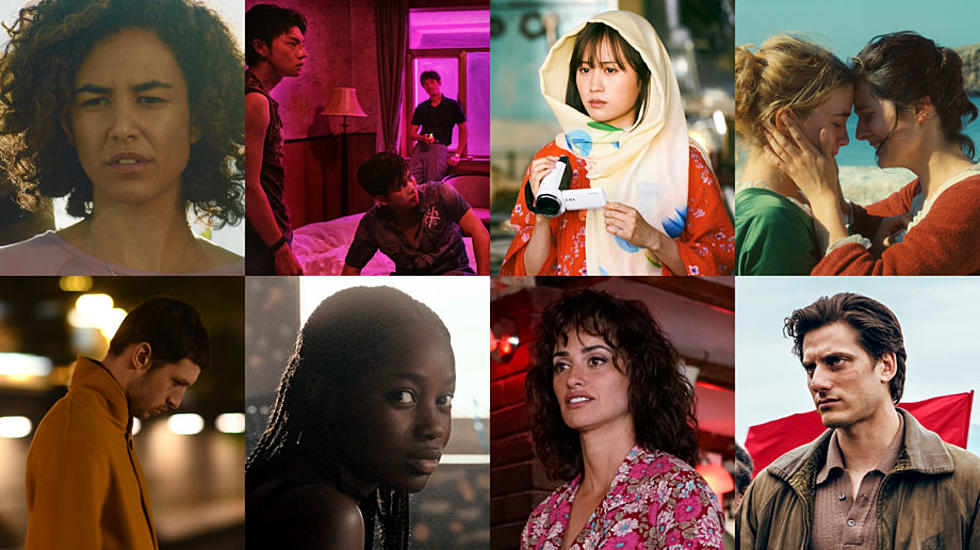 New York Film Festival 2019 lineup & tickets
Exciting news for film lovers. Today brings the announcement of the full main slate of this year's 57th New York Film Festival which will run from September 27 - October 13. "Cinema is the domain of freedom, and it's an ongoing struggle to maintain that freedom," says NYFF Director and Selection Committee Chair Kent Jones. "It's getting harder and harder for anyone to make films of real ambition anywhere in this world. Each and every movie in this lineup, big or small, whether it's made in Italy or Senegal or New York City, is the result of artists behind the camera fighting on multiple fronts to realize a vision and create something new in the world."
This year's lineup is truly a diverse one that traverses 17 different countries. Martin Scorsese's The Irishman -- which I've heard Marty will be editing up to the last minute and currently stands at a 3 ½ hour running time –  is this year's opening night film, while Noah Baumbach's Marriage Story is this year's Centerpiece, and closing out the festival will be Ed Norton's Motherless Brooklyn, which is based on Jonathan Lethem's wonderful novel and moves the book's setting from modern time to 1950's NYC.
Some of the other highlights come from winners of previous prestigious festivals. There is Korean director Bong Joon-Ho, following up his great films Snowpiercer and Okja, with the Cannes Film Festival Palme d'Or winning Parasite. There's also Mati Diop's first feature film, the Cannes Grand Prix winning Atlantics: A Ghost Love Story. One of cinema's masters, Pedro Almodóvar  (who designed this year's Festival poster), brings his personal and somewhat autobiographical, Pain and Glory, which garnered a best actor award for Antonio Banderas. The always daring Dardenne brothers are new offering Young Ahmed, which won them another Best Director award. Plus: Jury Prize winner Becaru from Brazilian directors Juliano Dornelles and Kleber Mendonca Filho (whose film Aquarius was a highlight of last year's fest).
A few other highlights to mention: Israeli director Nadav Lapad's Synonyms, which took the Golden Bear at this year's Berlin Film Festival; Marco Bellocchio, director of one of the greatest debut films of all time (and a masterpiece of Italian cinema), Fists in the Pocket, returns with The Traitor; Kelly Reichardt, director of such lovely films as Old Joy (starring a young Will Oldham), Meek's Cutoff and Wendy and Lucy, is back with First Cow; and Varda by Agnes, which should be one of the more emotional moments of this year's festival as the final film from one of the great filmmakers of all time, Agnes Varda (who sadly left us last year at 90 years old).
These are just but a few highlights of what should be an always outstanding film festival. Check out the full list below and you can read more about the Main Slate here. Be on the lookout for announcements about this year's revivals, restorations and special event films which are always a treat. Festival and VIP passes are on sale now and you can become a Film at Lincoln Center member to get tickets before they go on sale to the general public. Single tickets go on sale to the general public on September 8.
The 57th New York Film Festival Main Slate
Opening Night
The Irishman
Dir. Martin Scorsese
Centerpiece
Marriage Story
Dir. Noah Baumbach
Closing Night
Motherless Brooklyn
Dir. Edward Norton
Atlantics: A Ghost Love Story
Dir. Mati Diop
Bacurau
Dir. Kleber Mendonça Filho and Juliano Dornelles
Beanpole
Dir. Kantemir Balagov
Fire Will Come
Dir. Oliver Laxe
First Cow
Dir. Kelly Reichardt
A Girl Missing
Dir. Koji Fukada
I Was at Home, But…
Dir. Angela Schanelec
Martin Eden
Dir. Pietro Marcello
The Moneychanger
Dir. Federico Veiroj
Oh Mercy!
Dir. Arnaud Desplechin
Pain and Glory
Dir. Pedro Almodóvar
Parasite
Dir. Bong Joon-ho
Film Comment Presents
Portrait of a Lady on Fire
Dir. Céline Sciamma
Saturday Fiction
Dir. Lou Ye
To the Ends of the Earth
Dir. Kiyoshi Kurosawa
The Traitor
Dir. Marco Bellocchio
Varda by Agnès
Dir. Agnès Varda
Vitalina Varela
Dir. Pedro Costa
Wasp Network
Dir. Olivier Assayas
The Whistlers
Dir. Corneliu Porumboiu
The Wild Goose Lake
Dir. Diao Yinan
Young Ahmed
Dir. Jean-Pierre and Luc Dardenne
Zombi Child
Dir. Bertrand Bonello