Nick Cave and the Bad Seeds played Prospect Park with Devendra Banhart & Nicole Atkins (pics & setlist)
Nick Cave and the Bad Seeds @ Prospect Park - 7/26/14

As self-aware as the Bad Seeds' Vegas-styled image has become, Nick Cave is still running on the primal engines that hatched The Boys Next Door. Last year's leg of the Push the Sky Away tour canonized many of that album's fragile ballads, which were all bolstered through the Bad Seeds' live rigor. Consider their 2014 tour a victory lap, yielding the potent fruits of that labor. Their show Saturday night (7/26) at the Prospect Park Bandshell was another round of hits, without the locally-sourced children's choir or string section of last year. The band sounded fuller and more dramatic, burning through their set with suave command and evangelical conviction.
After the Bad Seeds processed on stage to the bass loop of "We Real Cool," old readings from the Book of Cave began, the band ripping through late set show-stoppers like "Tupelo" and "From Her to Eternity" from the get-go. Cave embodied his signature preacher mode with hysterical grace, shifting the audience as he waved them toward wherever he stood with his ring-bedecked fingers, him reaching for their hands as the audience reached for about anything they could. He made liquid hand movements with a crowd-surfing attendee as they beckoned each other closer. While reciting "Can you feel my heart beat?" during the comedown of "Higgs Boson Blues," a flock of hands reached past his glittering champagne-colored shirt to do so.
Most of the other members of the Bad Seeds only need to stand and brood to look the part, but Warren Ellis gave Cave's swagger a run for its money. With the mountainous uplift of "Jubilee Street" he tossed the bow of his violin up to the stage's canopy, keeping frayed spares tucked in his collar as he gyrated out shots of noise and mangled the clean acoustics of "Mermaids" with an electric tenor guitar solo.
Standards like "The Mercy Seat" and "Stagger Lee" were gleefully unhinged that one might believe the band wouldn't know how to play these songs with less vigor. Deeper cuts like "West Country Girl" and "Do You Love Me?" were orated as if Cave's muses never let him hear the end of his storied affairs. Cave has mentioned in interviews that the Bad Seeds have found a new creative center since recording Push the Sky Away. Fancy suits and gold rings be damned, it's a claim to take at face-value.
Opening at Prospect Park was tourmate Nicole Atkins as well as freak folk OG Devendra Banhart. Pictures of all three artists are in this post.
We also caught the Bad Seeds' tour in Kansas City, Austin and Philly. The day after Prospect Park, the tour hit NYC again at Hammerstein Ballroom. Pictures of that one are coming soon.
More Prospect Park pictures, and the setlist from that one, below...

---
Nick Cave and the Bad Seeds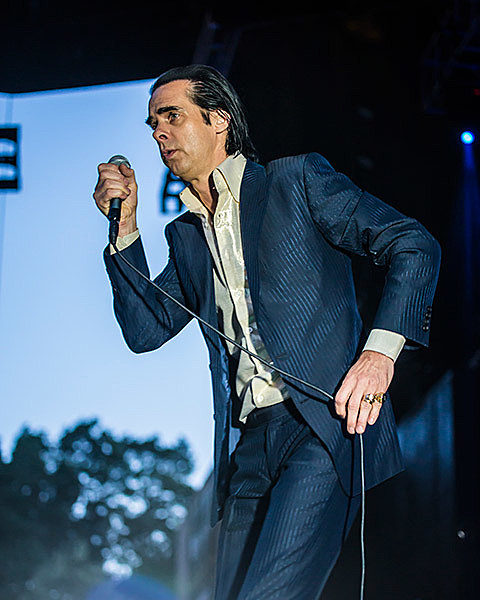 SETLIST: (via)
We Real Cool
Jubilee Street
Tupelo
Do You Love Me?
Mermaids
From Her to Eternity
West Country Girl
Love Letter
Into My Arms
The Weeping Song
Higgs Boson Blues
The Mercy Seat
Stagger Lee
Push the Sky Away
Encore:
Red Right Hand
Deanna
Encore 2:
The Lyre of Orpheus