Nirvana's 'In Utero' covered orchestrally by Jingle Punks Hipster Orchestra on tribute EP (stream it, catch them at Voodoo)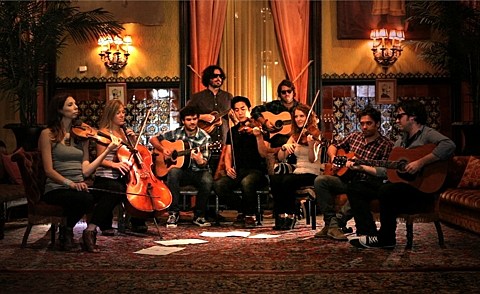 For their In Utero tribute, they've done it as a 6-song EP featuring orchestral versions of "Serve the Servants," "Heart-Shaped Box," "Rape Me," Frances Farmer Will Have Her Revenge on Seattle," "Dumb," and "All Apologies." The EP is out now on iTunes, but if you want to hear it before you pay, the entire thing is streaming in this post. Listen below.
And you can catch The Jingle Punks Hipster Orchestra live if you're headed to this year's Voodoo Experience, which goes down this weekend (11/1-3) in New Orleans. They play twice on day 3 of the fest, first at 1PM on the Carnival Stage, and then again at 2:30 in the Soundwave tent for BrooklynVegan who will be set up there each day from 1-3 pm with a variety of live sets, DJ sets, live interviews and more.
Listen to the EP, along with its trailer video, below...

---
The Jingle Punks Hipster Orchestra - The In Utero Sessions Trailer

The Jingle Punks Hipster Orchestra - The In Utero Sessions EP Stream


--