No Age, Dan Deacon & Deerhunter played 'round robin' @ Brooklyn Bowl (instead of the Waterfront) (twice) – pics
Some people waited in the rain, some grabbed their wrist band and ran home, one person I saw even constructed a counterfeit entry pass out of tape and markers for fear of getting shut out. Others just walked right in. Whatever your experience, if you made it to the August 2nd Jelly NYC Pool Party show, it was worth the mess. The decision to call off the event's East River State Park/Williamsburg Waterfront location was made by the State Parks Dept. around 3pm, a fact that highlights a point made earlier in week by the Times -- that putting on outdoor concerts in NYC is often a bureaucratic and logistical nightmare.
After an opening set by a DJ/guitarist laying Eastern-sounding scales over looped beats, Ed Schrader, another opening act, took the stage armed with just a floor tom and his voice. Ed pointed his unhinged gaze, vaguely reminiscent of Charles Manson, at the audience and ably pounded the drum while delivering lines about "beautiful transvestites in the rain." The tunes were energetic and immediate -- enough so that some crowdmembers caught on to the repetitive hooks and sang along.
The headliners, a triple bill of Deerhunter, No Age and Dan Deacon (without his ensemble), managed to fit a full two hour, "round robin" set into the late show, which finished just shy of 2am. They traded off single songs at first (one Deerhunter, one No Age, one Deacon, etc..), then after two or so go-arounds, played songs in pairs. The latter set-up eased the jolting shifts in energy, and was more forgiving to Deerhunter, who was by far the most subdued of the three.
More than once, Dan Deacon's mountainous beats gave way in deadening fashion to a florid but not as physically propulsive Deerhunter jam. While his songs were up, Deacon engaged in his usual audience participation games (which hopefully get some kind of update if they come back again). Those included touching your neighbor's head, group miming, and a "London Bridge"-like chain of people that snaked across the Bowl and gave a nice tour of the space's different rooms. He remarked that it'd most likely be his last NYC show this year, and paused one song mid-beat to make an announcement about not running across the stage.
The groups collaborated at the beginning and end (with some touches in between) and celebrated the finale of a long day by throwing their instruments and whatever else (I think I saw a tour manager) into the crowd. They all milled around afterward to chat and give out high fives.
This was a review of the late show. More pictures from the early show below...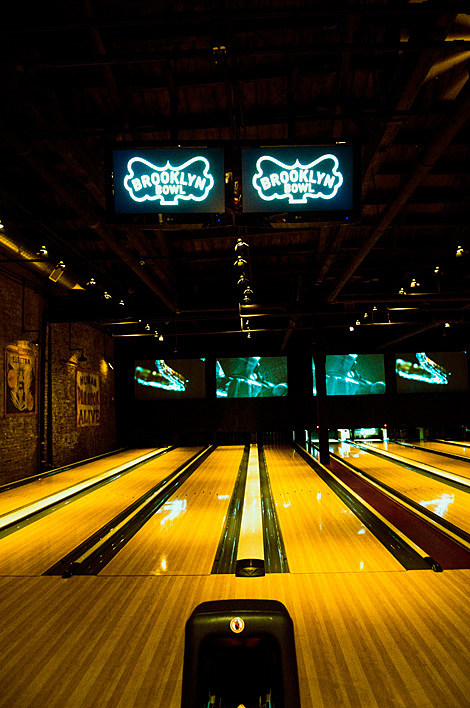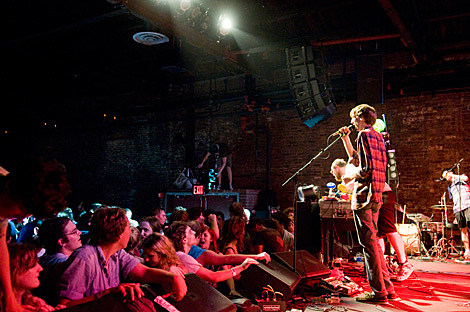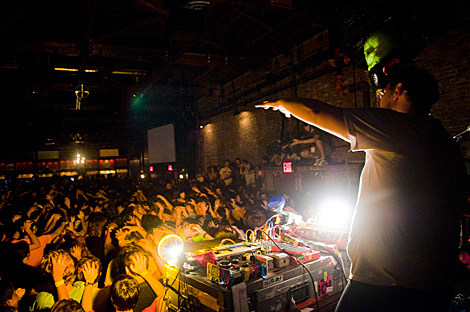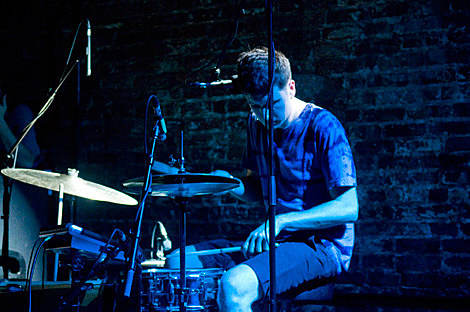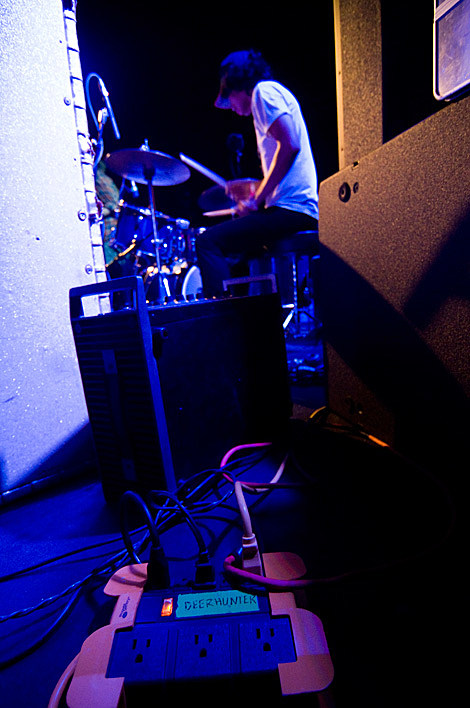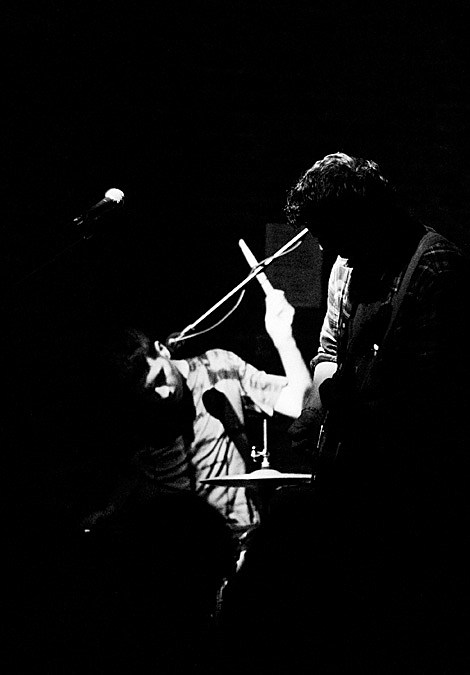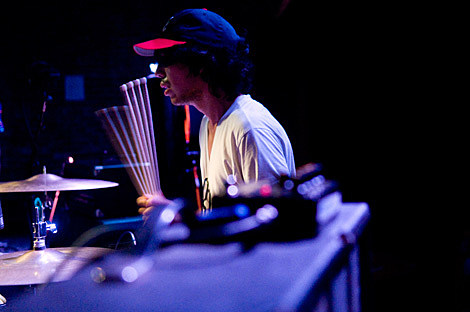 Video from the NJ show (one night earlier - outdoors and sunny), HERE.