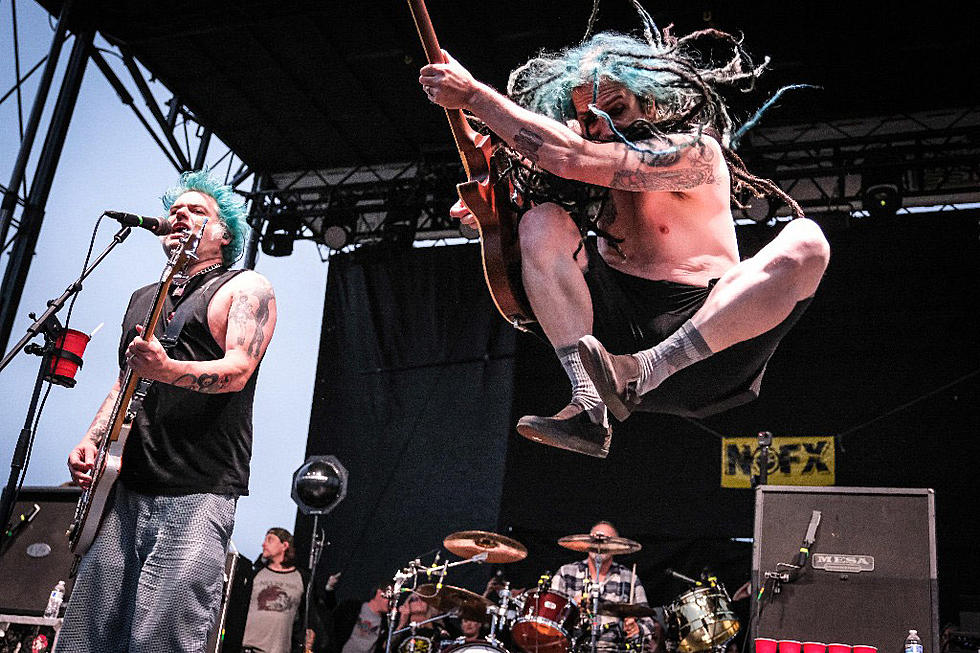 NOFX played San Diego on their final tour w/ Descendents, The Vandals & more (pics, video, setlist)
photo by Mathieu Bredeau
NOFX are in the midst of their "40 Years, 40 Cities, 40 Songs Per Day" final tour, which stopped in San Diego, CA on Saturday (5/13) for a show at Waterfront Park. They're not repeating setlists throughout this run, and playing full album sets and rarities, and San Diego's 33-song set included a performance of 1997's So Long and Thanks for All the Shoes in full, the 19-minute "The Decline," along with lots of other songs from throughout their discography. See their setlist in full below.
Also performing on Saturday were Descendents, The Vandals, Mad Caddies, Fat Mike's Codefendants project, The Bombpops, Western Addiction, and Urethane. See pictures from the whole day by Mathieu Bredeau and attendee-taken video clips below.
NOFX currently have tour dates scheduled through September, with more still to be announced.
We talked to Fat Mike about the end of NOFX, the new Punk Rock Museum he's launched in Las Vegas, and more on the BV Podcast. Listen to that episode below.
Pick up NOFX and Descendents vinyl and merch in the BV store.
SETLIST: NOFX @ WATERFRONT PARK, 5/13/2023 (via)
Dinosaurs Will Die
Stickin' in My Eye
Linoleum
Murder the Government
The Brews
Bob
It's My Job to Keep Punk Rock Elite
Kids of the K-Hole
All Outta Angst
180 Degrees
All His Suits Are Torn
Eat the Meek
Six Years on Dope
Kill Rock Stars
Fuck the Kids
Hobophobic (Scared of Bums)
Monosyllabic Girl
I'm Telling Tim
Instant Crassic
Can't Get the Stink Out
Quart in Session
72 Hookers
Dad's Bad News
Perfect Government
Flossing a Dead Horse
Franco Un-American
Falling in Love
Champs Élysées
The Desperation's Gone
Kill All the White Man
The Decline
The Separation of Church and Skate
Theme from a NOFX Album
--
-