NOFX, Swingin' Utters, Lagwagon, more going on Fat Wreck's 25 years tour ++ Good Riddance LP out now & other Fat news
photo: NOFX at Riot Fest 2014 (more by James Richards IV)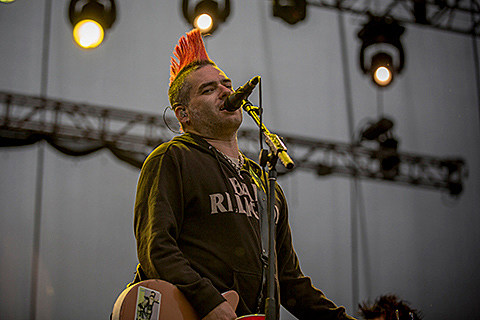 Fat Mike's label Fat Wreck Chords turns 25 this year, and in celebration of that, his band NOFX and a handful of other Fat bands are going on a tour together this summer. Lagwagon, Swingin' Utters, The Flatliners, Masked Intruder, ToyGuitar and Bad Cop/Bad Cop round out the bill.
The tour doesn't hit NYC but it will be nearby on August 14 at Stone Pony Summer Stage in Asbury Park, NJ. Tickets for that show are on Citi presale now, and they go on Live Nation/Ticketmaster presales Wednesday (4/29) at 10 AM, and on sale to the general public Friday (5/1) at 10 AM. All dates are listed below.
NOFX haven't released an album since 2012's Self Entitled, but Fat Mike was busy working on his punk rock musical, Home Street Home, and releasing its soundtrack which features members of Descendents, Lagwagon, Alkaline Trio, No Use For A Name, Frank Turner, Mariachi El Bronx and more. You can stream two tracks from that below.
Lagwagon released their first album in nine years last year, Hang (and earlier this week frontman Joey Cape ranked the rest of their albums), and you can stream three tracks from that below. They're also playing The Fest this year.
Folk punks Swingin' Utters reunited back in 2010 and have remained very prolific since then. They released their third album since the reunion last year, Fistful of Hollow, which is certainly not a repeat of their more classic material but often rivals it in quality. You can stream two tracks from that one below too.
Swingin' Utters member Jack Dalrymple (also of One Man Army and Dead To Me) makes garage punk in his side project ToyGuitar, who are on the Fat 25 tour and released their debut album In This Mess earlier this year. Check out the lead track "Human Hyenas" below.
In other Fat news not related to this tour, Good Riddance, the melodic hardcore band who reunited in 2012, released their first album since 2006 last week. It's called Peace In Our Time, was produced by Descendents/Black Flag's Bill Stevenson, and can be picked up at the Fat webstore. It has them still in great form -- stream it (via Substream Magazine) below.
Former Fat but now major label band Rise Against have a Central Park Summerstage show coming up on July 28. That's with Killswitch Engage and Letlive, and tickets are on sale.
The former Fat, then major label, and now Spinefarm-signed Anti-Flag have a new album coming this year, which you can hear a song from here.
The once Fat-signed band Bracket returned late last year with Hold Your Applause (on High Output Records), their first album since 2006. That's streaming below.
Canadian Celtic punks The Real McKenzies released their eighth album, Westwinds, on Fat earlier this month (stream a track below), and their tour hits NYC on June 10 at Bowery Electric with BOIDS and The Young Rochelles. Tickets are on sale.
Strung Out released their metallic-edged eighth album, Transmission.Alpha.Delta, on Fat this past March and they bring their tour with Red City Radio and La Armada to NYC on May 10 at Gramercy Theatre. Tickets are on sale.
If you're into ska punk, Less Than Jake (who signed to Fat in 2013) bring their tour with Reel Big Fish to NYC on June 16 & 22 at Best Buy Theater (tickets).
Sweden's Millencolin, who were never on Fat but used to be Epitaph labelmates with NOFX and appeal to the same '90s-punk fanbase as most of these bands, released their first album in 7 years this week. It's called True Brew, is out now on Epitaph, and can be streamed in full below (via AbsolutePunk).
Yesterday, Millencolin's fellow Swedes and labelmates Refused announced their first album in 17 years, and Epitaph honcho Brett Gurewitz's band Bad Religion are touring.
All mentioned song streams, and the Fat 25 tour dates, below...

---
Home Street Home - Monsters

Home Street Home - Gutter Tarts

Lagwagon - Burden of Proof / Reign

Lagwagon - The Cog in the Machine

Swingin' Utters - I'm Not Coming Home

Swingin' Utters - Fistful of Hollow

Good Riddance - Peace In Our Time

Bracket - Hold Your Applause

The Real McKenzies - "Who'd A Thought"

Fat Wreck Chords 25th Anniversary Tour Dates
08/06/15 Toronto, ON Canada TD Echo Beach
08/07/15 Montreal, QC Canada Heavy Montreal
08/08/15 Montreal, QC Canada Heavy Montreal
08/09/15 Montreal, QC Canada Heavy Montreal
08/12/15 Boston, MA House Of Blues
08/14/15 Asbury Park, NJ Stone Pony Summer Stage
08/15/15 Philadelphia, PA Festival Stage at Penn's Landing
08/17/15 Chicago, IL Aragon
08/18/15 Minneapolis, MN Myth Live
08/20/15 Denver, CO The Fillmore
08/22/15 San Francisco, CA Thee Parkside (outdoors)
08/23/15 San Francisco, CA Thee Parkside (outdoors)
08/24/15 Los Angeles, CA Hollywood Palladium