Nor'easter approaches; Rockaway still needs us, as Anthony Weiner points out (info, pics, videos)
Broad Channel - The Forgotten Town -- 11/3/2012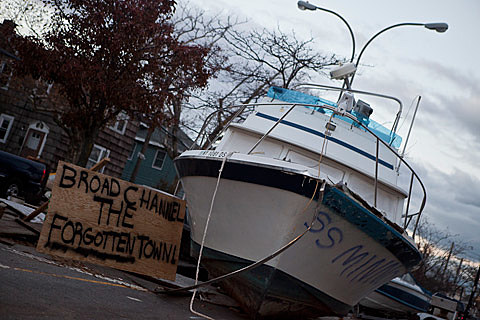 Jimmy McGovern, operations chief with New York City's Sanitation Department, is tasked with clearing what superstorm Sandy left smashed onto the streets of this neighborhood, where he has lived for the last 20 years.

"I can visualize what it used to look like before, it's heartbreaking," he said. "Nobody ever thought it would be like this." [WSJ]
Earlier today Congressman Anthony Weiner came out of Twitter retirement, not with words or lude pictures, but just with a reminder via a YouTube link that the "Rockaway Needs Us." You can watch the video he was promoting below.
A week after superstorm Sandy caused massive damage and power outages, some New York and New Jersey residents been evacuated ahead of a nor'easter that is expected to bring high winds and rain to the region.

More than 620 nursing home residents in New York City's storm-battered Rockaways section were evacuated Tuesday. In New Jersey, winds were kicking up early Wednesday morning prompting some coastline communities to order mandatory evacuations.

Today's nor'easter isn't expected to be as bad as Sandy, but with more than 423,000 without power in New Jersey and more than 66,000 without power in New York City, officials are worried about residents hunkered down in damaged homes with no power.

Forecasters said Tuesday that the storm looks like it will be weaker than expected as it has veered farther offshore than earlier projections indicated. Still, winds could gust up to at least 50 mph in New York and New Jersey Wednesday afternoon and into the evening.

Storm surges could reach up to 3 feet on the coast lines. The highest recorded storm surge during Sandy in New York was 13.88 feet. [ABC News]
--


--
Looking for fun ways to help? Attend or play a benefit show.
Rockaway Needs Us