Ex-Cult touring, played a bridge w/ Nothing & Perfect Pussy (pics & dates)
Ex Cult / Nothing @ South Lamar Pedestrian Bridge in Austin, 3/14/2014

We already posted pictures of Perfect Pussy on a bridge (which they threw their bass off of) in Austin, and here's pics of the other two bands from that show, Nothing and Ex-Cult. Nothing, who we caught just hours earlier at our BrooklynVegan day party, were great at that show, but way more in their element at this one. Like Perfect Pussy did before then, members barged into the crowd, who were intensely moshing unlike any of the other times I've seen Nothing. They stuck mostly to their faster songs, like "Dig" and my personal favorite, "Get Well." The most punk (and best) Nothing show I've seen.
Ex-Cult wrapped up the show, with a singer who's got the total charisma of an '80s hardcore frontman and a band who rocks out and sneers like the Dead Boys. The band never let up the attitude to smile or joke with the crowd once. Intense the whole time.
Meanwhile, Ex-Cult will be taking their show back out on the road this spring for a tour which hits NYC on May 22 at Mercury Lounge. That's their only NYC date at the moment but there's room before or after to squeeze in another date (maybe somewhere more DIY like Death by Audio?). Tickets for Merc are on sale now.
All dates are listed, with more pictures from the Austin show, below...

---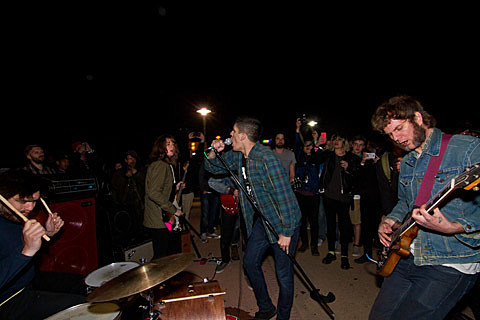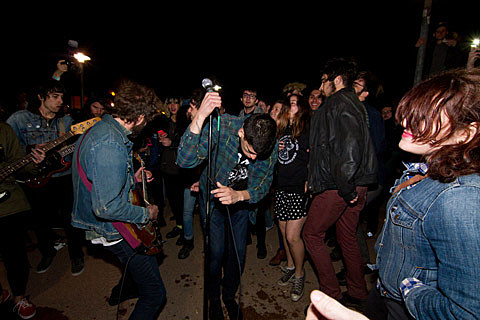 More pics of Perfect Pussy HERE.
Ex-Cult -- 2014 Tour Dates
THU 4/3/2014 Fresh Start Louisville, Kentucky
FRI 4/4/2014 Phuzz Phest Winston-Salem, North Carolina w/ Woodsman, White Fence, more
SAT 4/5/2014 MacRock Harrisonburg, Virginia w/ Big Ups
SUN 4/6/2014 Pilot Light Knoxville, Tennessee
SAT 5/17/2014 529 Atlanta, Georgia w/ GHB, Zoners, & Carmen
SUN 5/18/2014 Pinhook Durham , North Carolina
MON 5/19/2014 Strange Matter Richmond, Virginia
TUE 5/20/2014 DC9 Washington, DC
THU 5/22/2014 Mercury Lounge New York, New York
SAT 5/24/2014 Dogwood Beacon, New York
MON 5/26/2014 Middle East Upstairs Boston, Massachusetts
WED 5/28/2014 Happy Dog Cleveland, Ohio
THU 5/29/2014 Empty Bottle Chicago, Illinois
FRI 5/30/2014 Firecracker 500 Festival at the Mill Iowa City, Iowa