NYC Popfest – night 2 pics & video (The Radio Dept, Cats on Fire, Lichtenstein & more…)
Dominick Mastrangelo
words & photos by Dominick Mastrangelo
DOWNLOAD: The Radio Dept - Freddie and the Trojan Horse (MP3)
DOWNLOAD: The Radio Dept - The Worst Taste in Music (MP3)
DOWNLOAD: The Radio Dept - A Window (MP3)
DOWNLOAD: The Radio Dept - Pulling Our Weight (MP3)
DOWNLOAD: The Radio Dept - Why Won't You Talk About It? (MP3)
The Radio Dept.

"The Friday night show at Don Hill's was advertised as a "warm-up show" but it was hardly a dry run. [The Radio Dept.'s] eight-song set ran over half an hour - a full showcase at some festivals - and even though they had no drummer, no bassist and played over a significant amount of pre-recorded backing tracks - usually things that'd put me right off - they still grabbed the heartstrings. It's the songs. It didn't matter how they did it, but they came off with all the beautiful melancholy the records carried without sounding like a karaoke act. Favouring the cleaner sonic aesthetic of their more recent works, both Martin Carlberg and Johan Duncanson reproduced their surprisingly intricate guitar parts flawlessly, Carlberg's vocals were resonant with yearning and resignation and the feeling of being wrapped in a fuzzy blanket of sound very much in effect. True, their onstage charisma was nearly non-existent - they seemed awkward and uncertain how to respond to the enthusiasm of the audience - but even that fit perfectly with their persona." [Chromewaves]
Day Two of NYC Popfest (Friday, May 15, 2009) moved from local and stateside bands to The Scandavian countries. Sweden's The Radio Dept. (in a warm-up to their headlining show the next day) and Lichtenstein both performed ahead of the excellent Cats On Fire. Cats' lead-singer, Mattias Björkas, looks like David Bowie, sounds eerily like Morrissey and coyingly moves and postures like Rhett Miller. Their set at Don Hill's put everyone in a proper mood for the Mondo indie dance party that followed. Early on, local-boy Don Lennon and L.A.'s The Tartans also performed.
Cats on Fire and Lichtenstein shared a bill again, last night (5/19) at Bruar Falls in Brooklyn. More pictures and videos from the Don Hill's show below...

---
Don Lennon
The Tartans
The Radio Dept.
Liechtenstein
Cats on Fire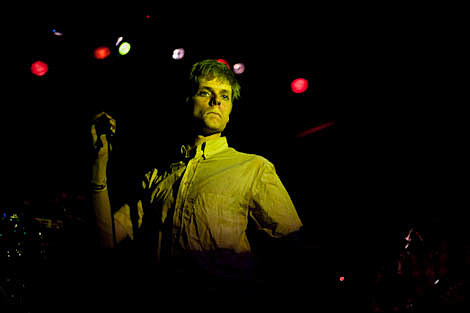 Videos...
--
Day One is HERE